Jealousy is the tribute mediocrity pays to excellence.
Ohio State exited as quickly as possible from this NCAA tournament. Deep down you saw it coming, but forced yourself to look away to avoid accepting it.  That's no longer possible, and with our boys sidelined permanently you've been subjected to team after team launching unforced, elegant-looking 3-point baskets. Denial is now jealousy.
Every other tournament team you see appears to feature players capable of shooting with accuracy and steady production. Every one. Ohio State should have shooters - hell, a shooter - like they do. It did not.
If you can stomach this tournament you've also seen numerous big men playing like bullies without any sort of timidity or passiveness. They're unafraid of picking up fouls, being far more intent on demonstrably showing that entering the paint should be done at one's own risk. Their mere presence alone alters shots. Ohio State should have big men like that. It does not. Jealousy sings. Jealousy whines. Jealousy soars.
The postmortem for Ohio State's first 10-loss season in six years hasn't been dignified. It's both a testament to the greater expectations Thad Matta has delivered to the nation's seventh most-valuable program and to the abrupt departure from meeting them. 
The 2014 Buckeyes were LaQuinton Ross galloping to the basket, bracing for contact and usually not getting a whistle. He was the team's leading scorer and rebounder, but he simply isn't disruptive or dynamic enough to change a game plan. It's almost as though good teams conceded Ross getting his 15 points because they understood they could do so without compromising the game's outcome.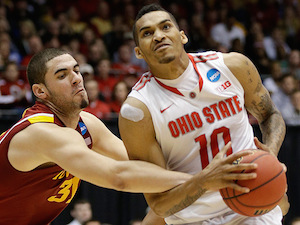 Ross was exactly who the Buckeyes should have needed him to be, playing totally within his ability. Think Scottie Pippen without you-know-who. That's LQR. He's Robin with Batman absent; not equipped to be the guy, but man oh man he'd be wonderful alongside him.
The 2014 Buckeyes were Sam Thompson's electrifying dunks, which at two points per did not go nearly far enough to cover the 247 points the Buckeyes left on the floor in the form of missed free throws.
Thompson was the smoothest, most fluid player on the team by a wide margin - and he's emblematic of how frustrating this team was. He scored 19 in his memorable takeover of the Minnesota game in February and reached double figures against Michigan State, Michigan, North Dakota State and seven other teams.
Yet Thompson was only fourth in scoring on the team, two full points behind noted last-resort shooter Aaron Craft. He disappeared for enormous stretches during the season and was inexplicably was the team's worst free throw shooter not named Trey McDonald.
The Buckeyes' second-leading scorer was Lenzelle Smith Jr., who shot a dismal 10-35 from the floor over the final five games of his career. He was a reliable double-digit scorer before March happened. If Smith had scored anywhere close to his average against Michigan and Dayton the Buckeyes win both games.
Amedeo Della Valle was brought in as as a 3-point specialist, garnering (unfair) Jon Diebler comparisons. ADV is now on his way to a professional career in Europe, and he did not have a single statistical advantage over Diebler - not in threes, field goal percentage, free throws, assists, rebounds, steals, blocks, minutes - not one. He wasn't even close.
ADV did average more turnovers than Diebler. He was also Ohio State's entire 2012 recruiting class, and he has left the building permanently. It's 2014.
A year ago Michigan freshman Nik Stauskas began his career pigeonholed as a sharpshooter. When he attempted to put the ball on the floor against the Buckeyes, Craft absolutely smothered him. A year later Stauskas is the reigning B1G MVP in a contest that probably wasn't that close, having diversified his game and emerging as a 3-point specialist, expert distributor and a threat to - gasp - drive to the basket. When was the last time an Ohio State player made an improvement like that in one season?
That's part of the reason there's so much pessimism around this 2014 season, and why you may be involved in a disquieting jealousy tribute as the tournament whittles its way down to a champion without Ohio State in it. The Buckeyes have nearly 14 feet and 8 recruiting stars worth of centers in McDonald and Amir Williams, and it would take unhealthy optimism to believe either of them will ever cease to be the glaring front court liabilities that they are.
There is no fear when either Amir or Trey are on the floor. Dayton's front court calmly attacked them and set the tone early with 25 of the Flyers' 33 points in the first half of Ohio State's only NCAA tournament game. The Buckeyes' two centers ended up combining for zero points. They are easily the least disruptive big men Ohio State has had in the Matta era (if there were less effective centers during his tenure they rarely or never saw the floor).
Amir and Trey combined for zero points against Dayton, whose front court scored 25 of its 33 IN THE 1st half.
The Buckeyes have plenty of farmers: A lot of nice cogs happy to make the extra pass but hesitant to be a scorer. Championship teams don't exist without farmers. They also don't win titles without scorers, and they barely flirt with contention without a viable front court. It's a small miracle Matta got this team to where he did without those necessities and a tribute to his coaching. Roster management is your glaring area of improvement at the moment.
Jealousy is the tribute mediocrity pays to excellence, and as 16 mostly-excellent teams continue their seasons it's important to remember - despite what your television may be signaling - that the tribute the 2014 Buckeyes paid was exclusively to their recent previous editions that were all still active at this point in the postseason. It has nothing to do with the teams still playing.
Ohio State needs another Sully, Ken Johnson, Diebler, Daequan Cook, Michael Conley, Ron Lewis - and so many other players of the recent past still in their 20s - who are unafraid, intimidating and capable of both farming and hunting with precision. Watching this tournament from the sideline is a dumb trap that can lure you into thinking Ohio State doesn't have these types of players.
It didn't this year, which categorically was an anomaly. So try not to get too used to it, and keep that in mind when your fragile, misguided psyche gives a soaring jealousy tribute to players on other teams. Matta's track record doesn't speak; it screams for itself. It will take another anomaly for you to be jealous again.