Tomorrow, Ohio State seniors Aaron Craft and Lenzelle Smith Jr. will suit up one final time and give it all they've got in front of the home faithful.
Like it or not, Craft and Smith will do so with the shine of their individual playing careers dulled just a bit as the Buckeyes stumble along what has become a 9-8 record in league play with that reality, in part, due to the duo's combined inability to take on greater expectations as seniors.
Throw in the fact neither drastically improved over their time in Columbus and it's possible to slip into the mode of focusing on what these guys aren't.
But that's not what tomorrow should be about.
Tomorrow should be about what they are which is a pair of three-star recruits that gave a great deal to their university including key performances in big games and a serving as model student-athletes. 
Craft, obviously the more decorated of the two, isn't the greatest point guard in school history but he gets to be part of the conversation thanks to (don't lazily misconstrue this as a back-handed compliment because it isn't) a skill-set featuring one singular hyper-strength (defense) and rock solid intangibles (leadership, heart) coupled with a set of other skills ranging from mediocre-to-poor (shooting) to adequate (ball-handling) to above average (passing), ensuring he would be a four-year college player.
To his credit, Craft parlayed those talents into a B1G Sixth Man of the Year award, a B1G Defensive Player of the Year award, 116 wins, 666 assists and a B1G record 324 steals, a Final Four, two Elite Eights and three Sweet Sixteens playing alongside the likes of Jared Sullinger, Deshaun Thomas, Wil Buford, Jon Diebler and David Lighty. 
And he's one of four players in B1G men's hoops history to make the Academic All-American team three times.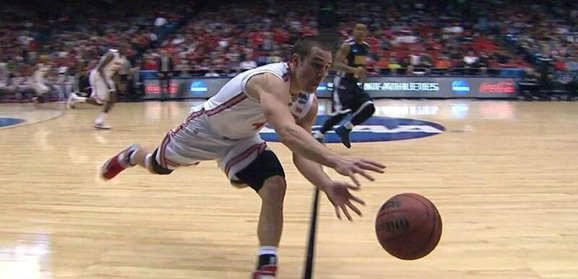 Smith, an Illinois product in the same 2010 class with Craft, five-stars Sullinger and Thomas, a fellow three-star in J.D. Weatherspoon and four-star Jordan Siebert, was virtually a throw in recruit with minimal buzz.
Joining a loaded roster following wrist surgery, Smith was a benchwarmer his freshman season but earned a starting wing spot as a sophomore on a Final Four team. Not much was asked of Smith as he finished 5th in scoring and 4th in rebounding among the starters but he came up big a few times in the regular season and ripped off two clutch performances in the Dance.
Those outings proved a bit of a tease however as they featured Smith at his ceiling, a level he simply couldn't sustain especially if expected to do so which we saw play out as he fought bouts of inconsistency at the offensive end over his final two seasons. Defensively, he was an asset and emerged as a guy who could grab some boards at both ends from the wing.
In the end, though Craft is on a higher plane that Smith, they were both key complimentary players on very good-to-great teams but when forced to step into increasingly prominent roles, their production couldn't match the demands and amid a flurry of other factors, the team simply crested (so far anyway) at the level of a mediocre-to-good squad.
Fueling the flames, Thad Matta got bit by all the one-and-done's which was only magnified by the swings and misses to replace them, particularly the 2011 crop of four-stars LaQuinton Ross, Sam Thompson, Shannon Scott and Amir Williams.
Unable to land any big time scorers in that class coupled with a 2012 crop consisting of one guy (Amedeo Della Valle) and 2013 bringing a still evolving Marc Loving and a redshirt season from Kameron WIlliams, Matta was forced to ask Craft and Smith to take on unrealistic scoring burdens.
In turn, both players pressed at times offensively, trying to play outside their capabilities, all the while tricking too many of us into thinking it was realistic for guys who had played at virtually the same exact level of individual performance for three years to somehow, suddenly morph into something far greater.
As a result, Craft and Smith have taken far more criticism than they deserve and I won't pretend I haven't been right there chirping from time to time.
But when the final horn sounds ending their collegiate careers sometime in the next 30 days, there should be no question The Ohio State University and the basketball program both benefited greatly from having Aaron Craft and Lenzelle Smith Jr. in the fold over the last four years.