At 19-6 overall but just 6-6 in conference play, with three of those losses coming at home, it's no secret this year's version of the basketball Buckeyes can sometimes be tough on the eyes. 
Reasons for their struggles are plenty but one in particular that sticks out is the cold hard reality that this team can go for long stretches looking like they couldn't score if they were locked in a room at the Bunny Ranch with a mad stack of c-notes in hand.
Typically, a Thad Matta team, or any legit national contender for that matter, has a go-to scorer defined and likely features a pair of guys that opposing defenses must game plan for each and every night. 
Knowing this year's group definitely doesn't have such a tandem, I decided to take a look at a handful of Ohio State's previous squads to see just how poorly the 2013-14 edition stacks up and the numbers, as you'd expect, aren't pretty. 
TOP TWO OSU SCORERS OVER LAST FIVE SEASONS

YEAR
W-L
SCORER 1
PPG
SCORER 2
PPG
TOTAL
2013-14
19-6
L. Ross
14.6
L. Smith
12.0
26.6
2012-13
29-7
D. Thomas
19.8
A. Craft
10.0
29.8
2011-12
31-8
J. Sullinger
17.5
D. Thomas
15.9
33.4
2010-11
34-3
J. Sullinger
17.2
W. Buford
14.2
31.4
2009-10
29-8
E. Turner
20.4
W. Buford
14.4
34.8

 
The 2009-10 squad underachieved thanks to a loss to Tennessee in a Sweet 16 matchup but it wasn't for a lack of offensive identity. Evan Turner was a straight up beast pouring in 20.4 points per game and the WB added 14.4 though he a tad erratic as the Villain's bridesmaid. His up and down performances were still typically offset as Ohio State featured a balanced attack that saw Jon Diebler score 13.0 points per game while David Lighty added 12.6 which was good enough to win both the regular and postseason B1G crowns. 
The next season, Ohio State replaced Turner's incredible play with Jared Sullinger's 17.2 points per game. Buford, despite his 14.2 points per game was still a tad inconsistent but just imagine how fortunate this year's team would be to have a guy like him who seldom backed down from taking a big shot. With those two shouldering the load, Diebs and Lighty again thrived as defenses were forced to play everyone straight up. 
Easily Matta's most balanced team in Columbus, the Buckeyes won 92% of their games and swept the B1G titles before being rewarded by being slotted in one of the toughest regional NCAA brackets in history and losing to Kentucky thanks largely to Buford's 2/16 shooting stinker. 
In 2011-12, Ohio State racked up 31 wins behind 33.4 combined points per game from Sullinger and Deshaun Thomas, riding the duo all the way to the Final Four. The WB was solid as a third wheel as the Buckeyes went 13-5 in conference play to share the league crown. The scoring versatility of the trio again made it virtually impossible for teams to focus on shutting down a particular guy without running the risk of getting scorched by one, or both, of the other two. 
Last year's squad, similar to the current bunch, had its scoring issues but those were often masked by Deshaun Thomas. The dude was a pure scorer that could fill it up from anywhere on the court giving him that rare ability to carry a team. His output was crucial as a true sidekick never emerged with Aaron Craft actually finishing second on the team with a meager 10.0 points per game. 
LaQuinton Ross emerged late and Lenzelle Smith Jr. averaged 9.2 per night but the lack of scoring punch eventually caught up with the Buckeyes, who frankly overachieved in winning 11 of their final 12 games with the lone loss coming in the Elite Eight to Wichita State as OSU shot 31% from the floor and 20% from distance (5/25). Thomas and Ross combined for 42 points but shot just 37%.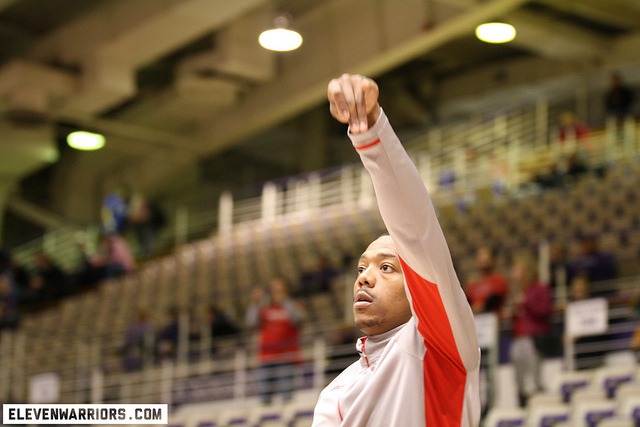 This season, Ross has been an easy target for fans and his 14.6 points per game is on pace to be the lowest of any OSU leading scorer since Tony Stockman in 2004. In fact, his current 13.6 points per game average is the program's third lowest total since 1978 but considering this is first year receiving at least 10 minutes of playing time in each game, not to mention defenses can key on him when the rest of the roster is struggling to throw it in the ocean, fans should be fairly happy with his production. The most legit gripe is that he has a tendency to disappear from time to time especially in the 2nd half of games when things get tight. 
Warts and all, Ross has managed to reach double figures in all but one league game (5 @ MSU) and has scored 16.4 points in B1G play, up from 12.9 over the non-conference slate. Not surprisingly, Ross is the only Buckeye averaging more points in conference play compared to non-league action with the exception of Shannon Scott though his increase is meaningless (7.7 vs. 7.6). 
Meanwhile, Smith Jr. slots as Ohio State's 2nd scorer this season at 12.0 points per game overall though he's failed to reach double figures in four of 12 conference tilts, averaging 10.5 points per night.
Smith Jr.'s struggles have been magnified as no other guy has shown an ability to step up and fill the void on nights when his jumper is clearly busted. The hope was Craft could be that guy but the reality is that while there are many facets of his game that are outstanding, Craft is an awful shooter and isn't a guy that can consistently get his own shot especially knowing those shots need to come inside 15 feet to have a realistic shot of finding the bottom of the net. 
In fact, Craft has reached double figures in just three of 12 league games. He's shooting a solid 47% from the field but that's largely because he knows his offensive limitations unlike, say a guy like Scott who has continued to hoist triples (68; 3rd on team) despite the knowledge he's hitting on just 27% of those tries. 
Bottom line, this team is full of flaws but those are only further exposed when the offense puts little pressure on the defense to perform nor does it create pressure on opposing offenses to keep up. 
Tough defensive play will keep Ohio State in some games against better teams as the season wears on but when it comes down to it, if the the Buckeyes make another early exit in the Dance, the lack a solid 1-2 scoring punch will most likely be to blame.