Things are starting to look significantly better for the basketball Buckeyes as of late. Aaron Craft had possibly his most dominant game of his career against Iowa. Points were scored with semi-regular consistency. Hell, Ohio State just won two hard fought games in a row against good competition, on the road, without completely crapping their pants at the end of regulation!
And those are all positive developments, don't get me wrong. Ohio State has emerged from the jungle primeval that is a potential NIT bid to claw their way back into legit NCAA tourney consideration. Truth be told, they're still probably one or two marquee wins away from solidifying a decent seed in the tournament, but if they continue to play sound defense, they'll get there.
The one roadblock to this might end up being Lenzelle Smith. Ohio State needed their senior guard to be a consistent scoring threat, and in the first half of the season he kinda was, and looked to build upon that in the second half of the year. Instead, the complete opposite of that has happened.
Lenzelle was able to silence his critics somewhat, with a 12 point "outburst?" against Iowa. Six of those points came on three pointer, which is another important area where he's been expected to contribute offensively during the 2013-14 season.
Still, the dude only went a total of 3 for 11 from the field, and this continues a trend that has been going on since the beginning of the new year. Beginning with the January 4th game against Nebraska, Lenzelle is a combined 27 for 84, which is good for slightly better than 32% from the field. His three point shooting is similarly bad: Lenzelle has only hit 12 of the 40 threes that he's attempted in 2014, or a whopping 30%.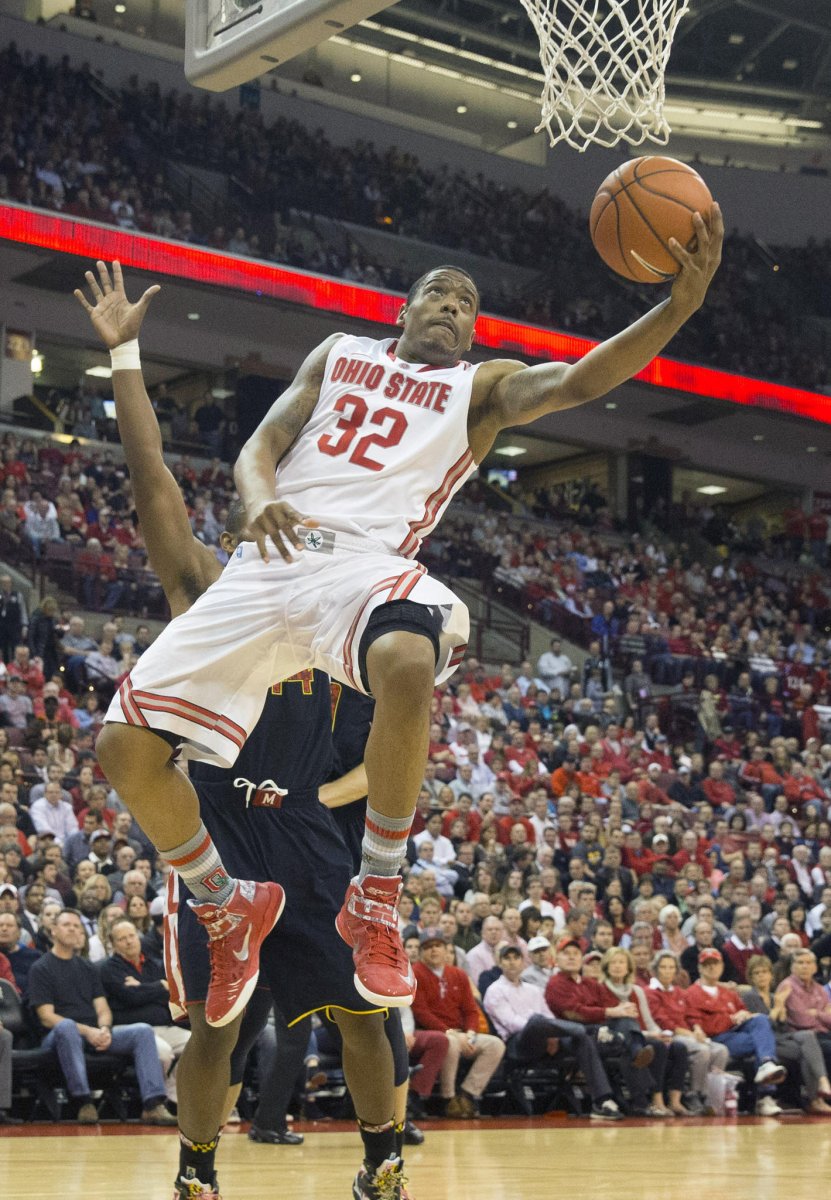 That's not a good sign, even for a team on the upswing.
The effects of this can be seen most clearly in the first half of the Iowa game, which despite some incredibly stiff competition might have been Lenzelle's worst offensive half all season.
He missed a jumper at 19:31, a threeball at 17:33, and then a layup with just under nine minutes remaining in the half. The cherry on top was another three point miss at 4:11, which instead of stemming the tide of an Iowa comeback, allowed them to quickly throw up another two points and get back in the game.
During Lenzelle's drought, Ohio State built and then lost a nine point lead. For a player that continues to need to be a huge part of the offense, his complete lack of input into anything that was going on on the court is a huge detriment to the team, because as much as we'd like to, 17 point scoring outbursts from Aaron Craft can be counted on about as much as a rainbow dodo laying golden eggs right in Thad Matta's lap.
More stats: two other B1G teams have only two players averaging double digits per game. One is Iowa, which thanks to an extremely deep bench is still putting up over 80 points a night. The other is 11-10 Nebraska. Point being, Ohio State is constantly on the precipice of being Nebraska on any given night. All it takes is a poor performance by Smith.
Again, because Lenzelle Smith is the second leading scorer on the Buckeyes, which granted isn't the biggest accomplishment in the history of the world, his teammates need to be able to count on those 11.8 points a night, every night. Absent that, the margin for error, especially during Big Ten play, becomes increasingly slim.
In the close loss against Penn State, Lenzelle scored 15 points (albeit on 4-11 shooting). A few days later, against Wisconsin, he scored two, going 1-7. This past Tuesday at Iowa, he got his requisite 12.
There probably isn't going to be a point at this season where someone suggests that Ohio State is a Final Four team. But in the next month they could evolve into a group that could do some damage IF they get consistent shooting from their most important offensive players. Like it or not, Lenzelle is one of those guys, but for now he remains mired in a shooting slump that's as cold as Ohio's winter has been.