WESTFIELD, Ind. – Eight months ago, Donovan "Puff" Johnson barely cracked the top 200 in the class of 2020. After the next round of rankings updates, he'll be a no-doubt top-100 prospect and could even challenge for the top 50.
Johnson, a 6-foot-7 wing and currently the No. 101 overall prospect, picked up an Ohio State offer on April 28 after his impressive weekend performance at Session I of the Nike EYBL in Atlanta. Arizona, Pittsburgh, Penn State, Xavier, Miami, Maryland and Louisville are among the schools who have extended offers to him. North Carolina, where his brother Cameron played, offered Johnson a scholarship on Tuesday.
Even though Johnson has been inundated by schools reaching out to him, Ohio State has positioned itself well at this point in his recruitment.
"Great coaching staff, great guys," Johnson said. "I can't speak highly enough of that program."
Johnson will offer whichever college program he joins a multi-level scorer with a sweet shooting stroke, especially from deep.
The Pennsylvania native has recently split his time between Wildcats Select on the Adidas Gauntlet circuit and All Ohio Red of the Nike EYBL. While playing for All Ohio Red last weekend, he averaged 17 points per game while shooting 42.1 percent from the field and 39.5 percent from 3-point range. Johnson's breakout game came when he scored 31 points and hit 8-of-10 triples against the Alabama Fusion on Saturday.
Chris Holtmann and Ohio State's assistant coaches watched him during the live period two weeks ago. The head coach has also visited him at home, observed him working out and seen him play during his high school season.
"He thinks I can fit what they want, which is a big wing and a player that can just come in and play any time," Johnson said.
Johnson, who took an unofficial visit to Columbus in February, said he plans to visit Ohio State again "real soon." He also said he recently visited Miami, Penn State and Pittsburgh, and will visit Alabama, Michigan and Notre Dame soon.
Holtmann and his staff should have a chance to wow Johnson whenever he visits this summer. But Pittsburgh (his hometown school), Arizona (Sean Miller played with Johnson's dad in college) and North Carolina (his brother played for the Tar Heels) loom as tough competition.
Scottie Barnes to Visit Columbus "Soon"
When both DJ Carton and Alonzo Gaffney committed to Ohio State in 2018, they were ranked as five-star recruits. Holtmann, though, has never landed any players as highly ranked as Scottie Barnes.
The 6-foot-8, 210-pound prospect is ranked No. 4 overall in the class of 2020. In February, he included Ohio State among his top eight schools along with Duke, Kentucky, Oregon, California, Kansas, Miami and Florida State.
Barnes has not taken a visit to Columbus, but he said he plans to do so "soon."
"Me and Ohio State, we text all the time," Barnes said. "The coaches came in to see me last week, too. I really like the coaches, the program, what they're building. They're building something very special."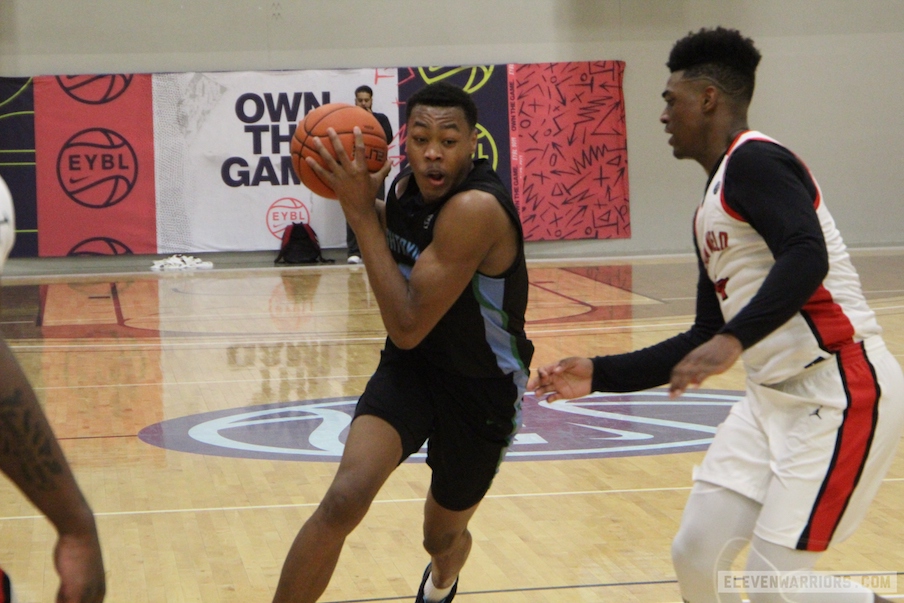 Though players his size typically play either as a wing or forward, Barnes views himself as a point guard who can also play off the ball.
Ohio State, he said, has pitched him as a primary ballhandler with the ability to play other positions.
"They talk to me about how I'd be a point guard but run the game, transition to other spots too," Barnes said.
Currently, the Buckeyes aren't viewed as the favorite for Barnes, but they have time to make their case. He doesn't plan to make a decision on which school to attend until "late next year."
Ultimately, Barnes said, relationships with those in the program will seal his decision.
"Someone I feel comfortable with going to school and making it be the right fit for me," Barnes said.
John Hugley Still "Wide Open"
While Ohio State chases Dain Dainja, Zach Loveday, Dawson Garcia and Mark Williams, all post players who have an offer from the Buckeyes, John Hugley hovers over the conversation.
Hugley, a four-star big man from Brush High School, is the fourth-best in-state prospect and plays a position of need, yet has not received a scholarship offer from Ohio State.
"If I get the offer, it would be fine, but if I don't, just keep working," Hugley said.
Hugley, at 6-foot-8, 260 pounds, is the No. 152 prospect and the 26th-ranked power forward in 2020. After Session I of Nike EYBL in Atlanta two weeks ago, his recruitment blew up. 
He didn't receive an Ohio State offer, but Cincinnati, Florida State, Iowa, Florida, Buffalo, Kansas State, Missouri and Georgia Tech all offered him scholarships in a six-day span. Pittsburgh, Missouri, Nebraska and Xavier had already offered, and they only intensified their pursuit of Hugley.
"It was crazy," Hugley said. "I mean, I was expecting them, but I wasn't. I knew if I kept playing hard that some offers were coming in."
At some point, likely this summer, Ohio State will have to decide whether or not to offer Hugley. And unlike recent commit Kalen Etzler, he's not an absolute lock to choose the in-state power school even if offered a scholarship. 
Hugley didn't grow up a fan of the Buckeyes, though his high school coach Chet Mason has a tight relationship with assistant coach Ryan Pedon, whom he played under at Miami (Ohio). He mentioned Ohio State being the "hometown" school as a reason for his interest in the program, and he called Holtmann a "real good coach."
"He just keeps it real," Hugley said.
Cam'Ron Fletcher Plans to Visit Ohio State
Ohio State plucked one prospect out of St. Louis and off of Nike EYBL's Bradley Beal Elite squad for 2019 in four-star forward E.J. Liddell, and it hopes to go back-to-back by landing four-star wing Cam'Ron Fletcher in 2020.
As the No. 36 overall prospect and the second-ranked player in Missouri, Fletcher has attracted interest from numerous high-major programs. The 6-foot-6, 180-pound small forward holds offers from Michigan State, Missouri, Illinois, Kansas State and others. He listed Duke, Kentucky, Louisville, Michigan, UCLA and Kansas as schools that have pursued him hard recently.
Cam'Ron Fletcher toe draggin in the #Concords! @CamRonFletcher1 pic.twitter.com/EFPMRakDBL

— Who's Next (@WhosNextHS) May 12, 2019
Fletcher said Ohio State coaches talk to him about three times a week. Holtmann and assistant coach Terry Johnson visited him in his hometown recently. Fletcher mentioned they've told him they like how hard he plays, his rebounding and shot-blocking, among other attributes.
"They told me they need a wing player," Fletcher said. "That's what they told me. In the 2020 class."
He said he plans to visit Ohio State.
In The Mix for Earl Timberlake
If you had never heard of Earl Timberlake, were shown a picture of him and told Ohio State was recruiting him, you'd probably think he's a highly regarded football prospect.
The 6-foot-6, 215-pound muscle-bound wing looks like a mix between a wide receiver and a safety. However, he's a four-star shooting guard and the No. 37 overall prospect in the class of 2020. 
Holtmann visited Timberlake at DeMatha Catholic in Maryland a couple weeks ago, and Timberlake said it was the third time an Ohio State coach had visited him at his school.
Timberlake said he plans to repay the visits by taking a visit to Columbus at some point.
"They're in the Big Ten. Produce pros," Timberlake said. "I like the players they've got right now."
Louisville, Virginia Tech, Maryland, Florida, Providence, West Virginia and others have offered Timberlake scholarships along with the Buckeyes, who extended an offer in December. He said his next visit will be to South Carolina.
During the first two sessions of the Nike EYBL, Timberlake has shown out for Team Durant, averaging 17.2 points, 8.9 rebounds and 2.5 assists per game in eight games. He has shot 48.1 percent from the field and hit 8-of-39 3-pointers. 
"I'm very competitive," Timberlake said. "I can get out and run. I can play multiple positions, I'm versatile."
Timberlake, who wears an intense on-court demeanor seemingly at all times, mentioned Ohio State liked him due to his "toughness." Coincidentally, he said he got to know Luther Muhammad, who could be described similarly.
"He's tough, too," Timberlake said.
Long Way to Go for Nimari Burnett
Ohio State extended Nimari Burnett an offer 10 months ago and has since added his Prolific Prep teammate, Ibrahima Diallo. But Burnett is nowhere close to making a decision and, more importantly, plays a position that isn't a top priority in the Buckeyes' 2020 class.
Recently, Ohio State has targeted two categories of players: big men and wings. Burnett, a five-star prospect, is a 6-foot-3, 185-pound combo guard who thrives with the ball in his hands. With DJ Carton, CJ Walker, Luther Muhammad and Duane Washington Jr. all still expected to be part of the team's backcourt for the 2020-21 season, Ohio State can't offer to turn the team over to Burnett.
Still, Burnett said he remains in contact with the Buckeyes, who have told him they want him as a player who can play both point guard and shooting guard.
"Coach Holtmann, we have a good relationship, as well," Burnett said.
2020 guard Nimari Burnett has received an invite to the NBPA Top 100 Camp from 6/11-6/16 at UVA and will attend he tells EM. A glimpse of his skillset and athleticism from EYBL Session II @NimariBurnett pic.twitter.com/ABk8zA5NE2

— Endless Motor Sports (@endless_motor) May 13, 2019
Burnett, who grew up in Chicago, holds offers from UCLA, USC, Stanford, Arizona, Illinois, Marquette, Indiana, Louisville and others. He doesn't plan to take any visits until the fall.
Ohio State remains in the picture, per Burnett, and there's time to make up ground, but the fit might not be perfect for both parties.
Kalen Etzler to Play for Uncle at Crestview
Before Kalen Etzler had to keep his commitment to Ohio State a secret for three days, he had to keep quiet about the fact that his uncle, Doug, would become his head coach at Convoy Crestview.
"I knew that about two days after my coach did retire," Etzler said. "Obviously I was one of the first to know, since it's family-related. He was going to try out. We didn't know if it was going to happen. Ended up finding out like five days later or something like that, and he got it."
Doug, who played basketball for the Buckeyes from 1991 to 1995, was most recently Teays Valley's head coach.
Etzler has never played for his uncle's teams, but he has seen him coach.
"His offense is really similar to what we do, except they do it in transition," Etzler said. "They run a quick offense out of transition, so I hope it'll be the same. Maybe some high ball screens for me."
Now, he'll get a chance to experience playing in his uncle's system for the first time.
So, what will it be like for the future Buckeye playing for the former Buckeye?
"I have no idea," Etzler said. "My dad said he's going to be intense. It's a family thing, so I'm not going to let it get to my head."
Visit From Mark Williams "Not Out of the Picture"
A recent scholarship offer from Duke, where his sister Elizabeth starred from 2010 to 2015 and now has her jersey retired, means the Blue Devils will be hard to beat. But four-star center Mark Williams said he still hears consistently from Ohio State assistant coach Jake Diebler, whom he said texts him "all the time."
"He says I'm a priority," Williams said. "He really wants me there."
Williams, a 7-foot, 225-pound big man, is the No. 45 overall prospect and the sixth-ranked center in 2020. He picked up an Ohio State offer on Dec. 30. Stanford, Florida, North Carolina State, Connecticut, Georgetown and others have offered the native of Norfolk, Virginia.
The Buckeyes, Williams said, have said they're interested in him due to his length, ability to affect shots, shooting and inside offensive skills.
So, is a visit to Columbus in the near future a possibility?
"I mean, I still have to talk about it a little more," Williams said. "I mean, probably. It's not out of the picture or anything like that."
Brandon Boston Jr. No Longer a Possibility
Ohio State spent time chasing five-star wing Brandon Boston Jr. last summer and fall, bringing him in for a visit and heading to Georgia to see him in person multiple times. 
However, he can be crossed off the list of possible additions in the team's 2020 class. On Saturday, he said was no longer hearing from the Buckeyes' coaching staff. 
Duke is viewed as the favorite for Boston, the No. 8 overall prospect and the third-ranked shooting guard in his class. He has a host of other offers, including Kentucky, Alabama, Florida, Auburn and Kansas.