On Monday night, we profiled Kyle Ahrens, one of the top juniors in Ohio high school basketball without a Buckeye scholarship offer. Ahrens is one of a handful of top-flight talents hoping to draw a deeper look from Thad Matta and his staff. That list includes a couple of players from the traditional Buckeye stronghold of Northeast Ohio. 
Kipper Nichols is one of Ahrens' (and Luke Kennard, and V.J. King, and A.J. Harris') AAU teammates. A smooth small forward from Lakewood St. Edward outside of Cleveland, is definitely on that list and the Buckeyes are starting to take notice.
"I've been talking lately with coach (Buckeye assistant Jeff) Boals, pretty often in fact before we left to go down to Columbus (for the state tournament,)" Nichols told Eleven Warriors about his developing relationship with the Buckeyes. "Ohio State has a great tradition there. They have great rivalries and have had a lot of great players. I also really like the Big Ten. They want to get me on campus and have told me they're looking forward to seeing me this spring."
With offers from Penn State, Xavier and Dayton to his credit, Nichols is a relatively "late bloomer" in the basketball recruiting world. He's beginning to hear from a number of other schools. 
"Clemson, Xavier, Cincinnati and a couple others, he said of what schools have recently picked up their interest. "I'm hoping to hear from Florida too because I've always really liked them."
A 6-foot-7, 212 pounds and still growing (Nichols expects to grow another inch or two before he's finished,) the versatile Nichols is capable of playing inside or outside. He prefers a fast-paced offense, and that's one thing he really likes about Thad Matta's Buckeye teams.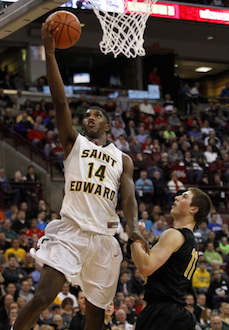 "I really like that (Matta) lets his players go, offensively," he said of the Buckeyes' system. "We run a flex system now at St. Ed's, we do high/lows, and sometimes we'll go four out and one in. I like to run more, but our system doesn't allow us all that freedom, so we learn to play in the offense and help find the right shot."
Clearly, the system is working at St. Ed. The Eagles just won Ohio's division one state title, and Nichols was a major part in the victory.  Nichols had 26 points in the state finale, including two clutch free throws to ice the game in the closing seconds of overtime. Still, the star remains humble. 
"I don't really remember," Nichols said when asked of his state line in the state title game.
The answer itself was almost unbelievable; no one forgets 26 points on 11-15 shooting to win a state championship. Big games behind him for now, Nichols will focus on what's next: continuing to improve his game. 
"My outside shot has really improved recently, I always want to guard (my opponent's) best player and I think I can provide versatility (because I can) guard every position," he said giving a self-analysis of his game. "I've been working hard on my ball-handling, but really I need to work on everything to get better."
St. Edward is an athletic powerhouse, and with that comes the responsibility of taking care of things off the court as well. Nichols says he's doing just that.
"My grades are good," he said of his academic standing. "This year was a good one. I haven't taken the ACT or SAT yet, but I did take a PSAT and I did pretty well on it."