The Confessional Is Open
It's time for a little offseason soul cleaning. Every year, give you the chance to confess your sins against Ohio State athletics while doing the same. We think it's good to get these things off your chest in a safe, loving environment.
As always, we'll kick things off by confessing a few of our sins before opening the floor to you all in the comments section below where you can confess some sins of your own.
Remember, you can speak freely without the fear of downvotes (regardless of your level of depravity).
I'll kick us off.
Kevin Harrish
— First thing's first: I love Jim Harbaugh. I love everything about him. If Saturday Night Live were to create a character designed to be a parody of a football coach, that character would be Jim Harbaugh. He's like a cartoon character, except he's 100 percent real. I've run out of space in my brain to remember all the incredible and unbelievable things he's done even since becoming the head coach at Michigan. My real confession is that it drives me crazy when Ohio State fans fail to acknowledge how infatuating and hilarious he is simply because he coaches a football team you don't like and you can't handle cognitive dissonance.
— I went to the Fiesta Bowl this year – drove over 3,600 miles round trip to get there – and I must confess, I had a fantastic time at the game. I made the trip knowing the Buckeyes were almost certainly going to lose (folks, always pick the team with the superior defensive line), so I was at peace with the outcome long before kickoff. The fact that it was an absolute bloodbath actually made it better. I can't really explain why, but seeing Ohio State and Urban Meyer get steamrolled like that was kind of... refreshing? It made football feel real again, that it's still possible the Buckeyes lose, and lose very, very badly.
I also knew that the loss was relatively meaningless. The team had drastically exceeded expectations even getting to that game. On top of that, every senior on the roster already had a national championship ring from two years before and Ohio State was just about to bring in its best-ever recruiting class – things were okay. I actually thought, even in the moment, the loss was good, because it would bring about real change. If the Buckeyes squeak out a close loss in a game with a young, overachieving team, maybe the sense of urgency to make staff changes is lower, fewer players return for another shot at a title and the team is less hungry in 2017.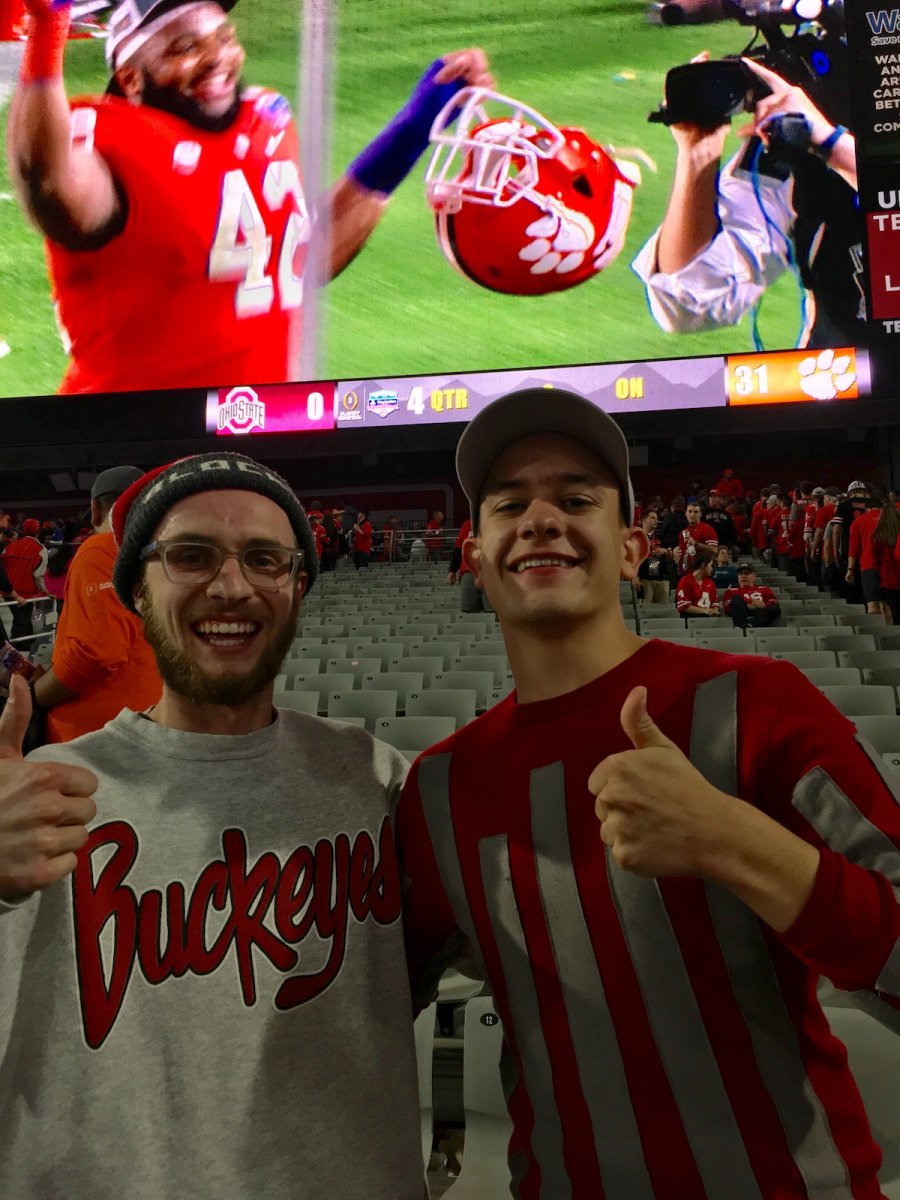 — Last year, I confessed that I was strongly considering not purchasing Ohio State basketball tickets this year and instead, purchasing individual tickets to some of the better games from the secondary market. A year later, I must confess that I didn't go to a single Ohio State men's basketball game last season. I tried to make myself feel bad after Thad Matta stepped down, since I missed every game of his last season, but I really couldn't. I don't really regret my decision.
Jason Priestas
— With each passing year, I'm less excited to trek to the Shoe for a football game. It's still incredible, with the sights and sounds and pre-game festivities, but you're basically giving up an entire day – sometimes in the neighborhood of 14 hours. Road games still hold some allure because it's a new experience, but the tin seats in the Shoe are losing to a nice couch with a 65" 4k TV in front of it more often than not lately.
— I wish Ohio State could have kept Ed Warinner as an offensive line coach somehow.
— I'm not alone here, but I completely checked out of Ohio State basketball the last three years, only popping up to see some D'Angelo Russell highlights when he was here. Holtmann has a chance to bring the fans back.
— As far as rivers go, the Olentangy is kind of weak.
— The OH–IO chant/response is still cringe-inducing.
Johnny Ginter
— I think that Ohio State football is one mediocre hire in the post Urban era from slipping into a permanent 9-3 purgatory from which they may never return (or at least, not for a decade or more, which is essentially the same as "forever" in college football time). Nebraska is our Ghost of Christmas Yet To Come and I can only hope that Ohio State can buy the biggest Christmas goose in the store for their next football coaching hire. That's something that a lot of people treat as a certainty, but I'm not as sure.
— If Jim Tressel had been the Ohio State coach for the past six plus years instead of reigning over Youngstown State and issuing Quiet Time edicts, not only would he _not_ have won a national championship in that period of time, I don't think he'd have even sniffed the playoff thus far. Braxton under Urban Meyer was subjected to an incredible amount of pain and hits; Braxton under Jim Tressel and a Jim Bollman offensive line would be in an iron lung and a key witness at Tressel's trial at The Hague.
— I would not be upset is wrestling took over basketball as the second most popular spectator collegiate sport at Ohio State. Also, as long as I'm dreaming, I would like a pony and for Kyle Snyder to be able to clone himself through some kind of starfish/earthworm DNA splice made possible through a generous grant to the Ohio State medical center.
Curt Heinrichs
— When he was a freshman (and only that season), I found Kyle Snyder to be boring to watch on the wrestling mat.
— I have not watched an entire Buckeye basketball game since I was in college in 2008 and probably haven't even turned on a game at all since 2011.
— I was convinced that Brandon Saine was better than Boom Herron.
— I have a feeling Cardale Jones will end up playing for the Browns, which is sad for him, but good for me as a fan of the worst franchise in the NFL.
Ramzy Nasrallah
— Lou Holtz once said his dream job wasn't to be Ohio State's coach after Woody Hayes; it was to be the coach after the guy who would take over for Woody Hayes. I get what he meant. I find myself thinking about how that's going to go down in Columbus when Shelley finally says she's done with Ohio winters and Urban rides off into the sunset with his family contract. The guy who took over for him at Bowling Green coached Tight Ends for the Las Vegas Locomotives of the Does That Team Really Exist football league shortly after his BGSU head coaching tenure came to a close.
The guy who took over for him at Utah was basically Utah's Luke Fickell and Kyle Whittingham is still there and good, but the guy who took over for him at Florida was exactly what Holtz wanted to avoid. I think about who will come next, a lot. I also think about who will come after that, because next  - especially with how Ohio State is operating now - is some kind of standard to uphold. Lou wouldn't want any part of it, and frankly - I wonder who would.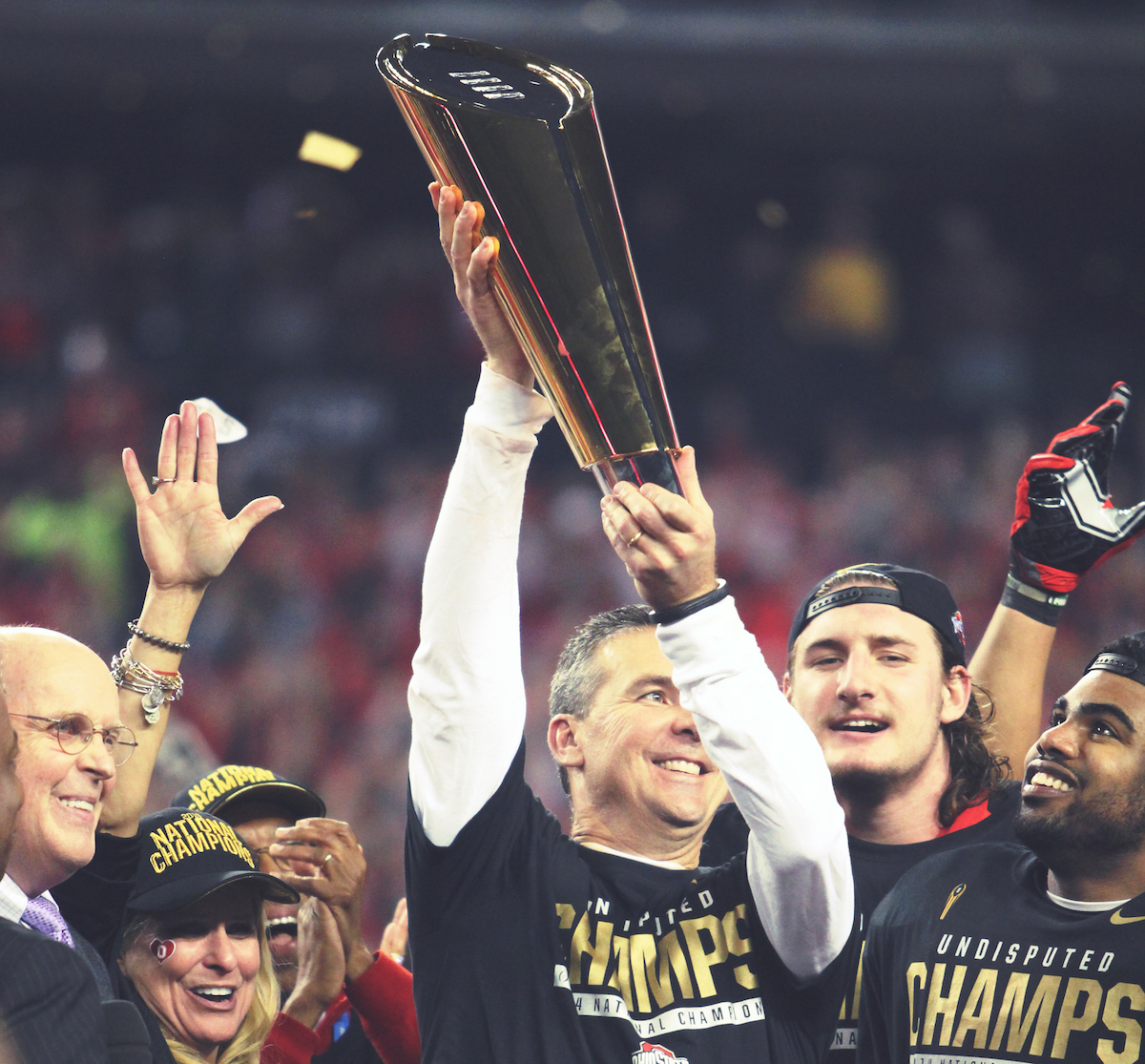 — I cannot think of a debilitating loss in Ohio State history that bothered me less than the Clemson game. I was more distraught after Ohio State only beat Hawaii 38-0 than I was during and after that game. The man Urban had coaching quarterbacks was excruciatingly bad at coaching quarterbacks, and the youngest team in the sport overachieved in spite of it. The 2006-7 offseason following the Glendale Massacre was the longest non-Tatgate offseason of my lifetime. This one has been nothing at all like that. This should have tasted far worse than it does.
— This is my 20th year writing about Ohio State football. I've now been a sportswriter longer than I was a sports fan. Sometimes I'm grateful for having done it - my ability to communicate and organize thoughts have benefited enormously; my day job and career have been served well by this. Other times I lament having lost all of the innocence that drew me to it in the first place, like when there's a rumor I can usually find out within minutes how valid it is. There's no mystery anymore. I used to cry in football stadiums as a kid because I cared so much, and these huge men meant everything. They're just big kids. I know that now.
And knowing that anchors me with understanding that amateurism is an embarrassing practice in its current form with the amount money involved. I wonder how swiftly that will change - or at all - once Baby Boomers are no longer in charge of preserving it. Seeing how the sausage is made and articulating opinions about that sausage dull the passion for it. You become a bit of a factory worker for sports takes because you know how to craft them and they come from the head more than the heart. Twenty years. One team. I wonder how much longer my little show will be sustainable, especially through old cynical eyes.
But then Ohio State plays Michigan the way it did last November through two cold overtimes, when I couldn't stop physically shaking the entire afternoon or speak in coherent sentences. That crying little kid is still here. I'd just like to see more of him.
Walt Keys
— Both my folks went to Michigan and I cheered for UM until high school. I switched sides when I decided to go to OSU.
— I truly hate the "O-H", "I-O" thing.
— I think OSU's design game is generally pretty butt. Thank God for Homage or I'd never wear anything with OSU on it.
Chris Lauderback
— I love bragging about Ohio State football's legacy as much as the next guy but I find it lame Ohio State lays claim to eight national titles when only six are inarguable. Yes, all schools do this and OSU isn't even the sketchiest of the offenders but at minimum, the 1970 title, as decided by the National Football Foundation Poll, is flimsy. The Buckeyes beat two ranked teams all year before losing by 10 to Stanford in the Rose Bowl to finish at 9-1, good for only a 5th-place finish in the AP Poll.  In 1961, the argument is a little better but still OSU finished 8-0-1 with the tie coming against unranked TCU, in the Shoe no less. The end result saw the Football Writers Association of America anoint OSU as national champs while Alabama won the AP national title with a perfect 11-0 mark.
— I cringe a little whenever I hear university figureheads or fans refer to Earle Bruce as a coaching legend at Ohio State. I love that Earle sticks around and how Urban goes out of his way to show reverence but the reality is Earle had one great year which was made possible by a roster full of Woody's players (11-1 in 1979). Other than that, Earle's record is very pedestrian. Three losses in each of the next seven seasons followed by a 6-4-1 mark isn't much to celebrate or hold in such high regard. He had one team finish in the top-5 of the polls in nine years. I won't even go into the gift that is Earle's grandson getting into twitter beefs on the reg.
— Finally, Ramzy tells me this opinion will evolve as my daughter gets older – which I assume is very possible – but for now, I've got Brutus ranked just a hair above the Buckeye super-fans on the sliding scale of cool. In fact, Brutus is slotted just below that awful tune you know as Hang on Sloopy.
T.J. Neer
— I am entering my third year at Ohio State as a full-time student. I have been to a total of one football game in The Shoe in those three years. I left that one game early.
— If we're being completely honest, I could not have answered most of the questions I asked in "How Buckeye Are You?" without looking them up. For example, if I'd been asked who Art Schlichter is, I would have known he played for Ohio State but I wouldn't have even known his position. I also wouldn't have known that Ohio State men's basketball has only won one national championship. I can, however, spell Nuernberger correct on the first attempt.
— I hate Parris Campbell irrationally. I graduated from Marion-Franklin High school while Campbell graduated from St. Vincent-St. Mary, and in my junior year Marion-Franklin was knocked out in the state semifinals by SVSM (side note: I was in marching band not on the football team, but I still rooted for my school, obviously). If I recall correctly, Campbell ran absolutely wild that game and ended up getting something like 200+ yards on the ground and three or four scores. It was heartbreaking. I know he's an important part of the offense, but every time I see him play I can't help but be angry. Maybe one day I'll get over it. Maybe not.
Vico
— I keep offering this confession every year, but I'll keep reiterating that college football interests me less and less with each year. Every year makes it more obvious how exploitative the sport is on its labor. Even the low-level three-star on Ohio State's roster is worth more than the "free education" that the university uses to compensate him. I feel my continued efforts to humor this farce just perpetuates it, even at the margins. We'll have a breaking point some day in my life time, especially as the NFL continues to be a somehow even shittier organization in its treatment of labor than the NCAA. That'll drive down the value that college football players ascribe to tolerating the NCAA's own bullshit. I welcome that breaking point.
— I know Ohio State fans are supposed to hate Jim Harbaugh. Truth is I find him endlessly fascinating. Dude has his own wavelength and is locked into his own frequency. He appears to have acquired enough expertise and capital over his life to be free to explore what interests him in addition to football. That includes everything from giving shoes to the Pope to a peculiar interest in public defenders and the legal system. While that does coincide with other behavior that makes me wince (e.g. a sleepover in a recruit's home), it does make me respect Harbaugh and find him interesting.
Long story short, I'm pretty sure I would enjoy talking to Jim Harbaugh a hell of a lot more than I would enjoy talking to Urban Meyer or Jim Tressel. Flame me all you want in the comments section and you won't change my mind.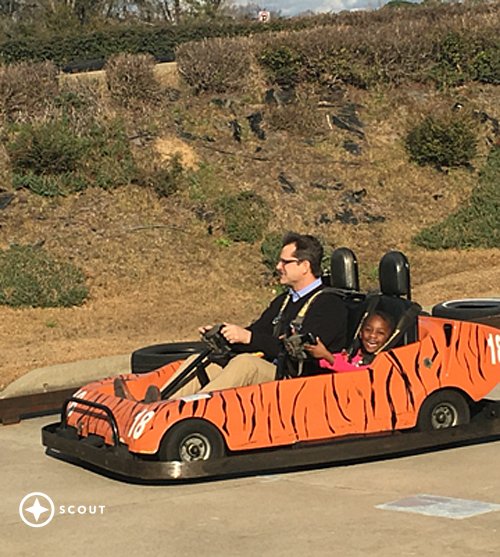 — I'm not yet sold on the Demario McCall hype train and I'm still hedging my bets on these kinds of backs since Dontre Wilson never materialized into a full-fledged player for the Buckeyes. It would be consistent with how one-dimensional these backs were at the end of Meyer's Florida tenure. I'm writing this just to see if Kevin is reading it. (Kevin was indeed reading it)
— I'll say it, and I know we're all thinking it, but I believe the nature of how the Gators beat the Buckeyes to end the 2006 season means Urban Meyer "owes" me another national championship. I'll be disappointed if he doesn't get us another national championship.
— J.T. Barrett will probably be the best overall quarterback in Ohio State's history, barring an injury this year. As much as I like Barrett, that's more an indictment of how lousy our quarterback tradition is here at Ohio State. I kind of begrudge that about our football program's lore and how we've been unable to at least cement one quarterback great in the NFL like we've done at running back and wide receiver. We're basically comparing Barrett's career records to Art Schlichter, Joe Germaine, Bobby Hoying, and Troy Smith for the 1.5 years Smith was a competent quarterback. There's even a Greg Frey appearance in some career passing records for Ohio State. Oof.
— That candy apple red endzone in Ohio Stadium is gaudy. For that matter, most of the post-2001 adjustments to Ohio Stadium have rendered the old Horseshoe somewhat gaudy right now. It does fine as one of the better venues in college football. It's just not as prestigious in my eyes as it once was. That's fine, though. It doesn't have to look as it always did. It's just not as special to me anymore.
— Also, Ohio Stadium looked better with a natural grass playing surface.
Kyle Jones
— I was thrilled when I saw the Penn State game will be a 3:30 kickoff. OSU has over-indexed on night games recently, and although I know the atmosphere is supposed to be better for those 8pm starts, I feel like you lose the whole 'game day' vibe, which is one of the best parts of college football. To me, there's nothing better than tailgating while the noon games are on, heading to the stadium at 3:30 and watching the sun set as the final whistle blows, then finally, heading out for a full evening on High St to celebrate a victory. After night games, though, everyone mostly just packs up and heads home.
— Morrill and Lincoln towers may be unique, but they're hideous and make me cringe every time an aerial shot of the horseshoe catches them in the corner. I'm all for original architecture on college campuses, especially this one, given the relatively sterile feel many of the newer buildings have. However, those two building are an absolute eye sore.
— The all-black uniforms bore me. The scarlet numeral don't really stand out in any interesting way, and flat black helmets are very 2011. Leaning in that direction instead of embracing the chrome helmets and all-white uniforms was a huge sartorial mistake.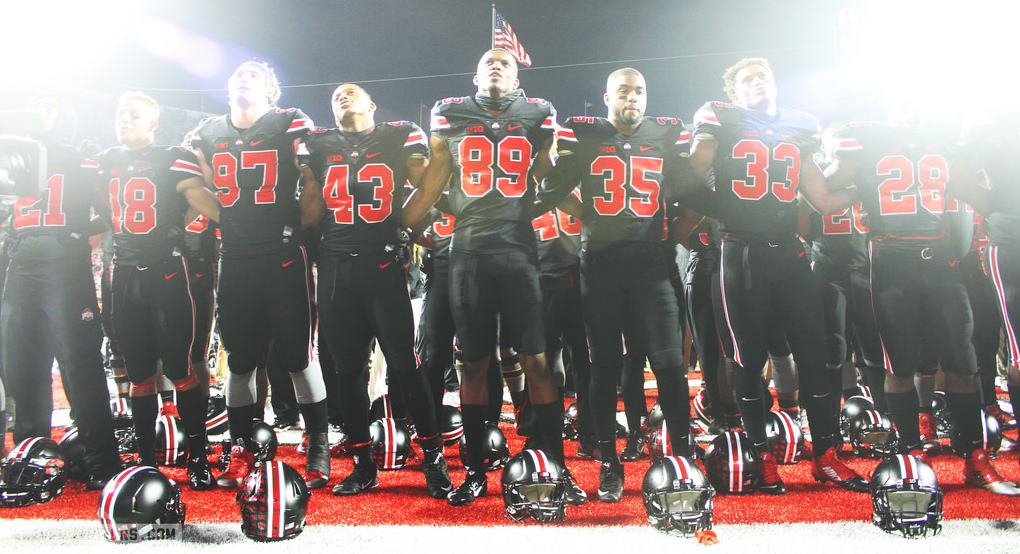 Andrew Ellis
— James Franklin is my second-favorite college football coach. Jim Harbaugh is No. 3. I feel like Franklin genuinely is a good guy, and as someone who follows recruiting quite closely, I respect what he has done on the trail. I've also almost exclusively heard rave reviews from high school coaches and others who have dealt with him. For Harbaugh, it's the same thing others have confessed in the past. I enjoy his antics and find most of them to be rather hilarious.
— I pretty much gave up on Ohio State basketball about threeish years ago. Like most, I've always been more of a football guy, but I certainly enjoyed the Scoonie Penn and Michael Redd years along with the glory days of the Thad Era. Most of the Loving/Amir days were a blur to me as I just didn't pay a whole lot of attention. I am now back on the basketball hype train and looking forward to what will come next.
— I will never understand the people out there who get so worked up over the lack of Ohioans that the Buckeyes are bringing in. The state produces a ton of talent, but it's perfectly fine for some really good players to end up elsewhere. And guess what – they may end up having fantastic careers with other programs (GASP!). Wish them the best as they get their college educations paid for elsewhere and embrace the Florida, Georgia, and Texas kids that will continue flocking to our homeland—alongside the select natives.
Nick Clarkson
— I sometimes hum TTUN's fight song to myself. I have no idea why, but sometimes it just catches on in my mind and I hate myself each time I do it.
— Like others have already said, I get angry at the "O-H", "I-O" thing.
— I think Jim Harbaugh is a national treasure that should be cherished forever.
— As a student, I don't think night games are that great. Especially when the Buckeyes lose (i.e. Virginia Tech 2014).