Welcome to Saturday Spotlight! Here, we dive deep into the lives of Ohio State student-athletes and learn more about their journeys to Columbus, their love of the Buckeye traditions and who they are as competitors and students.
Third on the Scarlet and Gray all-time scoring list. Two-time first team All-Big Ten. 2015 B1G Player of the Year. 2016 Naismith Player of the Year Award finalist.
The accolades stack higher and higher for Ohio State women's basketball guard Kelsey Mitchell; But she is looking to achieve more. A native of Cincinnati, Ohio, Mitchell has been around and had her share of unique experiences in Columbus and at Ohio State. Now, as a junior on the No. 12 team in the country, she is looking to strengthen her already glowing Buckeye legacy — although some already consider her the "greatest player in program history."
We sat down with Mitchell this week to discuss her best basketball moment, love of crime television shows and more.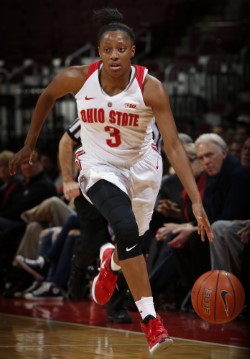 When did you realize you may have a chance to basketball at the collegiate level?
Kelsey Mitchell: It doesn't really dawn on you until you play the best of the best, and that was AAU. I was really young, but our team would always play up.  I was doing OK, I was only like, 13 or 14, and I thought, 'I could have a chance.' Then the greatest thing, and I got my first letter from USC; University of Southern California. I was like, 'wow,' and 'that's really cool.' After that, I just took it upon myself to be the best I can.
What drew you to come to Ohio State outside of basketball?
KM:  It was honestly just being closer to my family. I had a lot of family members that would come to my games throughout high school, particularly my grandparents, and it's really important to me. So I wanted to stay as close as possible so they could attempt to come to the game, and/or know that I'm close enough to them in case something happened or if it was a huge occasion or a smaller award ceremony they could come. So all of that backed it in for me and being a part of a university with a lot of resources. Ohio State is that school.
What is the best part about being an athlete?
KM: To me, the best part about being an athlete is for basketball purposes, all the teams you get to play on top of all the things you get to experience when you go play those teams. You know, when you travel, you never thought you'd go to Minnesota. You're playing the team in Minnesota, but you never thought you'd go to Minnesota. Traveling all those places to play those good teams, and all the stuff people love, you just have to be grateful for it.
I'm going to be honest; I never thought I'd get a lot of gear. If it were up to me, I probably wouldn't have the gear if I had to pay for it, but I'm grateful for this opportunity. So the best part of being an athlete for me is I'm doing a lot of stuff, seeing a lot of stuff, experiencing a lot of stuff that not a lot of people get to do.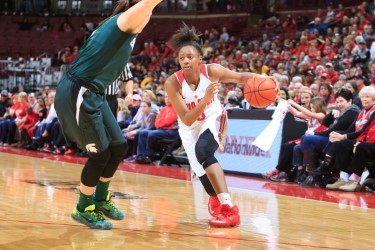 What's been your best basketball moment?
KM: It would have to be when we played Michigan State last year on the road. It wasn't about us losing, it wasn't about the competitive spirit; it was about the moment. We were playing on their senior night, they had some really good players, and we were playing in an environment that was crazy. It was something like, 'Wow, women's basketball has a competitive environment like this.' I think that had to have been the best moment/game, regardless of win or loss.
What are you studying?
KM: Sports Industry. I just got an internship with "Buckeyes Go Pro," so I'm really happy about that and to be a part of the sports world this summer.
What's been your favorite class at OSU and why?
KM: The best class I've taken as far as my major was College Sport 4411. I got to know the ins and outs of the college sport, and how stuff started and where it is now.
What's your favorite part about/spot on campus?
KM: The Younkin [Success Center]. Us athletes just sit in, chalk it up, have a little fun, and crack a couple jokes. The Younkin has to be the best spot for an athlete.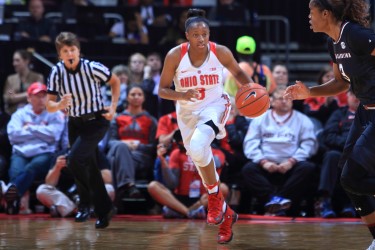 What's your favorite Ohio State tradition?
KM: I don't know the song, but it's the song, like, the one that people sing after every game. It's sad that I don't know it, but it's pretty cool. Also, when people do the O-H-I-O around the arena during the game. That's pretty cool.
What's been your favorite aspect of Columbus?
KM: I played on All-Ohio, the AAU program, so I knew a little bit about [Columbus]. But over the course of time, I met a lot of people on the outdoor courts around campus because when I first got here, I wanted to play pickup. So that was the only place open a lot of times and I would go play outside with the guys, and I met a lot of people and made a lot of friends. They taught me the food places to go to, the malls, all that sort of stuff.
What's been your most embarrassing moment?
KM: We were playing the University of Miami in the ACC/Big Ten Challenge, and it was a real crucial part of the game, and I threw the ball towards the rim for a shot and I threw it over the rim. I didn't realize the clock, and I was like, 'Man, you're dumb.' Thankfully, my teammate Sierra (Calhoun) sent us into overtime, and I was really happy for her and my teammates because that would've been the moment people remembered.
What's something that not a lot of people know about you?
KM: I love to watch crime shows. Law and Order: SVU, CSI: New York, Hawaii Five-O — any law show or crime show, I've probably watched it a million times.
What is something you would tell an incoming student about Ohio State that you'd like them to know?
KM: Honestly, just enjoy this as much as possible. Whether you're an athlete or just a regular student, take this in and soak it in during your four years — maybe more.