Visitors List (Subject To Change)
June 8th (One Day Camp)
'15 QB Joe Burrow (The Plains, OH) - commit/tentative
'15 WR AJ Alexander (Burke, VA)
'15 TE Josh Moore (Olathe, KS) - tentative
'15 OL Grant Schmidt (Sioux Falls, SD)
'15 OL Chandler Cotterman (Anna, OH) (Toledo Commit)
'15 OL Hunter Littlejohn (Powell, OH)
'15 DE Darius Fullwood (Olney, MD)
'15 LB CJ Stalker (West Chester, OH)
'15 LB Chris Green (Toledo, OH)
'15 DB Ronnie Harrison (Tallahassee, FL) (UNC Commit)
'15 DB Jeff Christian (Cincinnati, OH)
'15 DB Tyler Green (Hyattsville, MD)
'15 DB Kei Beckham (Trotwood, OH)
'16 RB Demario McCall (North Ridgeville, OH)
'16 OG Drake Jackson (Versailles, KY)
'16 DE Jonathon Cooper (Columbus, OH)
June 9th - 11th (Kicking & Long Snapping Camp)
'15 C/LS Liam McCullough (Columbus, OH)
'15 DB Meiko Dotson (Daytona Beach, FL) - tagging along with coach
'15 ATH Ray-Ray McCloud III (Tampa, FL) - visiting on 11th
June 12th - 14th (Three Day Camp)
June 17th - 18th (Skill & Big Man Camp)
'17 QB Danny Clark (Massillon, OH) - commit
'15 TE Chris Clark (Avon, CT)
'16 TE Luke Farrell (Perry, OH)
'16 OG Tyler Gerald (Portsmouth, OH)
June 19th (One Day Camp)
'15 WR Deric Phouthavong (Columbus, OH)
'15 WR Abu Daramy (Westerville, OH)
'15 DE Darius Fullwood (Olney, MD)
'15 LB Nick Conner (Dublin, OH) - tentative
'16 ATH Timothy Poindexter (Bronx, NY)
June 21st (One Day Camp)
'15 TE/DE Jake Pickard (Millburn, NJ)
'15 WR Kahlil Lewis (Miramar, FL) (West Virginia Commit)
'15 DE Kengera Daniel (Raleigh, NC)
'15 LB Nick Faulkner (Canton, OH)
'15 LB Nick Conner (Dublin, OH) - tentative
'15 DB Kendrell McFadden (Hollywood, FL) (West Virginia Commit)
'16 QB Jacob Harrison (Dayton, OH)
'16 RB Matt Falcon (Southfield, MI)
'16 RB Robert Washington (Huntersville, NC) - tentative
'16 OL Gavin Cupp (Leipsic, OH)
'16 LB Ethan Tucky (Delaware, OH)
'16 DB Austin Andrews (Columbus, OH)
'16 ATH Tyrece Speaight (Akron, OH)
'17 QB Hunter Johnson (Avon, IN)
'18 OT Will Lawrence (Memphis, TN) - tentative
June 25th
'15 OL Branden Bowen (Draper, UT)
'17 WR Trevon Grimes (Fort Lauderdale, FL)
July 25th (Friday Night Lights)
'17 QB Danny Clark (Massillon, OH) - commit
'15 RB Damien Harris (Berea, KY)
'15 WR Tristan Payton (Jacksonville, FL) - tentative (Florida Commit)
'15 OT Drew Richmond (Memphis, TN)
'15 DE Darius Fullwood (Olney, MD)
'15 DB Will Sunderland (Midwest City, OK)
'16 WR Justin Layne (Cleveland, OH)
'16 DE Jonathon Cooper (Columbus, OH)
'16 LB Shaq Quarterman (Orange Park, FL) - tentative
'17 WR Trevon Grimes (Fort Lauderdale, FL)
Scout $ - Robertson Lights Up Showcase '16 IN DE Auston Robertson
Played WR & TE as a sophomore, but decided to switch to DE about 2 week ago. Grew up in Lima, OH and has always been an Ohio State fan. Wants to visit & camp.
Recruiting Notebook: Ohio State's Camp, Tight Ends & More (11W)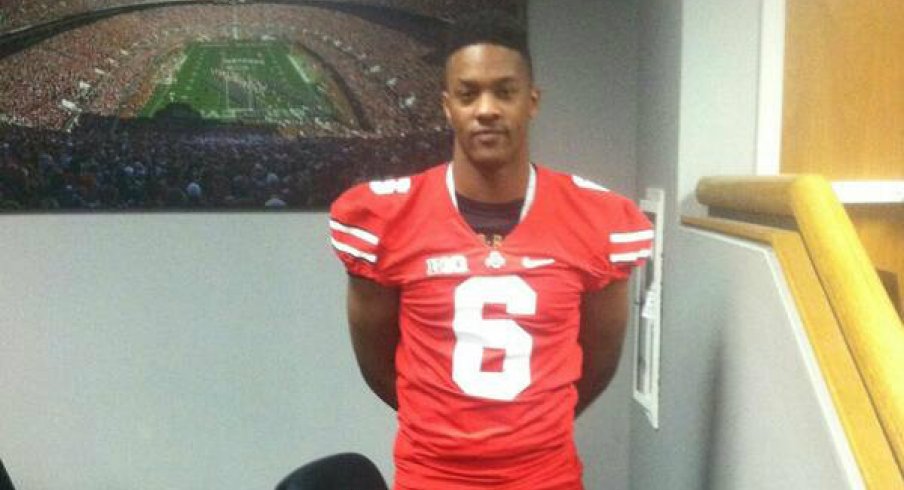 After hosting a big recruiting weekend with the Elite 11 camp and Nike Football Training Camp in town, Ohio State will host its own camp this Sunday. Let's not waste any time getting into Wednesday's recruiting notebook.
cont...
Ohio State quarterback Braxton Miller challenges visiting prospect to a race on Twitter: Buckeyes recruiting (Plain Dealer)
COLUMBUS, Ohio – While 2015 safety prospect Hakeem Bailey toured the Woody Hayes Athletic Center during a recent recruiting visit, he took special notice of something on the wall.
cont...
Ohio State recruiting: State Secrets, 6/4 - Christian Kirk releases top 10 (LGHL)
One of Ohio State's top targets Christian Kirk released his top 10 and it was no surprise to see the Buckeyes on the thick of the race. Also, a ton of camps dates were set. See who's camping.
cont...
4-star WR Bruce with a Top 3, leader and summer plans (247Sports)
Sam Bruce, the nation's No. 6 wide receiver in the 2016 class, has a Top 3 including a leader.
cont...