Visitors List (Subject To Change)
Today
'15 QB David Edwards (Downers Grove, IL)
'15 TE Hale Hentges (Jefferson City, MO)
'15 OL Hunter Littlejohn (Powell, OH)
'15 LS Liam McCullough (Columbus, OH)
'16 OL Tommy Kraemer (Cincinnati, OH)
April 5th
'15 OL Austin Clark (Lexington, VA)
'17 OL Emani Mason (Detroit, MI)
April 10th
'16 OL Michal Menet (Reading, PA)
Weekend of Spring Game (April 12th)
'15 DB Ben Edwards (Jacksonville, FL) - commit
'15 OL Larry Wells (Kenton, OH)
'15 OL Sterling Jenkins (Pittsburgh, PA)
'15 DE Dre'Mont Jones (Cleveland, OH)
'15 DE Jonathon Cooper (Gahanna, OH)
'15 LB Nick Conner (Dublin, OH)
'15 LB Sh'mar Kilby-Lane (Hallandale, FL)
'16 OL Tommy Kraemer (Cincinnati, OH)
'17 ATH Richard LeCounte (Hinesville, GA)
HOOPS - C Trevor Thompson (VaTech Transfer)
April 18th
'15 TE Chris Clark (Avon, CT)
'15 LB Ricky DeBerry (Richmond, VA)
May 24th
Core 6 Day
May 31st
'15 DB Cameron Ordway (Pulaski, TN)
June 1st
'15 RB Natereace Strong (East Saint Louis, IL)
'15 WR Alex Ofodile (Columbia, MO)
'15 DE Terry Beckner Jr. (East Saint Louis, IL)
'17 WR Jeff Thomas (East Saint Louis, IL)
247 $ - Gibson Will Set OSU Official Visit '15 FL QB Torrance Gibson
Will definitely take officials to Ohio State & Tennessee. Talks frequently with Coach Meyer & Coach Herman. Says Ohio State, LSU, Tennessee & Auburn are recruiting him the hardest.
Scout $ - Clark Sets Ohio State Visit '15 VA OL Austin Clark
Visiting this weekend, which will be his 3rd visit to Ohio State. No other visits planned & will cut his list after the visit.
Buckeyes Standing Out to Florida WR Jordan Cronkrite (11W)
It's not easy to get the best players from Florida, and Urban Meyer knows that as a well as anyone. In February, the Buckeyes signed Johnnie Dixon from Miami and shocked a number of people who believed that in no way would Dixon end up playing his football up north.
Ohio State has made South Florida a major priority in 2015 and the same problems exist this time around: how to convince the south's best players that football in Columbus is on par with the football in SEC country. One player Ohio State is hoping to bring north is Miami (Westminster Christian School) tailback Jordan Cronkrite.
Like Dixon, Cronkrite has offers from a who's who of college football powerhouses: all three major Florida schools, Alabama, Auburn, Notre Dame, Clemson and many others. Also like Dixon, Ohio State's Zach Smith and Urban Meyer are on the case.
cont...
Elijah Taylor Discusses Buckeye Offer (11W)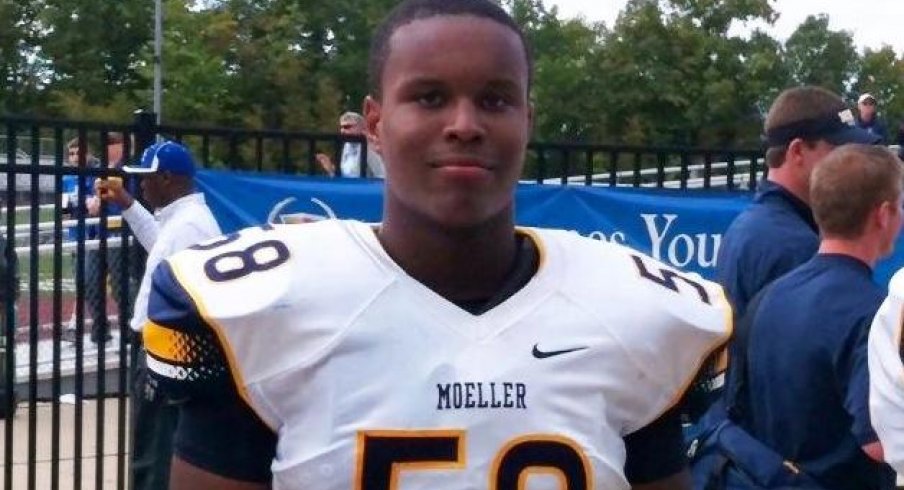 In 2014, Ohio State dipped into the talented pool of Southwest Ohio talent and nabbed Cincinnati Moeller linebacker/athlete Sam Hubbard.
This past week, Hubbard's talented teammate at Moeller, defensive tackle Elijah Taylor, visited the Buckeyes and left campus with a scholarship offer from Ohio State. Ohio's best defensive lineman for 2015, Taylor is a big (6-foot-3, 275 pounds,) agile and versatile. He currently has scholarship offers from Notre Dame, Michigan State, Tennessee, Miami (Fla.,) Louisville and others. The offer from the Buckeyes caused a bit of a shake-up for the Cincinnati lineman.
cont...
Scholarship explosion - Texas CB Jaylon Lane has picked up 20 offers in three weeks, including one from Ohio State: Buckeyes recruiting (Plain Dealer)
COLUMBUS, Ohio – At the beginning of March, Jaylon Lane had three scholarship offers and was orally committed to Mississippi. That seems like a lifetime ago for the 2015 cornerback of Nacogdoches, Texas.
"A lot has happened since then," Lane chuckled during a phone interview with Cleveland.com on Wednesday night.
He wasn't kidding.
cont...
Ohio State recruiting: State Secrets, 4/3 - Torrance Gibson to officially visit OSU (LGHL)
Huge 2015 QB target says he will officially visit Ohio State. Plus, hoops signee D'Angelo Russell showcased his talents last night in the McDonald's All-American game and more.
A bit of a slow day in the Ohio State recruiting world on Wednesday but the news that was delivered did not disappoint. The biggest news of the day was when '15 QB Torrence Gibson tweeted that he would be taking one of his official visits to Columbus to visit the Buckeyes. Gibson is undoubtedly the number one target for the Buckeyes at the QB position and quite possibly the number one target in the whole class. This will be a tough battle for Ohio State as they will have to fight off just about every major college program in the country for his services. The 5-star QB's crystal ball currently favors the Scarlet and Gray but Miami (FL), Tennessee, LSU and Auburn are also in the mix.
cont...