THE PERTINENT INFO
When: Saturday, December 5, 2020
Where: Spartan Stadium, East Lansing, MI
TV: Noon // ABC
Announcers: Bob Wischusen, Dan Orlovsky and Quint Kessinch
This will be the 49th time Ohio State and Michigan State (2–3) have faced each other in football. The Buckeyes hold a 33–15 advantage in the all-time series and are 17–5 when playing the Spartans in East Lansing. In fact, the Scarlet and Gray have won 10 of the last 11 played in Spartan Stadium. 
Last week, Michigan State upended undefeated Northwestern, 29-20, and enters this contest with a 2–3 record. Mel Tucker and company will have some confidence as the Spartans try to defeat ranked teams in consecutive regular season games for the first time since 2011.
Below, you will find some interesting facts about the teams, key offensive player stats, coach information, and team stats.
THE LAST TIME...
Ohio State played MSU was 2019. The Scarlet and Gray won 34-10.
The Buckeyes played in Spartan Stadium was 2018...Ohio State won 26-6.
Ohio State played on December 5th was 1891. The team traveled to Buchtel Field and defeated Akron 6-0. 
The Buckeyes lost to Michigan State in East Lansing was 1999, 7-23.
The Scarlet and Gray lost the fifth game of the season was Oct. 1, 2011. Michigan State won a battle of unranked teams, 10-7.
ON THE HORIZON​
If Garrett Wilson gains 100 yards receiving, he will tie Cris Carter for the program record of five consecutive games with 100+ yards receiving. 
A victory will earn the Buckeyes the program's 941st* all-time.    
Justin Fields is 13 yards away from passing Craig Krenzel for 11th on Ohio State's career passing yards list.
The program single-season record for receiving yards per game is David Boston's 119.5 in 1998. Wilson is currently averaging 128.3 yards per game.
The Buckeyes are going for their 20th straight regular-season win. The longest active streak in the country 
*NCAA sanctions be damned.
LET'S GO STREAKING
Justin Fields has thrown a TD pass in 18 consecutive games.
Ryan Day is 15–0 against Big Ten opponents.
Until the game against Indiana, all of Day's conference wins had been by double digit margins.
Fields has thrown for 300+ yards in three consecutive games
Garrett Wilson has broken the 100-yard receiving mark in four straight games..
The Buckeyes have 20 won straight regular-season games.
Ohio State has defeated Michigan State in four consecutive contests and has 7 straight wins playing in East Lansing.
*NCAA sanctions be damned.
GET TO KNOW MICHIGAN STATE
Michigan State is located in East Lansing, MI.

The university was established in 1855. 

The Spartans are in their 122nd season of playing football. 

Sparty, the team's mascot, made its debut as a six-foot tall papier-mâché Spartan head in 1955.  

Michigan State football started as a club sport in 1885, but played its first varsity football game in 1896.

Notable alumni are James Caan* (The Godfather), Dick Martin (half of Rowan and Martin) Tom Sizemore (Saving Private Ryan), Tom Bodett* (Motel 6), Chris Hansen (Tells pervs to have a seat), Jackie Martling (The Joke Man), Steve Garvey (Dodgers great), Kirk Gibson (Tigers great), Draymond Green (Warriors whiner), Magic Johnson (Lakers great, has HIV?), Zach Randolph (Grizzlies), Le'Veon Bell (Jets, Groveport Madison), Plaxico Burrress (heart breaker and poor shot), Bubba Smith (Colts, Police Academy and Married With Children)  Drayton McLane Jr. (owner of the Astros), Dan Gilbert (owner of the Cavs), Tom Gores (owner of the Pistons), John H. McConnell (former owner of the Blue Jackets)
*Attended, did not graduate.
MICHIGAN IN MUSIC AND FILM
Blind Musician Stevie Wonder, was born in Saginaw, MI and has many hits including "Superstition". "Get Ready" performers, The Temptations, originated in Detroit, "Respect" singer Aretha Franklin began her career at her father's church in the Motor City, "Night Moves" singer Bob Seger was born in Detroit and Anthony Keidis of The Red Hot Chili Peppers spent his early childhood in Grand Rapids and some lady named Madonna. 
Some other bands from Michigan you might have heard of: Al Greene (Let's Stay Together), Eminem (Love The Way You Lie), The Supremes (You Can't Hurry Love), Smokey Robinson (Cruisin'), The Spinners (I'll Be Around), Anita Baker (Ring My Bell) Iggy Pop (Lust For Life), Alice Cooper (School's Out For Summer)The Verve Pipe (The Freshmen) KISS (Detroit Rock City), Parliament-Funkadelic (Give Up The Funk) Kid Rock (Bawitdaba) and The White Stripes (Seven Nation Army). 
There are more bands and musicians from Michigan, but I'm tired of reading about that crappy state. 
Some of the many movies based in Michigan: Gran Torino, The Crow, The Life and Times of Hank Greenberg, RoboCop, The Evil Dead, Blue Collar, Roger & Me, Beverly Hills Cop, Grosse Pointe Blank, Semi-Pro, 8 Mile and American Pie.
​TODAY'S TRIVIA QUESTIONS:
How many times has Ohio State finished the regular season playing Michigan State and Michigan in back-to-back weeks?
When was the last time Michigan State played a regular season game in December?
What year did the Buckeyes and Spartans face off for the first time as Big Ten opponents?
Answers at the bottom of today's article.
2020 Player Comparison
 
OFFENSIVE LEADERS
JUSTIN FIELDS

1,208 YDS // 13 TD // 3 INT

PASSING
ROCKY LOMBARDI
1,057YDS // 8 TD // 8 INT
MASTER TEAGUE III
380 YDS // 5.2 YPC // 6 TD
RUSHING
CONNOR HEYWARD
179 YDS // 3.4 YPC // 2 TD
GARRETT WILSON
513 YDS // 16.5 YPR // 4 TD
RECEIVING
JALEN NAILOR
379 YDS // 23.7 YPR // 2 TD
DEFENSIVE LEADERS
PETE WERNER
24
TACKLES
ANTJUAN SIMMONS /// NOAH HARVEY
22
TOMMY TOGIAI
3.0
SACKS
DREW BEESLEY
3.0
MARCUS HOOKER /// SHAUN WADE
1
INTERCEPTIONS
SHAKUR BROWN
3
SPECIAL TEAMS
GARRETT WILSON
10.7
PUNT RETURNER
JALEN NAILOR
9.0
DEMARIO McCALL
15.0 
KICKOFF RETURN
JAYDEN REED
18.8
DRUE CHRISMAN
42.0
PUNTING
BRYCE BARINGER
43.4
6
EDGE
4
THE COACHES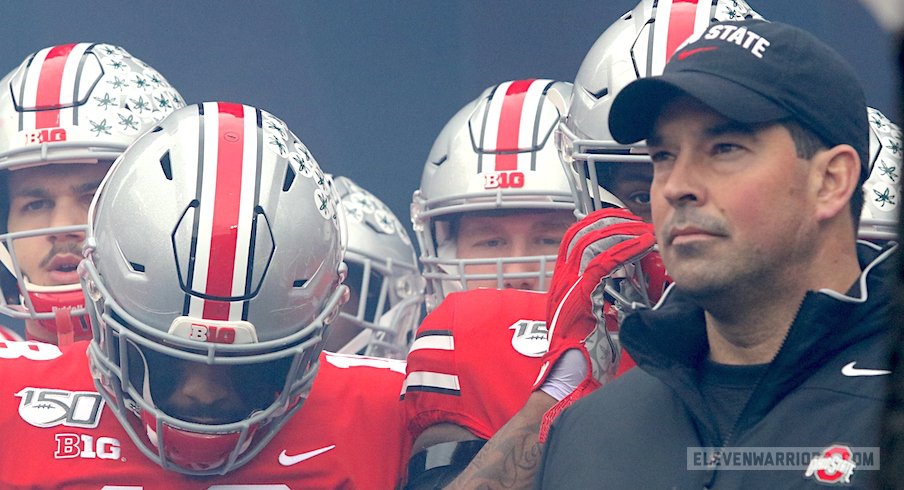 Ryan Day
20–1 (.950) at Ohio State
20–1 (.950) overall
Day's hometown is Manchester, NH. He attended Manchester High School and attended college at New Hampshire. Day has been in coaching for 19 years and is Ohio State's 25th head coach. 
Last season, Ryan Day and the Buckeyes outscored their opponents 656-192. That is an average victory of 47-14. 
After 21 games with Day as head coach, Ohio State is beating teams by an average score of 48-17. He has the program record for points scored after his first 21 games with 1,006. The Buckeyes are outscoring their opponents by a whopping 648 points under Day. 
Ryan Day and Urban Meyer are the only coaches in program history to start their careers with 16 straight consecutive victories. Meyer won 24 straight between 2012 and 2013. 
Mel Tucker
2–3 (.400) at Michigan State (1st year)
7–10 (.412) overall as a college head coach (5th year)
2–3 (.400) against Big Ten opponents
Mel Tucker was born in Cleveland, attended Cleveland Heights and played as a defensive back for Wisconsin. He started his coaching career as a GA for Nick Saban and Michigan State in 1997. Tucker was hired by Miami University as the Redhawks' DB coach in 1999. He spent a year in Oxford, then held the same position in LSU for a season. 
When Jim Tressel was hired by Ohio State in 2001, he in turn hired Tucker to be part of his inaugural staff. Tucker was promoted to co-defensive coordinator in 2004 and left for an opportunity as the DB coach for the Cleveland Browns. He was promoted to DC in 2008 and parlayed that job into stints in the same position with Jacksonville (2009-12), Chicago (2013-14) and Georgia (2016-18). During that time, Tucker was also the interim head coach (2011) and assistant head coach for the Jaguars in 2012.
Before being hired as head coach by Colorado in 2019, Alabama and Nick Saban hired him as the DB and assistant head coach for the 2015 season. Tucker then spent three years at Georgia as the Bulldogs' DC and DB coach. When offered the Michigan State head coaching job, Tucker resigned from Colorado and headed for East Lansing in February of 2020.
CLIFF CLAVEN'S LITTLE KNOWN FACTS CORNER
​
1.......Justin Fields leads the FBS in completion percentage.
2.......100-yard rushing games by Master Teague III.
3.......Spartan victories over Ohio State since 2011.
8.......number of Buckeye national titles.
6.......career interceptions for Fields.
11.....games in which Justin Fields has rushed and passed for a touchdown.
15.....consecutive conference wins for Ohio State.
16.....night game victories for the Buckeyes in Ohio Stadium.
17.....straight wins for OSU over Big Ten AP ranked opponents.
18.....times Ohio State has finished a season with at least 11 wins.
19.....consecutive conference wins for Ohio State.
22.....consecutive regular-season wins for the Scarlet and Gray.
23.....straight home wins for the Buckeyes.
24.....bowl wins for Ohio State.
25.....Ryan Day is the program's 25th head coach.
27.....players on Michigan State's roster from Ohio.
34.....victories for the Buckeyes when GameDay is at the game.
35.....true road game victories for the Scarlet and Gray since 2012.
36.....Yards Shaun Wade ran on for his pick-six against Indiana.
38.....the number of Big Ten titles the football team has won.
40.....points scored by Day's teams in 15 of his 21 games.  
46.....returning letterman are on the 2020 roster. 
48.....number of times Ohio State has been at the site of College GameDay.
55.....yards Sevyn Banks ran on his scoop and score against Nebraska.
56.....B1G wins for the Scarlet and Gray since 2014.
84.....Buckeyes selected in the first round of the NFL Draft.
87.....consensus All-Americans.
89.....consecutive seasons the Buckeyes and Illini played between 1914 and 2002.
90.....times Ohio State has played in a night game. 
99.....this is the 99th season the Scarlet and Gray have played in Ohio Stadium.
151...the number of years The Ohio State University has been in the education business.
300...Fields has thrown for over 300 yards in six of his last nine games.
302...OSU's average passing yards per game...school record for a season is 273.2 (1981). 
378...total yards by fields against Indiana, a career high.
460...victories for the Buckeyes in Ohio Stadium.
612...offensive TDs by the Scarlet and Gray since 2012.
902...receiving yards for Chris Olave and Garrett Wilson this year.
907...times Ohio State has been ranked in the AP poll.
928...number of official wins for the program (we know it's actually 940).
2020 Statistical Comparison
 
OFFENSE
45.2
7th
POINTS FOR
18.0
117th
233.2
11th
RUSHING OFFENSE
98.0
121st
302.0
20th
PASSING OFFENSE
233.4
62nd
535.2
7th
TOTAL OFFENSE
331.4
112th
.544
4th
3rd DOWNS
.381
83rd
.792
87th
RED ZONE
1.000
1st
DEFENSE
26.0
45th
POINTS ALLOWED
31.0
78th
98.5
11th
RUSH DEFENSE
132.0
36th
291.0
117th
PASS DEFENSE
238.2
69th
145.7
91st
PASS EFFICIENCY DEFENSE
112.6
16th
389.5
54th
TOTAL DEFENSE
370.2
44th
.367
42nd
3rd DOWNS
.373
48th
.857
78th
RED ZONE
.731
14th
SPECIAL TEAMS
7.2
65th
PUNT RETURN
7.3
63rd
12.5
124th
KICKOFF RETURN
17.6
96th
34.3
118th
NET PUNTING
34.7
113th
MISCELLANEOUS
+1.0
12th
TURNOVER MARGIN
-1.2
116th
6.0
62nd
PENALTIES
6.2
72nd
10
EDGE
8
TODAY'S TRIVIA ANSWERS
How many times has Ohio State finished the regular season playing Michigan State and Michigan in back-to-back weeks? 
Answer: Twice. You might be surprised the first time for the Buckeyes to finish the regular season against Michigan State and Michigan was 2015. The second time was 2016. 
Ohio State defeated both schools from the state to our north in 2016 and is looking for similar results this season.
When was the last time Michigan State played a regular season home game in December?
Answer: Dec. 1, 2001. Missouri traveled to East Lansing to play a game that was canceled due to 9/11. Saturday will be the sixth time the Spartans have played a regular season game in December.
What year did the Buckeyes and Spartans face off for the first time as Big Ten opponents?
Answer: Nov. 7, 1953. Clarence Munnn and Michigan State defeated Woody Hayes' Buckeyes 28-13 in Ohio Stadium. Munn and the Spartans also beat Woody in 1951, but MSU was not a member of the Big Ten.
You Might Like
The Losing Effect: That Team /// Penn State
Did You Know?
If the game is played on Saturday, Larry Johnson will become the first African American to be a head coach at Ohio State. Looking forward to Coach Johnson getting his first win. Well deserved.