THE PERTINENT INFO
When: Saturday, October 24, 2020
Where: Ohio Stadium, Columbus, Ohio
TV: Noon // FOX
Announcers: Gus Johnson, Joel Klatt and Jenny Taft
This is the ninth time Ohio State and Nebraska have faced each other on the football field. Scott Frost's team is currently unranked and finished 2019 with a 5–7 record. 
The Cornhuskers and their fans have suffered through three-straight losing seasons and have been below .500 in four of the past five years. The 2016 Music City Bowl was the last time the losers from Lincoln played in a bowl game. They lost 38-24 to Tennessee. 
Below, you will find some interesting facts about the teams, coach information, and team stats.
THE LAST TIME...
Ohio State lost a season-opening game was against Miami in 1999.
The Buckeyes lost a season-opening game in Ohio Stadium was 1978, No. 5 Penn State defeated Woody Hayes in his final season opener, 19-0.
Ohio State played on October 24th was 2015. The team traveled to Rutgers and slaughtered the Scarlet Knights, 49-7. 
The Scarlet and Gray began a season with a shutout victory was 2011 (Akron 42-0). 
The Buckeyes lost to an unranked opponent in the season opener was against Arizona (14-7) in 1967.
Ohio State started the season in October was 1939. Francis Schmidt's squad hosted Missouri and blanked the Tigers to earn a 19-0 victory.
ON THE HORIZON​
Saturday will be the start of Ohio State's 131st football season.
A victory will earn the Buckeyes their 21st straight opening game win and 50 out of the last 53*.   
This will be the 31st time Ohio State has faced opened the season in October. The Buckeyes are 29–1 in October season-opening games.
The smallest crowd to watch an Ohio State football game in Ohio Stadium is going to happen Saturday.
*NCAA sanctions be damned.
GET TO KNOW NEBRASKA
Nebraska is located in Lincoln, NE.

The university was established in 1869. 

The Cornhuksers are in their 121st season of playing football. 

The team's nickname was originally Old Gold Knights, followed by Bugeaters. The name Cornhuskers stuck after Nebraska defeated favored Iowa in 1893. The term was used to degrade the Hawkeyes.

Herbie Husker and Lil' Red are the mascots.

The Cornhuskers played their first football game in 1890. Nebraska defeated Omaha YMCA 10-0 on Thanksgiving.

Notable alumni are Warren Buffet (rich dude), Johnny Carson (funny, dead dude), Mean Gene Okerlund (wrasslin' announcer) Tommy Lee (Drummer, "talented" dude), Tom Osborne (Nebraska legend), Ndamkuong Suh (NFL), Alex Gordon (MLB), Tyronn Lue (NBA player/coach) and Zac Taylor (Bengals head coach).
NEBRASKA IN MUSIC AND FILM
Bruce Springsteen released the album "Nebraska" in 1982. Will Forte and Bob Odenkirk (Saul Goodman) starred in the movie, "Nebraska" in 2013. The film has a respectable 7.7 rating on IMDb.
​TODAY'S TRIVIA QUESTIONS:
How many straight years has Ohio State won 11 or more games in a season? 
When was the last time the Buckeyes played a Big Ten game in front of fewer than 70,000* fans in Ohio Stadium? 
The last time Ohio State had two players rush for over 100 yards and a receiver haul in more than 100 yards in the air in a game was 2015. Can you name the opponent in which Ezekiel Elliott, J.T. Barrett and Michael Thomas accomplished this feat?
Answers at the bottom of today's article.
*The question previously asked below 60,000. 
THE COACHES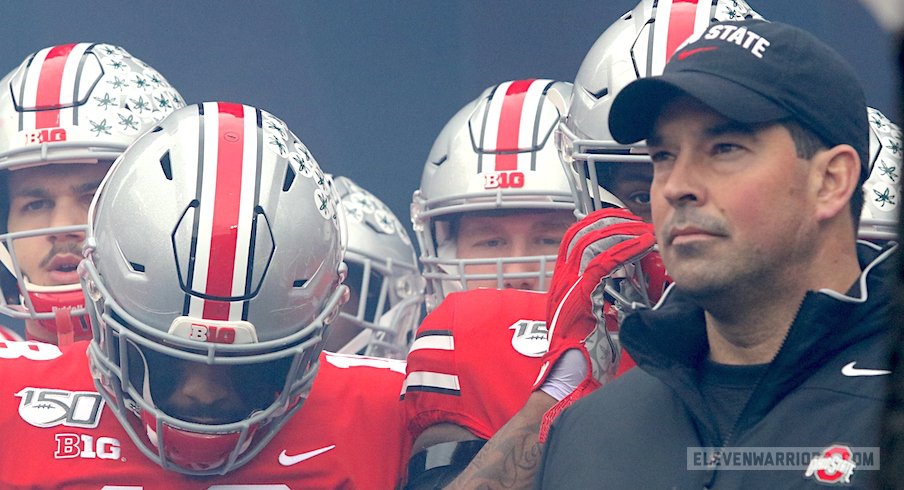 Ryan Day
16–1 (.941) at Ohio State
16–1 (.941) overall
Day's hometown is Manchester, NH. He attended Manchester High School and attended college at New Hampshire. Day has been in coaching for 19 years and is Ohio State's 25th head coach. 
Last season, Ryan Day and the Buckeyes outscored their opponents 656-192. That is an average victory of 47-14. 
After 17 games with Day as head coach, Ohio State is beating teams by an average score of 49-15. He has the program record for points scored after his first 17 games with 825.
Ryan Day and Urban Meyer are the only coaches in program history to start their careers with at 16 straight consecutive victories. Meyer won 24 straight between 2012 and 2013. 
Scott Frost
9–15 (.375) at Nebraska (3rd year)
28–22 (.560) overall as a college coach (5th year)
Scott Frost earned eight different coach of the year awards in 2017. He joined Chris Peterson as the only other coach not in a Power Five Conference to win the Paul "Bear" Bryant Award. In the history of college football, Frost is one of two people to guide a team to a 13–0 record as a player and a head coach. 
Frost started his career as a quarterback for Stanford in 1993 and 1994. He transferred to Nebraska in 1995 and led the Cornhuskers to a record of 24–2 during his time as the starting quarterback. During his senior year, Frost became the 10th player in college football history to run and pass for over 1,000 yards in the same season. Nebraska earned a share of the national title that season.
After a short stint with Nebraska, Frost was a graduate assistant at Kansas State in 2006. He moved on to Northern Iowa as a linebacker coach in 2007. After two seasons with the Panthers, he took a job with Oregon in 2009. He was with the Ducks as their offensive coordinator when Ohio State defeated them in the CFP National Championship game. 
In December of 2015, Frost was named the head coach of Central Florida. The Knights won six games in 2016 and went undefeated last year. In December of 2017, Frost was named as Nebraska's head coach.
CLIFF CLAVEN'S LITTLE KNOWN FACTS CORNER
1......this is the first time Ohio State started a season on the 24th of October.
7......captains for the 2020 team.
8.......number of Buckeye national championships.
10.....starters returning to play in 2020.
13.....starters from last year are not on this year's team.
18.....times Ohio State has finished a season with at least 11 wins.
24.....bowl wins for Ohio State.
25.....Ryan Day is the program's 25th head coach.
38.....the number of Big Ten titles the football team has won.
46.....returning letterman are on the 2020 roster. 
84.....Buckeyes selected in the first round of the NFL Draft.
87.....Consensus All-Americans.
99.....this is the 99th season the Scarlet and Gray have played in Ohio Stadium.
151...the number of years The Ohio State University has been in the education business.
450...victories for the Buckeyes in Ohio Stadium.
902...times Ohio State has been ranked in the AP poll.
924...number of official wins for the program (we know it's actually 936).
2019 Final Statistical Comparison
 
OFFENSE
46.9
3rd
POINTS FOR
28.0
72nd
266.8
5th
RUSHING OFFENSE
203.3
30th
263.1
36th
PASSING OFFENSE
212.6
82nd
529.9
4th
TOTAL OFFENSE
415.8
55th
.552
1st
3rd DOWNS
.412
51st
.893
30th
RED ZONE
.745
115th
DEFENSE
13.7
4th
POINTS ALLOWED
27.8
66th
103.7
9th
RUSH DEFENSE
188.1
94th
156.0
1st
PASS DEFENSE
200.8
30th
97.5
1st
PASS EFFICIENCY DEFENSE
121.3
33rd
259.7
1st
TOTAL DEFENSE
388.8
64th
.291
4th
3rd DOWNS
.401
75th
.655
2nd
RED ZONE
.909
122nd
SPECIAL TEAMS
7.3
72nd
PUNT RETURN
8.0
65th
21.8
45th
KICKOFF RETURN
18.1
107th
39.5
41st
NET PUNTING
39.4
42nd
MISCELLANEOUS
+0.6
17th
TURNOVER MARGIN
+0.0
61st
5.8
54th
PENALTIES
5.1
24th
16
EDGE
2

TODAY'S TRIVIA ANSWERS
How many straight years has Ohio State won 11 or more games in a season?
Answer: 8. The streak might be in danger as the Buckeyes are only scheduled to play in eight games this season. At this time, Ohio State will need to go undefeated in the regular season, win the Big Ten Championship and win two playoff games to win 11 games. If you're wondering, 2011 was the last time the Buckeyes did not finish a season with at least 11 wins.
When was the last time the Buckeyes played a Big Ten game in front of fewer than 60,000 fans in Ohio Stadium? 
Answer: October 19, 1974. Ohio State hosted Lee Corso and Indiana in front of 57,617 fans. Woody Hayes' team won 49-9.
November 11, 1967. Ohio State hosted Wisconsin on a cold, windy and rainy autumn Saturday. With the temperature at 49 degrees and winds between 20-25 miles per hour, many fans did not make the trip to Ohio Stadium to watch the 3–3 Buckeyes host the Badgers.
Apologies for the error. I mistakenly read the attendance for the 1974 game as 57,617 instead of the correct 87,617. Bonus trivia knowledge, Archie Griffin broke the Big Ten record for career rushing in the game against Indiana (1974) and was carried off the field. The 87,617 in attendance was also the second-largest crowd in stadium history...to that point. 
The last time Ohio State had two players rush for over 100 yards and a receiver haul in more than 100 yards in the air in a game was 2015. Can you name the opponent in which Ezekiel Elliott, J.T. Barrett and Michael Thomas accomplished this feat?
Answer: On October 24, 2015, Ezekiel Elliott (142 rushing), J.T. Barrett (101 rushing) and Michael Thomas (103 receiving) went over the century mark against Maryland. The Buckeyes won 49-28.