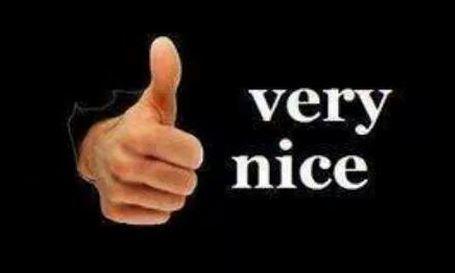 Today, 6-9-2020, is a fine day and the perfect time to check out some of Ohio State's very nice stats. 
A Very Nice Score, October 1, 1983
On a 75 degree, mostly cloudy fall Saturday, the Buckeyes hosted Minnesota in front of the then fifth largest crowd in Ohio Stadium history. The crowd of 89,192 witnessed Keith Byars rush for three touchdowns and back-up QB Brent Offenbecher with Jay Holland for 47-yard touchdown pass. 

When the final whistle blew, Ohio State won by a very nice score of 69-18.
Very Nice Passing Stats
Between 1960 and today, the Buckeyes have thrown for a total of 69 yards on three different occasions. All three games were in the 1970s with Woody Hayes as the head coach. 
Michigan State, 1972
Greg Hare completed 6 passes for 69 yards in a 19-12 loss to the Spartans in East Lansing.
TCU, 1973
Cornelius Green, Greg Hare and Steve Morrison combined to complete 6 passes for 69 yards as the Buckeyes rolled the Horned Frogs 37-3 in Ohio Stadium during the second game of the season. 
Michigan, 1976
In a losing effort against the Wolverines, Jim Pacenta completed 5 passes for 69 yards and the Buckeyes were shutout at home in a 22-0 loss.
On the defensive side, Ohio State has held opponents to 69 passing yards twice. The first game was in 1977 at Northwestern, and the second was at home against Penn State in 2004. The Buckeyes beat the Wildcats 35-15 and the Nittany Lions 21-10. 
Very Nice Touchdown Passes
Twice Ohio State has had game-high touchdown passes for 69 yards.
Alabama, 1995
Bobby Hoying and Joey Galloway hooked up for a very nice scoring strike in the first quarter of the 1995 Citrus Bowl. The Buckeyes had a three-point lead with 8:41 to go in the fourth quarter, but the Crimson Tide scored the last 10 points of the game to win 24-14.first was against Alabama in the 1995 Citrus Bowl.
UNLV, 2017
During Ohio State's first possession of the game, Parris Campbell took a J.T. Barrett pass 69-yards to paydirt. The Buckeyes scored the game's first 37 points and went on to win 54-21.
In a cruel twist of fate, Tai Streets' touchdown in the 1996 version of The Game was for a not so very nice 69 yards. That is the only* time an opponent had a game-high pass of 69 yards against Ohio State. 
Very Nice Rushing Stats
Six times Ohio State's defense has held opponents to a very nice rushing total. More impressive is that the Buckeyes left the field with a W in all six games.
The games were USC (1960), Iowa (1977), Purdue (1993), Indiana (2010), Bowling Green (2016) and Rutgers (2018).
Ohio State was held to 69 rushing yards on one occasion.
Wisconsin, 2003
The Badgers held Ohio State to 69 rushing yards and ended the Buckeyes 19-game winning streak. This was also the game that Robert Reynolds choked Jim Sorgi in Camp Randall Stadium.
Very Nice Game-High Runs
Since 1960, an Ohio State player has had a very nice game-high run twice. 
Purdue, 1990
As a freshman, Robert Smith broke off a 69-yard touchdown run against the Boilermakers in West Lafayette. Smith capped the Buckeyes' opening possession of the game by taking an option pitch from Greg Frey to the end zone. On a sunny, 64 degree day in October, Ohio State ran away with a 42-2 victory.
Miami, 1999
Michael Wiley's third rushing attempt of the game went for a very nice total. However, he was pulled down at the Miami 11 and the drive ended with a Dan Stultz 23-yard field goal. Ohio State lost the game 23-12.
When the Buckeyes' defense gives up a 69-yard touchdown run the game does not end in a very nice way for Ohio State. In the 1996 Citrus Bowl, Tennessee's Jay Graham tied the game at seven after scoring on a 69-yard touchdown run. The Volunteers went on to win 20-14.
During Jim Tressel's first season as Ohio State's head coach, the Buckeyes led 27-9 in Beaver Stadium. Early in the third quarter, Penn State quarterback Zack Mills scored on a 69-yard run. The Nittany Lions scored 20 unanswered points and beat Tressel and Ohio State 29-27 that October day.
Very Nice Total Yards
On September 8, 2007, Ohio State held Akron to 69 total yards and beat the Zips 20-2.
Very Nice Special Teams
Fresno State, 2000
In the season opener, the Bulldogs' punter, Jason Simpson, had two punts for a total of...69 yards. Simpson had the very nice total, but Ohio State won the game 43-10.
2008 was a special year for kickoffs. Only twice in Ohio State history has the kickoff average been a very nice average and both times happened in '08. 
Purdue, 2008
The Boilermakers had two kickoffs for 138 yards. That comes out to a very nice average of 69.0 yards. The Buckeyes won 16-3 in Columbus.
Penn State, 2008
Two weeks after the Purdue victory, Ohio State's Aaron Pettrey had two kickoffs for 138 yards and a 69.0 average. Unfortunately, the Buckeyes lost to the Nittany Lions 13-6 in Columbus. Many of you will remember this as the Pryor fumble game.
Very Nice Penalty Yards
Oregon, 1967
In the 30-0 victory, Ohio State was penalized 8 times for 69 yards in Autzen Stadium. The only time the Buckeyes have reached that magic number with penalties.
Ohio State opponents ended a game with 69 penalty yards twice. The first time it happened was against Washington in 1992. The second time was a against Wisconsin in 1994. The contests were away games and the Buckeyes lost both.
Ohio State has never had a very nice number of first downs. The most first downs gained in program history was 45 in a victory against Penn State in 2014.
Very Nice Interception Return Yards
Penn State, 2001 Zack Mills and this game make an appearance for a second time. This time it's because Mills threw three interceptions with a total of 69 return yards. 45 of those yards were on Derek Ross' return for a touchdown.
Ohio State quarterbacks have had interceptions returned for a very nice number twice. In 1978, Baylor intercepted two Art Schlichter passes and returned them for 69 yards.
Lets finish this piece in the same season where it began. In 1983, Mike Tomczak, Ken Offenbecher and Jim Karsatos combined for 4 interceptions against Illinois. In the first quarter, the Illini's David Edwards returned one of the interceptions for 47 yards and the game's first score. That pick-six ended up being the difference maker as Illinois won 17-13 in Champaign.
Hope the rest of your day is...
*The very nice stats are only from the 1960-2019 seasons