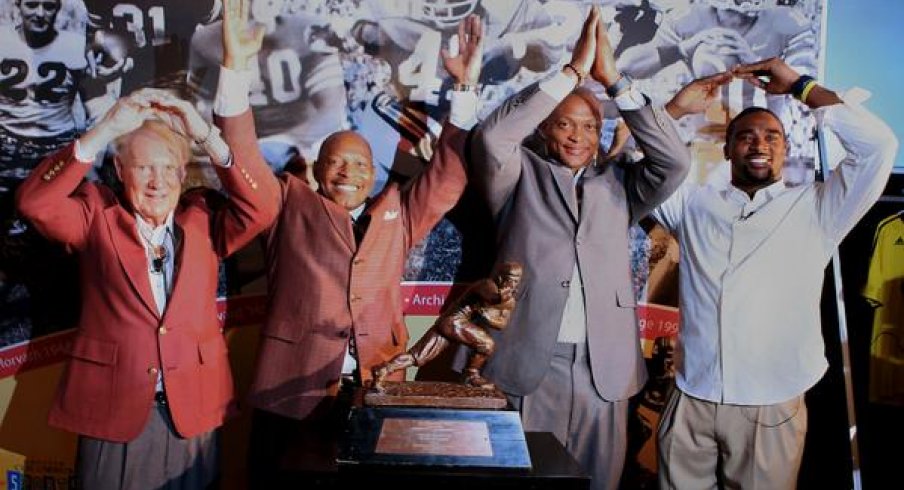 5 Things Heisman
In 1935, Jay Berwanger was awarded the DAC Trophy from the Downtown Athletic Club. In 1936, the trophy called the Heisman Memorial Trophy in honor of John Heisman.
This will likely be the first decade since 1980 that Ohio State has not had a player win the Heisman Trophy.
Keith Byars was jobbed out of the Heisman in 1984. Freaking Flutie.
Ohio State's longest period of time between Heisman winners was 20 years (1975-95). 2006 was the last time a Buckeye won the award (13 years).
Chase Young is the fourth Ohio State defensive player to receive Heisman votes. Joining Chris Spielman (1987, 1986), Randy Gradishar (1973) and Jack Tatum (1970, 1969).
Let's keep this brief and simple. Below, you will find every Ohio State player to receive Heisman ballot votes.
The last time three players from Ohio State received Heisman votes during the same season was 1973 (John Hicks, Archie Griffin and Randy Gradishar). This also happened in 1969 (Rex Kern, Jim Otis and Jack Tatum).
Players are listed by decade and year.
2010-19 Ohio State Heisman Vote Recipients

| YEAR | PLAYER | VOTES | PLACE |
| --- | --- | --- | --- |
| 2019 | JUSTIN FIELDS | 747 | 3rd |
| 2019 | CHASE YOUNG | 643 | 4th |
| 2019 | JK DOBBINS | 114 | 6th |
| 2018 | DWAYNE HASKINS | 783 | 3rd |
| 2015 | EZEKIEL ELLIOTT | 57 | 8th |
| 2014 | JT BARRETT | 78 | 5th |
| 2013 | BRAXTON MILLER | 91 | 9th |
| 2012 | BRAXTON MILLER | 144 | 5th |
2000-09 Ohio State Heisman Vote Recipients

| YEAR | PLAYER | VOTES | PLACE |
| --- | --- | --- | --- |
| 2006 | TROY SMITH | 2,540 | 1st |
| 2005 | AJ HAWK | 29 | 6th |
1990-99 Ohio State Heisman Vote Recipients

| YEAR | PLAYER | VOTES | PLACE |
| --- | --- | --- | --- |
| 1998 | JOE GERMAINE | 15 | 9th |
| 1996 | ORLANDO PACE | 599 | 4th |
| 1995 | EDDIE GEORGE | 1,460 | 1st |
| 1995 | BOBBY HOYING | 28 | 10th |
1980-89 Ohio State Heisman Vote Recipients

| YEAR | PLAYER | VOTES | PLACE |
| --- | --- | --- | --- |
| 1987 | CHRIS SPIELMAN | 110 | 6th |
| 1986 | CHRIS SPIELMAN | 60 | 10th |
| 1984 | KEITH BYARS | 1,251 | 2nd |
| 1981 | ART SCHLICHTER | 149 | 5th |
| 1980 | ART SCHLICHTER | 158 | 6th |
1970-79 Ohio State Heisman Vote Recipients

| YEAR | PLAYER | VOTES | PLACE |
| --- | --- | --- | --- |
| 1979 | ART SCHLICHTER | 251 | 4th |
| 1975 | ARCHIE GRIFFIN | 1,800 | 1st |
| 1974 | ARCHIE GRIFFIN | 1,920 | 1st |
| 1973 | JOHN HICKS | 524 | 2nd |
| 1973 | ARCHIE GRIFFIN | 623 | 5th |
| 1973 | RANDY GRADISHAR | 282 | 6th |
| 1970 | REX KERN | 188 | 5th |
| 1970 | JACK TATUM | 173 | 7th |
1960-69 Ohio State Heisman Vote Recipients

| YEAR | PLAYER | VOTES | PLACE |
| --- | --- | --- | --- |
| 1969 | REX KERN | 856 | 3rd |
| 1969 | JIM OTIS | 121 | 7th |
| 1969 | JACK TATUM | 105 | 10th |
| 1961 | BOB FERGUSON | 771 | 2nd |
| 1960 | TOM MATTE | 165 | 7th |
1950-59 Ohio State Heisman Vote Recipients

| YEAR | PLAYER | VOTES | PLACE |
| --- | --- | --- | --- |
| 1958 | BOB WHITE | 365 | 4th |
| 1956 | JIM PARKER | 248 | 8th |
| 1955 | HOWARD CASSADY | 2,219 | 1st |
| 1954 | HOWARD CASSADY | 810 | 3rd |
| 1950 | VIC JANOWICZ | 633 | 1st |
1940-49 Ohio State Heisman Vote Recipients

| YEAR | PLAYER | VOTES | PLACE |
| --- | --- | --- | --- |
| 1945 | WARREN AMLING | 42 | 7th |
| 1944 | LES HORVATH | 412 | 1st |
| 1942 | GENE FEKETE | 65 | 8th |
1935-39 Ohio State Heisman Vote Recipients

| YEAR | PLAYER | VOTES | PLACE |
| --- | --- | --- | --- |
| NONE | NOBODY | 0 | 0 |