Seems like most everyday there is a new mock draft and everyone has their own motivations for connecting player X with team Y but I found this one to be an interesting take.
Part of that is because I'm a Cowboys fan... I'm sure that won't win me any popularity contests but a man has to stick by his convictions so damn the torpedoes, full speed ahead and all that! My Cowboys aren't the team that they used to be but growing up a fan of Roger Staubach, Tony Dorsett, Tony Hill and Drew Pearson and then watching their successes during the 1990's when Troy Aikman, Emmitt Smith and Michael Irvin collected three Super Bowl rings in four years has cemented them in my heart and my loyalties to Big D is strong if nothing else.
The other thing about this article that I found interesting was something that I was wondering myself after all the Combine and Pro Day results are in. Which Ohio State player comes off the board first? I know the popular pick is Joey Bosa and I'd have a hard time arguing that position but I could also see a team giving Ezekiel Elliot and long look if they had the O'Line and other offensive pieces in place like the Cowboys do, albeit Tony Romo is wearing thin after many years of injuries and subsequent surgeries but I digress.
So I'd be excited to see the Cowboys take Bosa or Zeke but as complete a player as Zeke is and as much as the Cowboys running game suffered after DeMarco Murray bolted for the Eagles last off season, I could see how the two might be a good fit.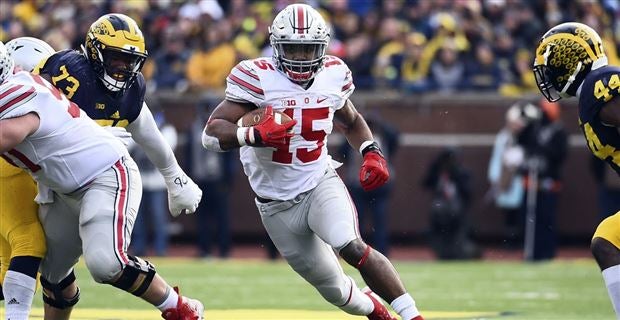 Here's a link for the full mock draft but here's the top eleven picks listed in the article. It's definitely got a Scarlet & Gray theme to it:
1. Tennessee Titans - Laremy Tunsil, T, Mississippi
2. Cleveland Browns - Carson Wentz, QB, North Dakota State
3. San Diego Chargers - Joey Bosa, DE, Ohio State
4. Dallas Cowboys - Ezekiel Elliott, RB, Ohio State
5. Jacksonville Jaguars - Jalen Ramsey, DB, Florida State
6. Baltimore Ravens - Myles Jack, LB, UCLA
7. San Francisco 49ers - Jared Goff, QB, California
8. Philadelphia Eagles - Vernon Hargreaves, CB, Florida
9. Tampa Bay Buccaneers - Deforest Buckner, DE, Oregon
10. New York Giants - Ronnie Stanley, OT, Notre Dame
11. Chicago Bears - Eli Apple, CB, Ohio State
So I ask you 11W, after all the 40 times, bench presses, vertical jumps and cone drills are in, who do you see as the first Buckeye off the big board come April 28th?