After the dust settled on the bananas three-day recruiting tear Ohio State went on this week, I took some of my down time each night this week (about an hour/night) to research and come up with the best NCAA Tournament games of the past decade, and I came up with this: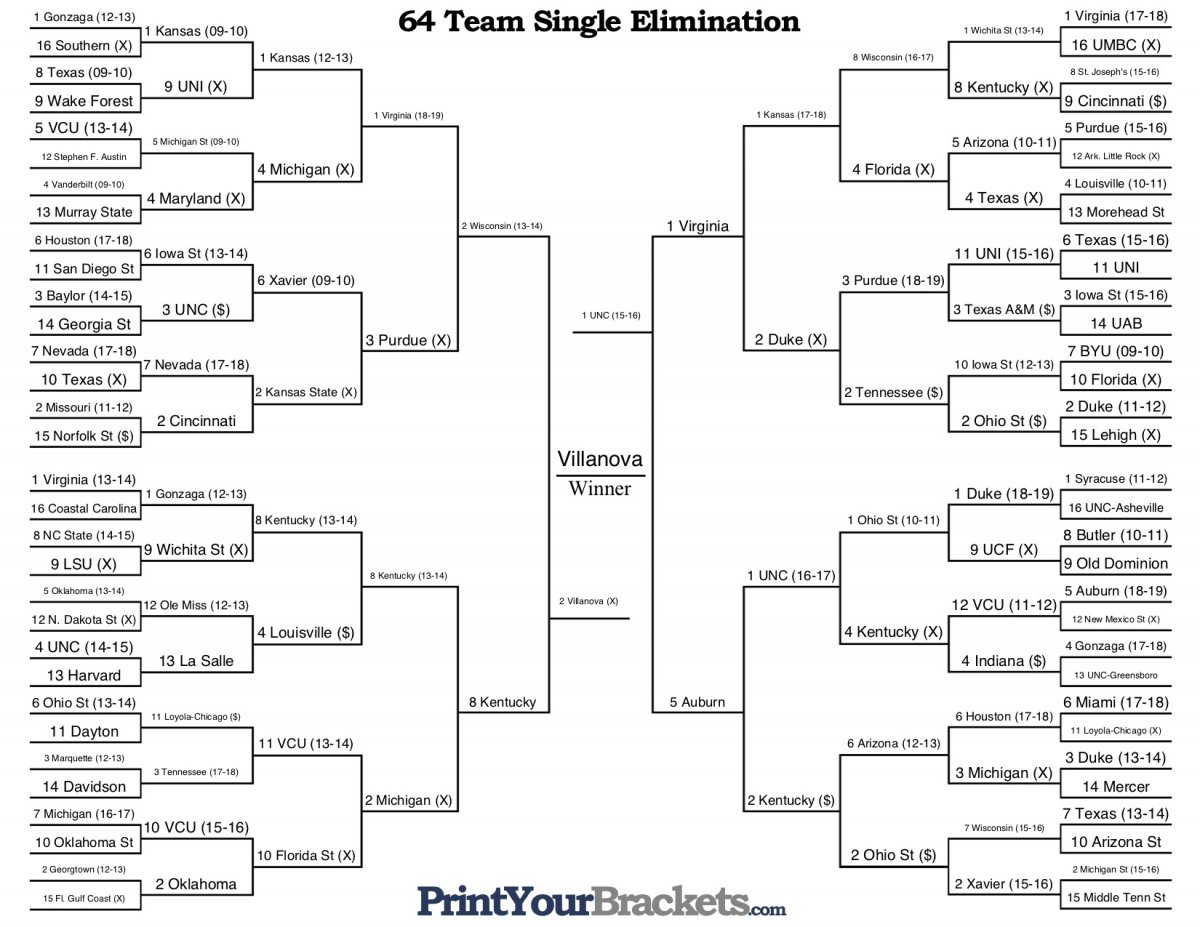 X = Full game is available online
$ = Extended highlights/partial game available online
Looking back at old NCAA Tournament brackets, Associated Press game recaps and a few YouTube highlights (and my own memories of the games, of course), I ranked the top-four games that featured matchups between 1 vs. 16 seeds, 2 vs. 15 seeds, 3 vs. 14 seeds and so on for the first round. 
Then, I ranked the 16-best second-round games, eight-best Sweet 16 games and so on...
You get the gist.
You just have to Google or YouTube search for the full/partial games listed, and they're easy to find.
The last four minutes of the Ohio State-Iowa State game and final two minutes of the Ohio State-Arizona game in 2013, plus the full Ohio State-Kentucky game from 2011 if you want to suffer, for instance, are available to watch on YouTube. (And I dropped them in here below.)
The top-left bracket has the games that I ranked as the best games for each round, the top-right bracket has the second-best games, the bottom-right is third-best, and the bottom left is fourth-best.
Obviously, it's a VERY subjective list, and I didn't have any sort of point system to rank them. Just went with what I felt were the best games, with what we all love about March Madness factoring in heavily (buzzer beaters, major upsets, insane comebacks and unforgettable one-man scoring runs like Buddy Hield's 19 points in eight minutes against VCU).
(Things like three games during No. 8 Kentucky's run to the Final Four all being in the same region, or No. 11 UNI's two games being in the same region, are purely coincidental, by the way. I ranked the games and then put them in bracket form afterward.)
It was really fun doing this research because I could see one specific game score and in a flash remember exact plays and how it ended. And it was amazing to remember where you were and who you were with when you were watching, like being crowded in with 30 people in a small apartment-style dorm room my sophomore year at Illinois State to watch the VCU-Stephen F. Austin overtime game that night.
From sixth grade through my senior year of high school, as long as I got all As and Bs, my badass mom called me in "sick" to school for the first two days of the tournament so I could stay home and watch the games.
College basketball is what made me want to become a sportswriter, and it was the second sport I fell in love with after baseball. So I knew how much this week was going to suck. 
But I've been streaming some of these games today, and it's actually helping fill the March Madness void ... at least a little bit. 
I figured I would drop it in a forum because I thought you guys may get some enjoyment out of them too with a basketball-less weekend ahead.