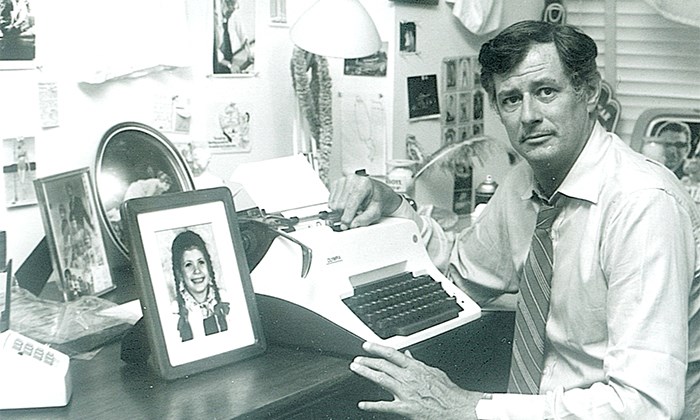 Frank Deford died today, inside of the same month that he announced his retirement from sports writing. He was 78.
He is the only sportswriter to have ever received the W.M. Kiplinger Distinguished Contributions to Journalism Award. Yes, it post-dates both Grantland Rice and Damon Runyon - but to devolve an epitaph into a Who is Better, LeBron or Jordan slap fight to nowhere denigrates the manner in which Deford carried the trade.
Deford was the best and most important sportswriter of my lifetime, which is to say I received his words while they were fresh and have seen how they have remained relevant as part of the historical record. Whenever Deford published a story, I always read it and also understood that his columns wouldn't be held to the same narrow shelf life that most real-time reporting op-eds unwillingly carry.
Deliberate or not, he wrote for history. Deford wrote content destined for archiving.
The definitive words written about Bobby Knight still come from Deford, over 40 years later. The definitive words about Kirby Puckett did as well. Ditto both Jimmy Connors and Lenny Wilkins, who found themselves at the top of their respective sports, and ditto Billy Conn, whose name you do not recognize. He didn't always #STICKTOSPORTS when he didn't feel like it, but made sure to keep sports at an arms-length whenever he strayed. 
Writing, for those who don't do it or allow their words to be consumed publicly, is an exercise in blind intimacy. You're exposed and vulnerable, be it through your beliefs or your competency in constructing thoughts, sentences, diatribes or sequences. It requires a modicum of bravery to scatter so many bread crumbs for strangers to venture into your soul.
Men and women who competently write important words about unimportant activities like sports unwillingly shape their characters and subjects. So when a writer as gifted as Deford passes, sports - this big, dumb and important enterprise so many of us need - loses a director. We've lost the best sports storyteller America has ever seen.
Even his throwaway blog posts written in the back of New York City taxicabs were excellent. This short piece about Joe Paterno refusing to retire gracefully - in 2008 - reads like something he spontaneously mumbled to his driver taking him across town and then wrote down after paying his fare. 
We cannot look away from accidents or explosions, which is an indispensable trait of the human condition that serves as the catalyst for the pure fucking trash that reigns over the written word today, especially in sports. But Deford never bit on that trick. He never slipped the way Rick Reilly has so disgracefully, nor did he ever find himself trying to stay relevant in his trade be resorting to gimmickry or clicky-tactics.
I think of Lynda Stickelmaier whenever I write something for 11W, but I think of Deford whenever I write anything. What am I writing, why am I writing it - and what kind of story do I want to tell? How dumb will this read in five years? Voice, intent, diction, tone, depth. The clicky stuff has organ-level importance in sportswriting's body today. But it's a vestigial organ. You can happily live without it.
The calendar turns to June this week, and it will be the first month I can remember where I won't be able to find new content from the best writer in my lifetime. This one hurts.
Rest in peace, Benjamin Franklin Deford III. Thanks for all the bread crumbs.