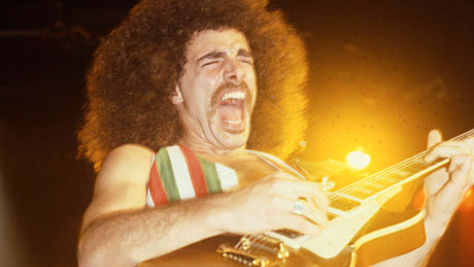 How good of a guitar player do you have to be to join Santana by the age of 16? How good do you have to be to stick around for only two studio albums before you start your own Rock and Roll Hall of Fame worthy band? As good as Neal Schon, apparently.
Schon was born into a military family today in 1954. He moved around quite a bit and his family eventually settled in the San Francisco Bay area, where he met Carlos Santana. Santana had already released his debut album and had played at Woodstock by this point and he took young Schon under his wing.
In early 1970, Schon and Santana were in a recording studio that happened to also have Eric Clapton recording at the same time. Clapton was impressed by Schon and offered him a spot as a hired gun on the upcoming Derek and the Dominos tour. Carlos Santana didn't want to lose Schon so he offered him a full-time position in Santana, which was accepted.
Schon was with Santana from 1970-1972 and appeared on two Santana studio albums, "Santana III" and "Caravanserai", as well as a live album. In 1973 Schon started the band Journey by recruiting Santana bandmate and keyboardist Gregg Rolie, a bassist amd rhythm guitarist from Frumious Bandersnatch, and drummer Aynsley Dunbar from the Mother's of Invention.
Journey released three albums between 1975-1977 with none reaching higher than #85 on the album chart. It wasn't until vocalist Steve Perry was added in time for the fourth album, 1978's "Infinity", that the Journey sound we all know fully came together. "Infinity" kicked off a run of seven consecutive albums that all charted at #21 or higher, including five straight top ten albums and one #1.
Schon has remained the only constant member of Journey through today. He has also found time to join the band Bad English, collaborate with the likes of Paul Rodgers and Sammy Hagar and release nine solo albums. Journey had another top ten album in 2008 and they continue to tour. Journey will finally be inducted into the Rock and Roll Hall of Fame this year.
More on Journey from Whoa Nellie: http://www.elevenwarriors.com/forum/anything-else/2016/01/66840/happy-bi...