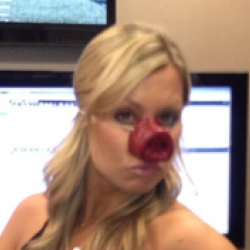 John Cooper's lucky pig
---
MEMBER SINCE November 01, 2014
Favorites
COLLEGE FOOTBALL PLAYER: Dre'Mont Jones
NFL TEAM: Cleveland Browns
NBA TEAM: Cleveland Cavaliers
MLB TEAM: Cleveland Indians
Recent Activity
So Massillon has not won a single state title in any sport since 1972?
Comments like that make me happy that 11W allows me this platform to spread the good news about some great performers. Thank you, 5150.
So good.
Believe it or not, one of the worst traffic jams I've endured was caused by the Versailles football team. It was either in Canton or Massillon in 1994 or 1995, Versailles played in the state title game directly preceding the state title game that Saint Ignatius was playing in. My dad & I were headed from Cleveland to see the Wildcats. The Versailles game went into multiple overtimes which caused the exiting and entering traffic to clash in that small town. Chaos ensued but the Wildcats won.
Right on, good to see you, old buddy.
That's a great picture that I didn't see in my search for this article.
Nice one. Even fewer people will get that reference than will know this singer.
In related news, Google is reporting a spike in searches for Tina Bockrath originating in the Columbus area.
Thank you for noticing. I have become a relentless Kingfish shill.
Nikki has a great series of interviews on YouTube called My Favorite Riff. Tom Morello, Slash, Zakk Wylde and a bunch more stop by to talk tunes.
59 state titles in only 70 years of existence is impressive. A grudging tip of the cap from W. 30th Street to the boys on Detroit Avenue.
South lost to THE Saint Ignatius High School in the 1994 state title game, 20-3.
Had no idea Tackleberry was from Ohio. Thank you, Lancaster.
I bought two tickets for the September 20 show but just now realized I will be in Dallas to see Iron Maiden and Eric Clapton at that time. I am unable to buy you a beer at the Grog Shop if you attend.
Right on. I'm happy that I was able to spread the good news.
Kingfish is playing the Grog Shop in Cleveland Heights on Friday, September 20. Tickets are $20 and available here: https://christonekingfishingram.com I will be there so let me know if you will and I will buy you a beer.
Geddy and the boys making fun of the KISS song "Goin' Blind".
Shout out to the Home of Champions. Benedictine had a legendary coach named Augie Bossu who coached the Bengals from the 1940s to the 2000s. One of the best coaches in Cleveland sports history.
There's a bathroom on the right. Excuse me while I kiss this guy. http://www.kissthisguy.com/
This is a terrible TIMH but yesterday was Mick's birthday. He might be a bit torn and frayed but Ol' Mick still gets the job done.
Johnny Mattress is my porn stage name.
Thank you, you didn't have to do that. Seriously, don't do that.
You magnificent bastard.