Opening up Big Ten play, the Scarlet Knights of Rutgers University traveled to Columbus to take on the Ohio State Buckeyes. The competition was short-lived, as Ohio State jumped out to a 35-0 lead by halftime, ending in a 52-3 win for the Buckeyes. 
In today's Inside the Box, we will discuss Haskins and Martell's efficiency and how it has propelled Ohio State's offense, why the Ohio State defensive line is the best in the country, why the defense may be better than we thought, and that Rutgers simply cannot hang with the Buckeyes. 
Haskins and Martell are Perfect Complements
Around the top programs in the nation, quarterback controversies are brewing.
Alabama has given their starting spot to Tua Tagolivia over Jalen Hurts, who led the Crimson Tide to two playoff berths.
Clemson looks to be in the process of making a decision as well, as star freshman Trevor Lawrence is making his case against last year's starter Kelly Bryant.
While Ohio State will not (and should not) start Tate Martell over Dwayne Haskins, the two have formed a dynamic duo. Haskins is a precise passer and possesses one of the best arms in the country. Martell gives the Buckeyes the speed to run the read-option and pressures opposing teams' front seven with his feet, as evidenced by his team-high 95 rushing yards on Saturday. 
Ohio State is still a run-heavy team (57% run), but the Buckeyes' passing coupled with one of the best backfields in the nation has allowed the offense to reach another level. Ohio State's offense is currently the best in the nation, averaging 64.5 points per game and 651 yards per game, second only to Central Florida's 652. 
Ohio State's Passing has Made the Offense Unstoppable

|   | 2017 Rank | 2018 Rank |
| --- | --- | --- |
| Points/game | 6 | 1 |
| points/play | 9 | 4 |
| yards/game | 8 | 2 |
| pass yards/game | 36 | 15 |
| completion percentage | 11 | 2 |
| average quarterback rating | 6 | 4 |
While comparing two games against inferior opponents to a full season of games against elite programs such as Penn State and Wisconsin may seem out-of-context, the importance lies in the precedent that has been set. Haskins's arm and efficiency will give the Buckeyes limitless offensive potential.
Speaking of efficiency, Ohio State's quarterbacks had a historic performance for the second week in a row. 
Ohio State QBs
Best Comp. Pct. Single Game

1.000 10-10 @TheTateMartell vs Rutgers, 2018
.909 10-11 Bill Mrukowski vs UCLA, 1961
.869 20-23 @dh_simba7 Dwayne Haskins vs Rutgers, 2018
.867 13-15 Stanley Jackson vs Indiana, 1997
.833 20-24 Bobby Hoying vs Purdue, 1994

— Jerry Emig (@BuckeyeNotes) September 9, 2018
Going 30-for-33 against a Power-Five opponent is disgusting, especially on a rainy day in Columbus. The Buckeyes' insane efficiency and ability to throw it down the field (passing touchdowns of 38, 44, and 51 yards by two quarterbacks) will make Ohio State can't-miss football. 
Rushmen Continue to Lead the Way
Ohio State has the best defensive line in the country.
Headlined by Nick Bosa, Dre'Mont Jones, Robert Landers, and Chase Young, the unit could be the best set since... last year. Ohio State consistently has one of the best defensive lines in the country despite losing stars to the NFL every year, something that should not go unnoticed. 
While an Eleven Warriors writer may say the Buckeyes possess the top defensive line in the country, others may point to Alabama or Clemson. Let's compare the three units through the first two weeks.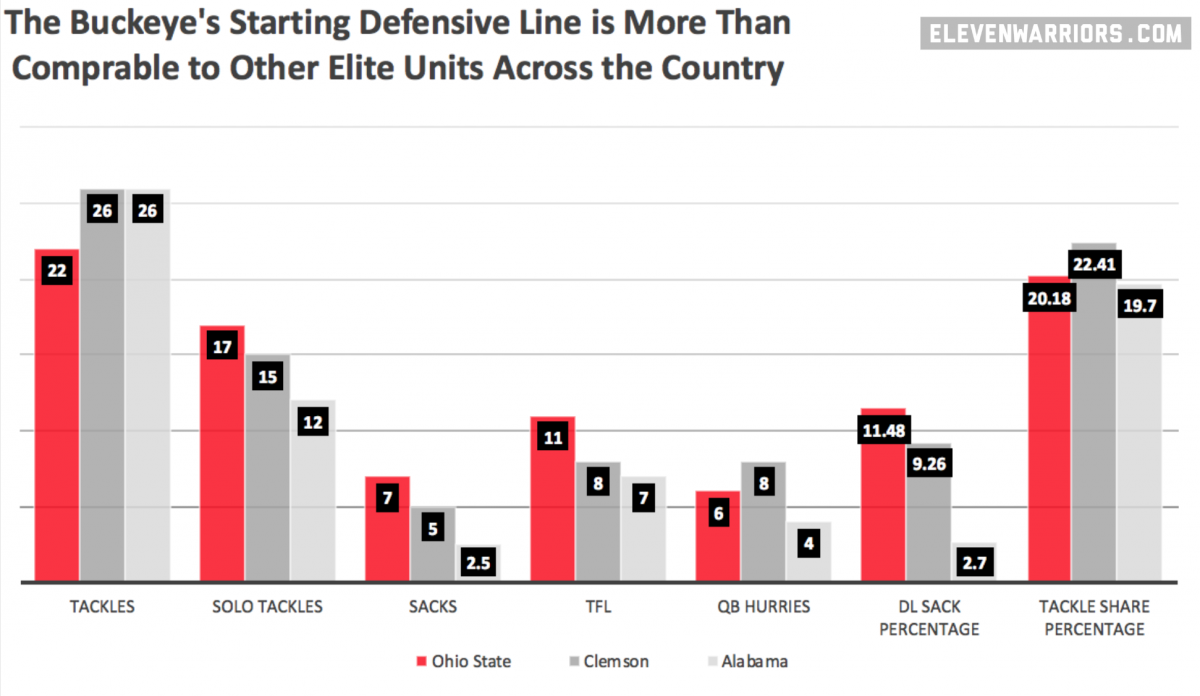 Ohio State leads the three schools in over half of the categories. Christain Wilke's Clemson unit leads the other three, tied with Isaiah Bugg's Alabama group in tackles. 
All three units are supremely talented and have proved to be much better than their competition thus far, but only Ohio State's line has shown expertise in both defending the run and disrupting the pass. The Buckeyes huge sack numbers and proficiency in solo tackles allows other defensive units to drop back into coverage and slow-play everything. 
And the Secondary Looks Much Improved
As Oregon State came and went, Ohio State's defense looked to be only as good as their defensive line could carry them. With the return of Jordan Fuller and the rearranging of the secondary, the Buckeye performance against Rutgers may have instilled some much-needed confidence into the players and coaching staff. 
Jordan Fuller, who missed last week due to illness, made his presence felt on Saturday. Fuller recorded three tackles for a secondary that struggled in the open-field against Oregon State. The second safety spot looks to be up for grabs, as both Shaun Wade and Jahsen Wint split time throughout the game. 
Fuller's Return Sparked a Huge Change in the Back

|   | Oregon State | Rutgers |
| --- | --- | --- |
| Pass Yards | 196 | 65 |
| YArds/Attempt | 8.2 | 2.2 |
| Completion Percentage | 58.3% | 36.7% |
| Interceptions | 0 | 2 |
| QB RAting allowed | 112.5 | 17.4 |
Shaun Wade and Kendall Sheffield also recorded the first interceptions of their career, giving Ohio State their first picks of the 2018 season. 
Saturday's tackling was also much improved with the safeties inserting themselves in the run game. Rutgers' biggest rush was just 13 yards, much better than Oregon State's runs of 49, 27, and 26. 
Rutgers Continue to Be No Match for Ohio State
Since joining the Big Ten in 2014, Rutgers University has had a difficult time competing against the top-level talent within the conference. Their 7-28 conference record is the only statistic needed to illustrate this point.
The Buckeyes have been a particularly tough opponent for the Scarlet Knights. Rutgers is 0-5 against Ohio State, scoring only 27 points total in those matches. Rutgers' last touchdown against the Bucks came in 2015.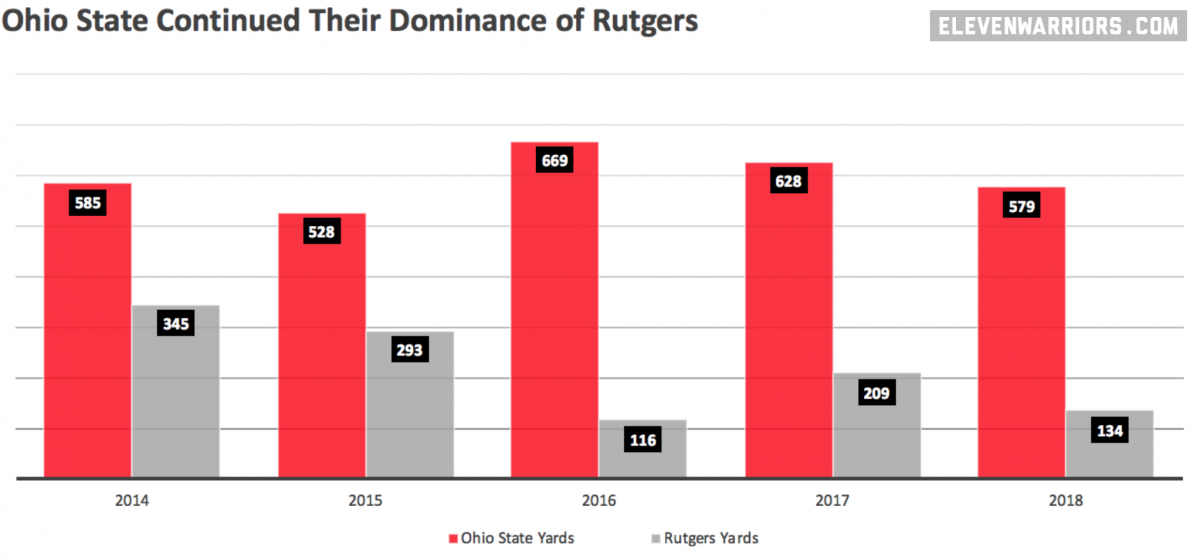 When facing the Buckeyes, the Knights have never reached their season average in yards. Meanwhile, Ohio State has always exceeded their average in each matchup (excluding 2018, beating 721 yards is hard).
In all, Ohio State's impressive performance on both sides of the ball should give a boost of confidence heading into Arlington, Texas. No. 15 TCU will give No. 4 Ohio State their biggest test of the season thus far.