I got into the internet sports writing game because I wanted to tell a joke.
Actually it was barely a joke. I saw a funny It's Always Sunny in Philadelphia .gif and decided to craft an entire article around using it at the end of my submission to Eleven Warriors' call for a new writer.
It was March of 2010, and in between attempting to teach English to kids in rural Japan, I kept thinking to myself "damn, I bet I could write weird stuff and make dumb jokes as a cover for my lack of knowledge about sports for three, five... heck, maybe even ten years!" So in between classes I sat at my desk in a metal folding chair, turned on my iPhone 3, and began to craft an absolute freaking masterpiece.
That's right, kids. All you needed to do to get an extremely unpaid writing gig at Eleven Warriors dot com circa 2010 was to talk about Jermil Martin and make A Confederacy of Dunces references.

Anyway, that was that! Later in April I wrote my first official article for 11W, which was a daring exposé about how placekicking is cool and good. That started a decade-long run of poorly made MS Paint photo edits, esoteric jokes about 1990's TV/1800's American history, and a podcast with the thinly-veiled goal of discussing a series of fantasy novels instead of Ohio State sports.
In between 2010 and now I've written somewhere north of 1000 articles, conducted dozens of interviews, recorded and edited hundreds of podcast episodes, and once a guy commented on one of my posts that he thought I was on bath salts. It's been a good run.
But this story is about what I've learned, right?
Well, I've been taking notes.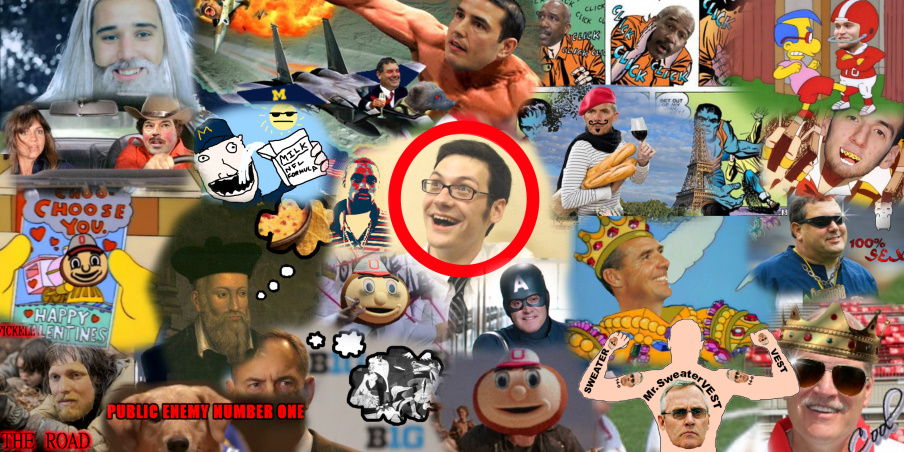 This collage is a sample of just some of the ridiculous images that I've cobbled together over the years, and today I thought I'd Ms. Frizzle this thing to create a guide to some of the things that writing for Eleven Warriors has taught me over the past decade. Go ahead and click on it to get the full experience, and a more convenient, also clickable guide is below.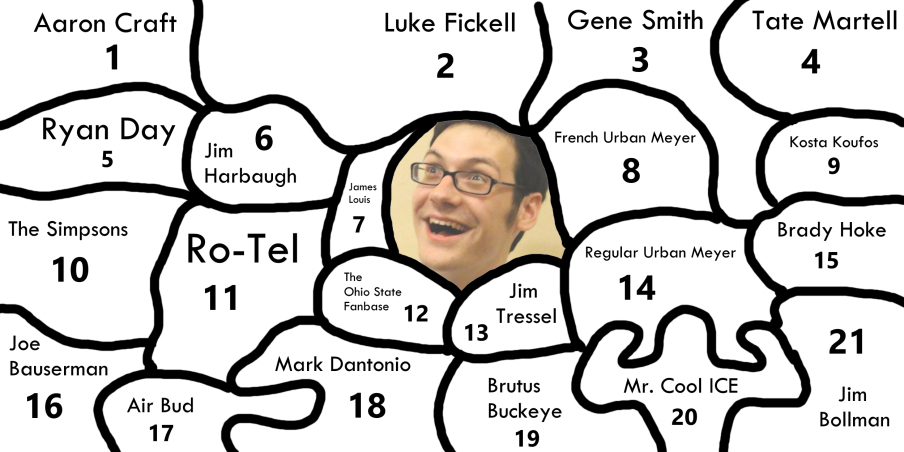 The first time that I fully grasped the insanity of college sports was during June of 2010, when we were all trying to wrap our heads around conference realignment. It's probably the first time that I thought of college sports as a multibillion dollar business rather than a cool fun thing I got to watch on television sometimes, and I coped with this new information by editing Nostradamus thinking of Ro-Tel queso dip (11).
And that's one of the questions that I've struggled with over the years: how seriously do we dare to take college sports and the people who are involved with them?
My reaction to filming Luke Fickell nervously sweat his way through Ohio State's 2011 Media Day was to awkwardly insert him into an already insane image from a conspiracy theorist (2). Gene Smith beefing with the NCAA? Guess what, now he's the Hulk (3), swatting them away like so many flies around his lakeside picnic. Jim Tressel lies to the NCAA and gets fired? Well screw it, he's still awesome, and also Captain America for some reason (13).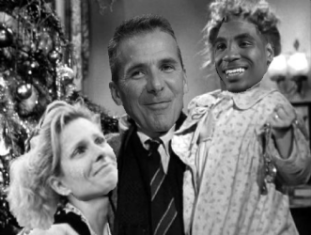 In other words, I figured pretty early on that if I didn't embrace the inherent absurdity of college sports, there's no way I'd be able to keep writing about them.
James Louis (7) was an early muse. A wide receiver out of Florida who saw basically zero playing time before transferring to Florida International, James would tweet things like I LOVE CEREAL WITH WATER in all caps at 3 AM and I loved him for it. I similarly loved Aaron Craft (1) for pissing off the entire Big Ten conference, Tate Martell's (4) insane, infectious overconfidence, and even guys like Kosta Koufos (9), who were bland also-rans who then hilariously and inexplicably made tons of money later on.
Eventually, however, one of the things that I realized is that it's really tough to satirize players. Joe Bauserman (16) was an absolute garbage quarterback, and that's why I made a Cormac McCarthy joke (and a billion others) about his play, but... the dude was an unpaid student-athlete getting tons of crap from hundreds of thousands of Ohio State fans while his millionaire coaches didn't get nearly that kind of heat. Actual buffoons like Brady Hoke (15) and Jim Bollman (21) deserved way more scrutiny, and as the years went on, I directed my writing with that in mind.
Urban Meyer ended up making that difficult. Regular Urban Meyer, God-King of College Football (14) was extremely easy to write about; he won tons of games, had an interesting scheme, and modernized OSU and the Big Ten. The other, more complicated side of Urban Meyer (we'll call him French Urban Meyer because I made that image for some reason, 8) that made bad hiring choices and had a difficult time with people who questioned his methods wasn't "hard" to write about in the sense that you didn't want to do it; it was more that the more you learned, the more serious it became, and the harder it was to enjoy it. Implying Mark Dantonio is some kind of lich that wallows in anger and pain (18) is funny, right up until real life takes away that narrative and makes talking about him not a whole hell of a lot fun.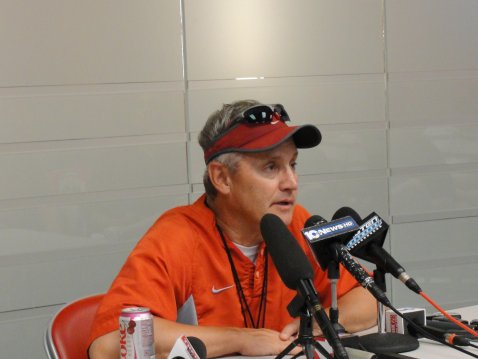 And I like having fun. My writing and humor is derived from a long string of 90's pop culture touchstones (10), goofy internet crap (20), and a long-running kids movie franchise (17), which kind of suggests what you're gonna get with a Johnny Ginter article.
But not all the time! I'm extremely proud of a lot of the more serious stuff I've produced; writing about Sunshine Laws and Jesse Owens is just as important to me as making Air Bud jokes and fake contracts for a walrus. You just have to find the right angle.
Which, by the way, I'm especially thankful to Ryan Day (5) and especially especially Jim Harbaugh (6) for providing a wholesome combination of absurd and fun that I feel like I can build upon, and also an Ohio State fanbase (12) that I know shares the same neuroses that I do.
---
With all of that said, I couldn't have done any of this without Eleven Warriors: both the people who make up the site staff and you, the reader. I started out as Bup Bup Bup, humble 11W commenter, way back in 2006 as a sophomore in college, and never could've expected it would evolve into this. I've done some dumbass stuff in the last decade (Null Session and pissing off a former mayor of Columbus stand out as fun examples), but the amazing things I've been able to try and do have far outweighed the bad.
Jason and Chris and Ramzy and Vico and DJ and Kevin and Tim and Eric and Corey and so, so many others have helped and continue to help me along the way, and I can't thank everyone on this site enough. I truly believe that we have by far the best writing staff in college sports writing on the internet, and it's because our goal is to always work our asses off to give you something new.
I also want to give a shoutout to the Eleven Dubcast co-hosts that I've had over the nearly ten years we've been doing it. Luke, Sarah, Michael, Beau, and of course Andy have all been awesome and I appreciate them for talking with me for an hour a week as long as they could possibly stand it.
Finally, the last person I want to thank and the person who deserves the most credit is my wife Courtney. She's encouraged me, defended me during my many beefs on these streets, and has always been willing to put up with more college football than is actually necessary on an otherwise beautiful fall day. She's the best human I know, and I'm lucky I have someone like her to run bad puns by.
So that's it; ten years in the can. Sometimes, years ago, I'd worry about running out of ideas or getting sick of the grind, but not anymore.
It's just too much fun.