After a long and exhaustive search, we're pleased to welcome Johnny to 11W Industries.  While it's impossible to replace Corey, we know he'll bring a new angle to our coverage and will help us expand our depth across the board.  Also known as Bup Bup Bup around these parts, Johnny starts things off by diving into Ohio State's kicking game and the importance of said game in the Tressel era.
Ah yes, the foot. Not the measure of distance, but the part of the body that is attached to the leg, allows for upright locomotion and, in the case of football, enables previously unknown student athletes to kick a ball through two yellow posts as time expires thereby causing them to be instant campus heroes. Usually those moments are fleeting; the following week offensive linemen remember how to block, wide receivers don't drop as many passes, running backs run through their holes, quarterbacks don't throw up stupid interceptions, and because of this the Nigel Gruffs of the world go back to relative obscurity.
But what if there was a team so incompetent offensively that the kicker became the most consistent scoring weapon? What if that kicker shared his name with a man who once laid down some serious riffs in a loincloth? What if that team was the 2004 Ohio State Buckeyes and that kicker was Mike Nugent?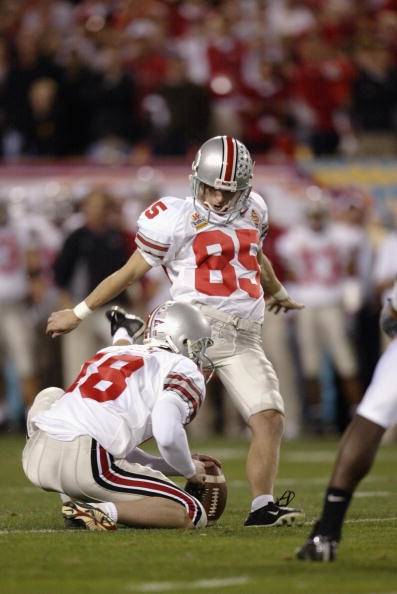 Most of us are familiar with the struggles of the 2004 offense in the first half of the season, but to recap: - A rushing attack that, behind Lydell "oh hey a quarter" Ross, averaged 97 yards a game total. - Justin Zwick, quarterback. After a brilliant start against Cincinnati and Marshall, eventually he failed to break 150 yards passing against the likes of NC State, Wisconsin, and Iowa. - Inconsistent line play, all of which led to a miserable 3-3 start. All bad. And it could have been much, much worse. How? Nugent, memorably, kicked the game winning field goal as time expired against Marshall in the second game of the season.
Though not a game saver (it was a tie at that point), it is easily conceivable that we lose that game if not for number 85. The less memorable but possibly even more significant game, however, was against NC State that took place a week later. In it, Nugent made 5 field goals in a 22-14 victory where Ohio State had 137 yards of total offense and averaged just over 2 yards per play. Without a consistent and brilliant kicker, we could have easily lost that game as well, and in the subsequent weeks would have been staring at a 1-5 start and probably the charred remains of Jim Tressel's reasonably priced midsized sedan.
All told, Nugent was 8 of 9 through the first 3 games of the season and accounted for one third of the points scored in the first 6 games (not counting XPs). He was crucial in keeping us alive and bowl eligible throughout that stretch, and at the end of the year earned an extremely well deserved team MVP award.
WHAT THIS MEANS FOR THE 2010 FOOTBALL TEAM
That particular level of butt-saving by way of field goal kicking hasn't been seen in Columbus since the dark days of 2004, but extensive offensive reliance on kickers has occasionally been needed. Against Texas in 2005, Josh Huston kept us in the game by way of 5 field goals of his own. In 2008,  Ryan Pretorious B.I.G. hit two field goals against Wisconsin that made the difference in the game. And, of course, last season Devin Barclay sank the Hawkeyes with two field goals of his own, including the game winner in overtime.
What I draw from this are two things: first, Tressel is more than willing to use his kicker as his primary means of scoring points if that's all he feels his offense is capable of, ie, the rushing and passing attacks aren't getting it done. There is a conspicuous lack of a need for big field goal games in the Troy Smith/Beanie Wells heydays, probably because JT was confident in his player's ability to put up points in a pinch. Pryor and co. have to start out hot, because a lack of confidence in them might place a lot of responsibility on the shoulders of some pretty inexperienced dudes by virtue of their brief successes (Iowa).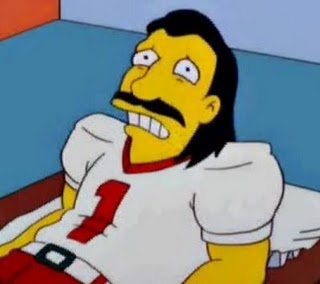 Secondly, the 2009 team was able to get away with a  lack of consistent  kicking due to a running game that heated up during the second half of the season, specifically in the last three games. Tressel's offensive playcalling style seems to gravitate toward to "whatever is working," so it isn't so much that it's critical that any particular facet of the offense is working well, as long as one of them is. Watching the 2009 team run all over PSU, Iowa, and Michigan was a lot of fun, but had the rushing game been stopped at any point we would've been up a creek fairly quickly.
In any case, it is going to be extremely interesting to see how this plays itself out in the coming months. In my opinion, the kicking game needs to be seen with equal weight as the rushing and passing games in a Jim Tressel offense, and as a result Drew Basil, Devin Barclay and the gang have their work cut out for them. Because there's no Anton Lubchenko waiting in the wings.