What in the actual hell was the deal with Shining Time Station? Did the producers know where the bodies were buried in Hollywood, and then try and parlay that knowledge into a weird children's show about talking trains and tiny conductors?
That Ringo Starr and George Carlin ("Get me the two most famous yet disparate scruffy guys with beards you can find!") were the hosts of the show is unfathomably weird, but also, Frenchy from Grease was on the show too. As a kid, you didn't notice any of this until an adult walked in and went "Jesus, that's nuts" and you shrugged as Thomas and his anthropomorphic locomotive friends (also weird: trains with big round human faces) saved the day.
Anyway, my point with all of this is sometimes life throws you something truly odd, and until a pattern emerges you kind of have to just roll with it. Michigan looking kind of butt against Maryland en route to a 34-27 win wasn't ideal for them, but like Mr. Conductor always said: "Schedule three terrible out of conference opponents in a row to start the season and this is what you'll get!"
THE OFFENSE
Running back Blake Corum was on fire (finishing with 30 carries for 241 yards), which was convenient for the Wolverines because they played an incredibly sloppy first half and were content to just let the dude cook for the entirety of the game rather than do lame baby crap like "gameplan" or "make offensive adjustments".
After scoring a touchdown off Maryland's fumble on the opening kickoff, the Wolverines forgot that they were playing a team with actual FBS talent and farted around for most of the rest of the half. Three consecutive drives ended in a fumble, a punt, and a missed field goal, but a touchdown at the end of the second quarter helped them limp into the locker room holding on to a 17-13 lead.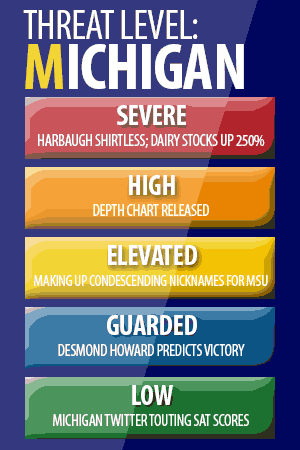 Both teams traded punts in the second half until they remembered that the modern game of football does require you to score points to win, with the Wolverines ultimately pulling away after some Terrapin miscues. Maryland scored a touchdown with just a few minutes to go, but with no real chance to pull off the upset.
J.J. McCarthy (18/26, 220 yards) was oddly locked down most of the game. He took few shots downfield, as Harbaugh was content to dink and dunk his way to victory with a running game that wasn't going to be stopped and a bunch of semi-creative short to medium passing plays. Luke Schoonmaker was the leading receiver for the Wolverines and from his name you've already correctly assumed that he's a tight end.
THE DEFENSE
Maryland was going to win or lose on the play of quarterback Taulia Tagovailoa, and both before and after getting banged up he simply didn't show nearly well enough to get it done against Michigan. The Wolverines pushed him around and picked him off twice, although it should be noted that once again, the Michigan defensive line struggled to generate pressure without blitzing. Tagovailoa was sacked three times, but that was generally on him moreso than what the Wolverine defense was bringing.
With that said, Michigan's secondary did what they needed to do. The Terps have a fairly talented receiver corps, and while competent quarterback play might've gotten them into more advantageous positions to catch footballs and win the game, that didn't happen! So the Wolverines can claim victory there. Defense back Mike Sainristil popped off with a couple of tackles for loss (including a sack) and played well for most of the game.
WHAT DID WE LEARN?
Well, I just learned that Michigan doesn't play Purdue this year after remembering to check their schedule 575 words into this article, which is a relief for me and my luckily not premature train-themed post.
Michigan (probably) learned that it's finally time to play big boy football and that they can't coast their way to victory every week. Or maybe they secretly suck! I would love to say that, because it would be funny, especially if it were true. But since Threat Level is nothing if not professional, we're going to have to wait for Michigan to actually blow it against a team they were supposed to beat by 17 points to write hundreds of gloating words about Jim Harbaugh's brain being replaced with a bag of milk.
The Threat Level remains HIGH, and next week the Wolverines have a (gasp!) road game against the most agonizing football team in the country: the Iowa Hawkeyes.