I was getting a little burned out.
At one point in my life, I was a voracious consumer of the NFL Draft. I read every single mock draft I could get my hands on, pored over the scouting reports of every single potential Buckeye draftee (and every potential Bengals target), and tried to watch as many highlights of past games as I could.
And then I hit a wall. I got frustrated with the ever-expanding bloat of coverage, and got tired of the focus shifting from the players as, you know, players, to the idea of players as individual human beings with families and backgrounds and personal lives. It was easier for me to consume the draft when it was basically a giant Dungeons and Dragons character creation sheet that teams filled out a half-dozen or so of and then called it a weekend.
In recent years I've turned up my nose at all the cameras and interviews and personal tidbits that are just a little too cloyingly personal for my taste, and as a result the draft doesn't hold that much magic for me.
Which is unfortunate, because so many fantastic Buckeyes are lighting up the big board, including last night! And sure, that's fun, but it really can't hold a candle to The Way It Was, right? Well heck, let's find out as we take a look at what the first round of the 1996 NFL Draft looked like for Buckeyes Terry Glenn, Rickey Dudley, and Eddie George.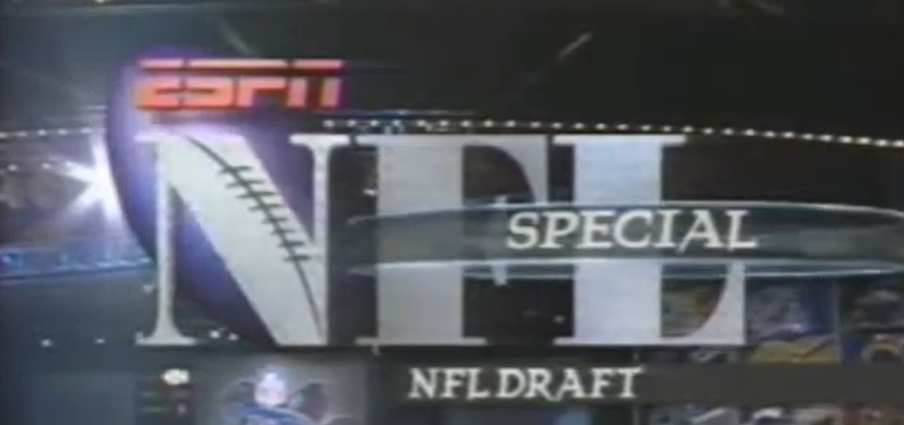 Oh baby, I can already taste the Sunny D and smell the pogs! I was 11 in 1996, just old enough to know that football combined with fast food commercials and cable television was the recipe for a terrific weekend. On Saturday, April 20th and Sunday, April 21st, NFL teams jockeyed to draft the likes of Marvin Harrison, Eddie George, Jonathan Ogden, Brian Dawkins, and uh, Danny Kanell.
All of the familiar faces you know and love were in place. Mel Kiper was already a mainstay, and Chris Berman and his whole gang were stationed around the country and in Madison Square Garden, where the draft was being held. Occasionally they'd throw back to an extremely young Chris Fowler in the studio for additional commentary centered around clips shown on an oddly sized CRT television.
Everything about the production screamed "It's The 90's, But We Have Class, Dammit!" in the same way that your grandparents' wood-paneled basement did.
TERRY GLENN, 7th PICK OF THE 1st ROUND, NEW ENGLAND PATRIOTS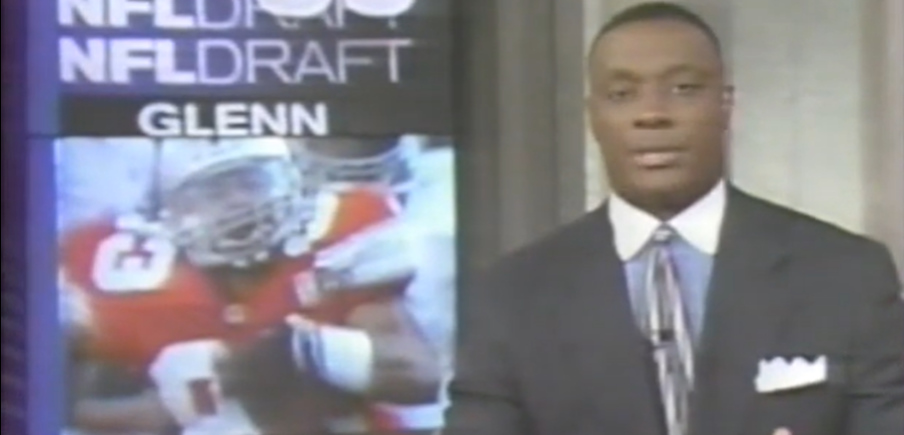 Terry Glenn was the first Buckeye off the board. In his analysis, Sterling Sharpe questions whether football is "important" to Glenn, which Terry answered with an 11 season NFL career, including a Pro Bowl and a victory in Super Bowl XXXVI. Though successful, Glenn struggled with personal and physical issues throughout his playing career; suspensions and injuries were a frequent problem, as were run-ins with the law. He sadly died in 2017 from injuries sustained in a car accident at the age of 43.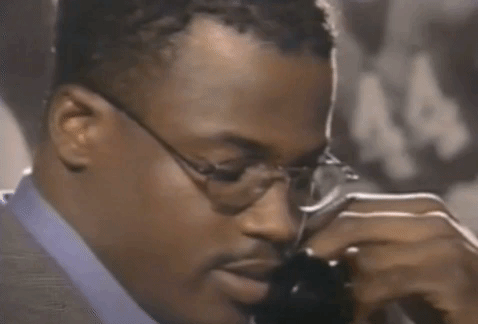 Glenn himself didn't get any screentime during the draft. The announcement, followed by a brief analysis of Glenn's skill set, was soon bumped in favor of coverage of another draftee, this time some running back named Tim.
He was probably a huge bust, let's not spend time worrying about him.
RICKEY DUDLEY, 9th PICK OF THE 1st ROUND, OAKLAND RAIDERS
This was a surprise to me. I knew who Rickey Dudley was: not only did he have a pretty successful 1995 campaign as a tight end for Ohio State (racking up 575 yards receiving and seven touchdowns), he was also a four year letterman with the men's basketball team, appearing on the 1992 squad that ended up going to the Elite 8. But I had forgotten that he had been drafted as highly as he was. Raiders fans don't think fondly of the guy and consider him a bust, but whatever.

Dudley doesn't make an appearance in the broadcast either, and is spoken about as if no one is really sure who the hell the dude is. Joke's on everyone else, because Dudley had a decent nine year NFL career and played in and won a Super Bowl with Tampa Bay in 2003.
TACO BELL COMMERCIAL, NARRATED BY CHARLIE SHEEN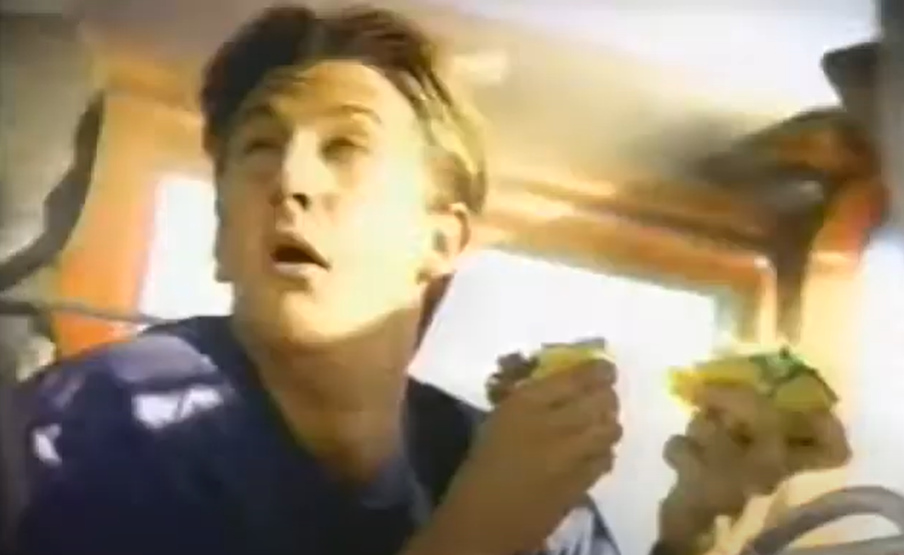 Some guys in a Jeep almost get killed by a semi truck hauling large tacos. Be glad I didn't include the PSA about life preservers, or the gross Perkins' milkshake ad.
EDDIE GEORGE, 14th PICK OF THE 1st ROUND, HOUSTON OILERS
You know who Eddie George is. Heisman winner, four time Pro Bowler, literal Broadway star, Ohio State retired number-haver... he's one of the most beloved Buckeyes for a reason. Eddie George went on to have a great career with the Oilers, and they eventually retired his No. 27 as well.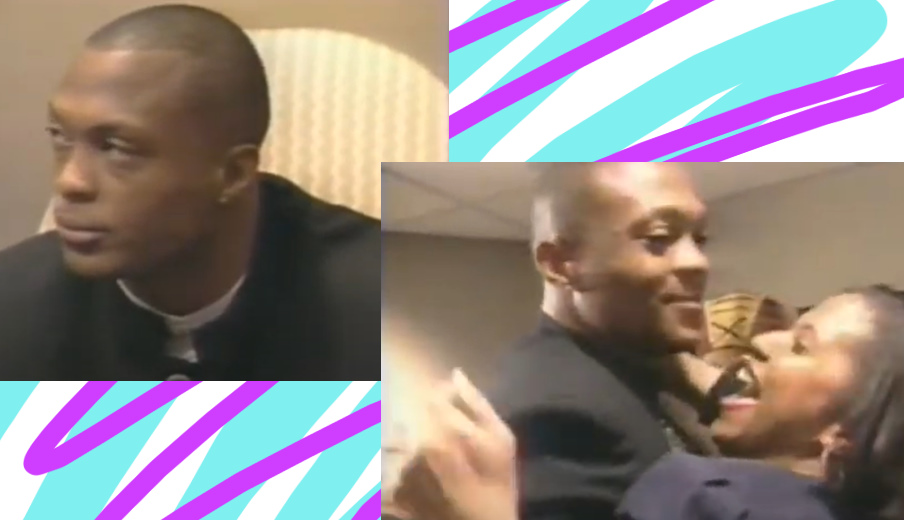 Eddie does get screentime in the 1996 broadcast, but that's mostly because ESPN smelled blood in the water. As the Heisman winner slid down the draft board, the Worldwide Leader kept cutting to George in his extremely priestly garb, hoping he'd freak out or punch a dude who whatever. Eddie did none of those things, and instead got drafted despite being slow and too tall (according to ESPN).
The 1996 NFL Draft broadcast was a weird mechanical mess. Players were seen as almost an afterthought as they were assimilated into the giant Borg collective that is the National Football League; they're talked about mostly in terms of their "risk" or "benefit" to a team instead of what their individual success will look like. Nothing looks particularly well-organized, either. The war rooms are a total mess and basically the opposite of Kliff Kingsbury chilling in his Gattaca house.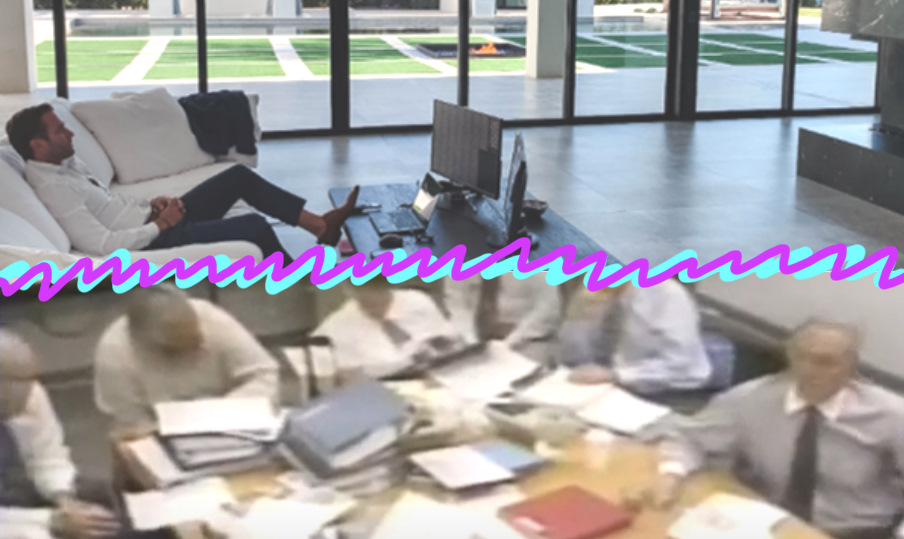 You can see some of the primordial beginnings of the techniques used in the NFL Draft broadcast of today, with the standard crowd reaction shots and cameras trained on the families of the players, but everything is done at an arms-length away, as if getting too personal would ruin the actual meaning of the draft. We don't even get to see Eddie George shake hands with Paul Tagliabue live.
All of which made me appreciate the hell out of what we have now. Guys like Chase Young, Jeff Okudah, Damon Arnette, and Joe Burrow all have really fun and interesting stories that demand to be told.
For as frustrating as the current situation can be for the sports fan, and for as dumb and destructive as social media and our current iteration of mass media can be, the NFL Draft really shined last night. We were able to celebrate small, fun moments right alongside one really huge one for a group of players we've gotten to know over the last several seasons.
That's what the NFL Draft is really about. Maybe the draft has lost its analytical touch over the years, and yes, maybe it does strike way too maudlin of a tone sometimes in favoring "stories" over content. But the alternative is much colder and more sterile than what we got last night.
And last night was pretty damn great.