The concept of the bardo is a Buddhist reckoning of part of the spiritual life and afterlife, kind of a limbo that provides the soul an opportunity for self-discovery if one is properly prepared. If not, you're subject to terrifying visions and nightmares, and your eventual rebirth is probably going to suck just as badly as the life that brought you there in the first place.
So since the beginning of the Jim Tressel era, what has Michigan learned? What, if anything, has changed? What have they done to escape the football purgatory that they've been stuck in since a dude from Youngstown made a kickass speech at a basketball game?
They went 11-2 a couple of times. That was cool for them, I'm sure. If they're (extremely, insanely) lucky, they might get another one this season. But then what? Right now Michigan is tied with Indiana for third in the Big Ten East standings. They have essentially no shot at playing for a championship this season, and boast a senior-laden first string that will leave Jim Harbaugh and Josh Gattis with the task of rebuilding an offense... again?
They're in the bardo! Chained and shackled, like the Marley brothers in a Muppet Christmas Carol, except instead of felt they're covered in failure and shame! Do they want to get out? Can they get out?!
THREAT LEVEL
My point with this over-dramatic nonsense is to make it clear that Michigan football's issues are endemic (ie, conditional to Michigan), systemic (part of who they are as a program), historical, and specifically offensive.
And over the past decade, the Wolverines have been utterly baffling on offense.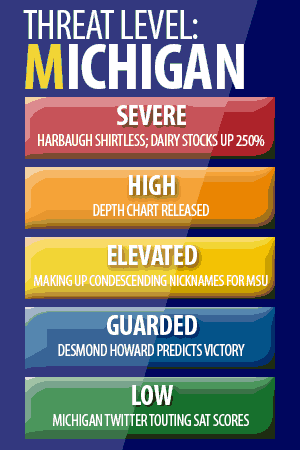 In the last ten years, they've oscillated between 8th and 115th in the country in terms of yards per game, and their scoring has looked pretty much the same. Players have won September Heismans only to completely disappear for enormous stretches of the season. Since the days of Denard Robinson, they've had exactly one 1000 yard rusher in a season (and Karan Higdon's 1178 yards in the entirety of 2018 is fewer than J.K. Dobbins has racked up through nine games this season). Their most dangerous passer since Chad Henne has literally been Jake Rudock, a person I have no memory of and am not convinced actually played college football.
Basically: from Rich Rod to Hoke to Harbaugh, the one constant that Michigan has had is that they are inconsistent at best and garbage on average at offensive football.
In 2014, the year Hoke got fired, the Wolverines at one point had a three game losing streak to the likes of Utah, Minnesota, and Rutgers (!) that saw them score a total of 48 points. In 2017, Jim Harbaugh's team had their own three game losing streak to Wisconsin, Ohio State, and South Carolina. They scored a total of 49 points.
What it boils down to is identity. Michigan was so traumatized by the one coach that brought a unique offensive identity with him to the job that they've decided that no identity is better than anything else. What Josh Gattis and Jim Harbaugh should do for the rest of the 2019 season is to focus on being as creative with the run game as is humanly possible, which includes Shea Patterson. What they will do is continue to let him throw the ball 25 times a game to no great effect because uuhhh I guess that's what quarterbacks do, right?
Michigan plays Sparty next. They'll win, and feel pretty good about it. Indiana will be next, and they'll probably pull that one off too. And then Ohio State will show them that they're never, ever leaving the bardo unless they come up with an offensive plan more interesting than "Tom Brady's Unathletic Third Cousin Who Plays Lacrosse."
The Threat Level remains GUARDED.