At the end of The Fall of the House of Usher, the titular House is caught in a bigass storm and cleaves in two as it sinks into the bowels of the underworld. The events that lead up to this super cool and awesome sequence are very weird and typically Edgar Allen Poe-y, but the long and short of it is that a family falls from grace and into madness, taking the whole shebang with them in the end.
So, I mean, as a guy who isn't superstitious but might be just a little stitious, there is no way in hell that you could've gotten me anywhere within 50 miles of Michigan Stadium on Saturday. Halloween is coming up, and an organization famous for demon exorcism was rolling into Ann Arbor during a driving rainstorm to take on a man of questionable sanity in his own house?
Yeah, miss me with that noise. I had been predicting increasingly awful Michigan losses starting with the Notre Dame game, but in retrospect it was pretty obvious: the Wolverines are damned and mad and weird and the Fighting Irish were lucky to get out of there with a mere 14-45 beatdown. Instead of losing their mortal souls or something.
THREAT LEVEL
Let's get this out of the way: Jim Harbaugh, for only his second time in a dozen opportunities, led the Michigan Wolverines to a victory against a top 10 team. It was a decisive, thorough ass-kicking that he and every other Michigan fan will take exactly the wrong lessons from. Namely, the idea that the Michigan offense is "fixed," or that the defense will be able to replicate their performance on a weekly basis for the rest of the season.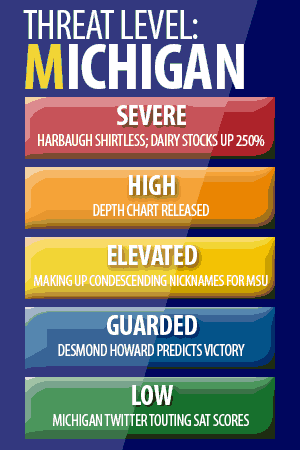 Some other statistical facts: the UM defense held Irish starting quarterback Ian Book to just 8 of 25 passing for a mere 73 yards. Notre Dame gained all of 47 yards on 31 carries and their longest rush of the night was literally nine yards. The Michigan defensive line was fantastic, but it was really their linebackers that stood out; Cameron McGrone and Khaleke Hudson were dominant and combined for 17 tackles. The Wolverine defense also collected two Irish fumbles, while weathering Shea Patterson's prerequisite three (count 'em, three!) fumbles of his own.
Shea wasn't great, but he gets a pass for being tasked with the unenviable mission of attempting to throw an imitation-leather ovoid ball through a downpour of rain and rats and frogs and baby teeth and whatever else falls from the sky in central Michigan. Also he only had 12 attempts, so whatever.
The real story was the belated Michigan running game, which saw Hassan Haskins and Zach Charbonnet and the rest of the Mod Squad rumble for 303 yards on the ground. Now, for you or I, fellow Ohio State fan (and random passers-by from Reddit), this is no great shakes. But for the Michigan Wolverines, who hadn't rushed for 300 yards in a game in over a calendar year, it's a big deal.
All of this adds up to a pretty decisive Michigan victory over a foe they love to beat, and frankly a foe I personally love to watch lose. Wolverine fans will attribute this to the team turning a corner and finally figuring "something out."
I attribute it to bad weather and an overrated opponent. Still, it looked good. Now they gotta prove they can do it twice.
The Threat Level is GUARDED.