It seems Florida-native Willie Taggart has just learned that Florida is hot.
The guy born in Bradenton, Florida, who played high school football in Florida and coached at South Florida for two seasons is claiming Saturday's loss to Boise State (yes, the team from Idaho) came at least in part because dehydration and a lack of conditioning.
From Adam Rittenberg of ESPN:
"They need to start hydrating early in the week and take care of their bodies," Taggart said on his call-in show. "We can't leave it up to our players just to do it. We've got to force them to hydrate and take care of themselves. I don't know if we did a good job of that last weekend. One of those situations where you live and learn, and we'll make sure that we help our guys when it comes to that."

Boise State ran 106 plays in the game, 46 more than Florida State, which had possession for only 19:57.

Earlier Tuesday, Florida State offensive lineman Baveon Johnson questioned the team's conditioning level, saying it "wasn't our strong suit." Johnson later said of the Boise State game, "No, we weren't prepared. I wasn't prepared, we all weren't prepared."

"I feel like it was just conditioning overall," he added. "That's what we need to get better at."
I love the "you live and learn," as if there was no way for Taggart to know that it would be hot and humid in Florida in late August and it was impossible for him to simulate those conditions in practice by going outside.
Meanwhile, in Boise, from Tom Scott of KTVB.com:
The big news from Boise State fall camp Tuesday came out of the Caven-Williams Sports Complex, the indoor facility.  The doors were closed, the heat was cranked, and the field was watered down (as were the players), creating maximum humidity in an effort to replicate the conditions they'll see on Labor Day weekend in Jacksonville.  This is not a new exercise.  The Broncos worked that routine just last year, preparing for their trip to Troy, AL, where they beat the Troy Trojans 56-20.  Boise State also created the same sweatbox in 2016 before beating Louisiana-Lafayette 45-10 on an oppressively hot day.  And the Broncos used the tactic nine years ago before their monumental win over Virginia Tech In Landover, MD.  It may or may not work against Florida State, but it's worth a try.
Imagine a team from a state that borders Canada being more prepared to play in your home stadium and home climate than your team.
And hilariously, that might not have been the most incompetent thing Willie Taggart did this week.
Re: No full-time #FSU defensive coach being in press box during #BoiseState game.
I contacted three current college football coaches each w/over 20 years in CFB. They have never been on staff or heard have a staff that only had GA in the box.

— Patrick Burnham (@PSB5153) September 2, 2019
Has anyone even fallen up harder than Willie Taggart after one good season at a mid-major program?
Seriously, one of these things is not like the others: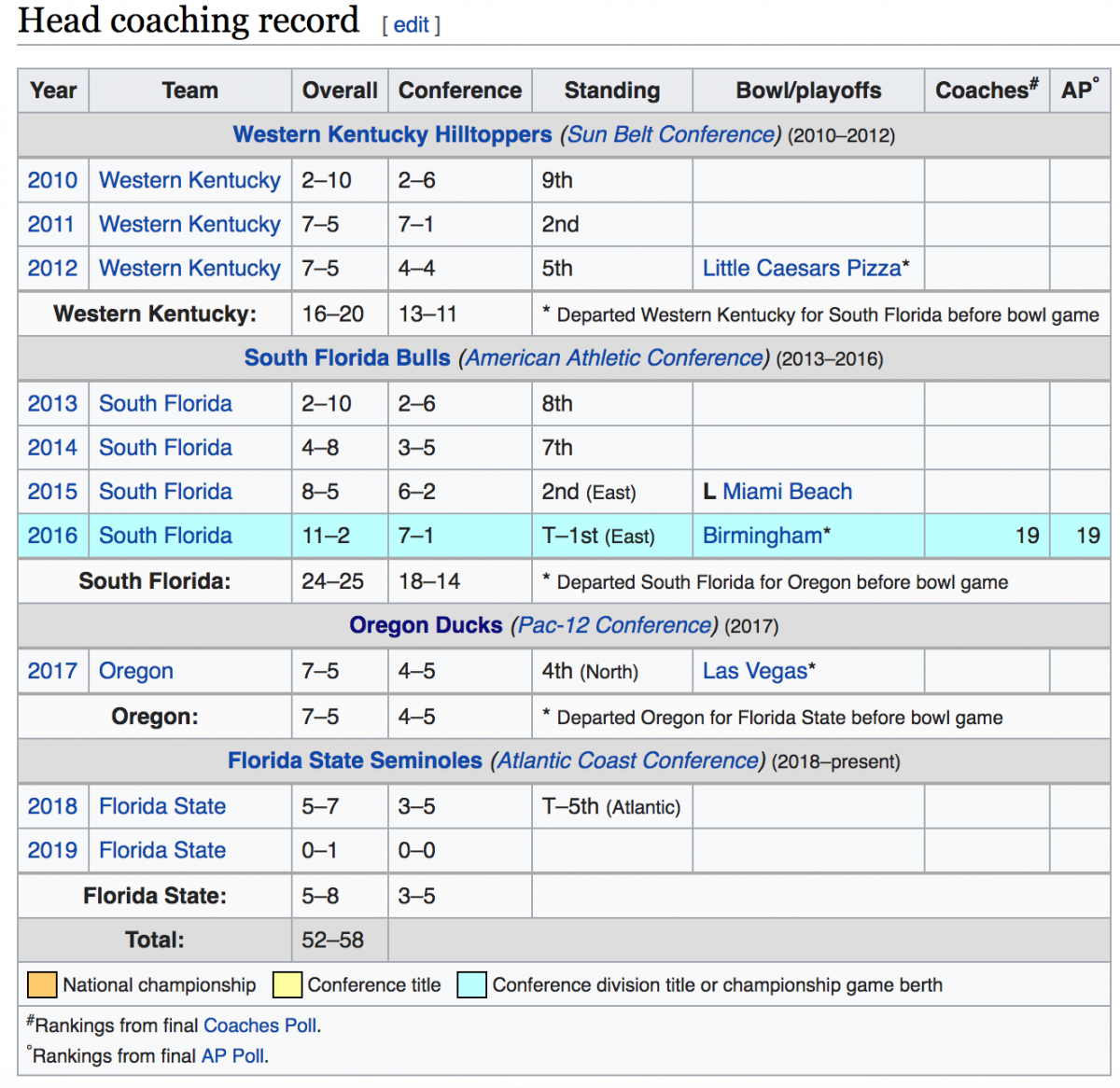 This man is the 12th highest-paid coach in college football.