INDIANAPOLIS – Jamel Dean's college football career nearly ended before it ever began.
Despite signing with Ohio State as a member of its 2015 recruiting class, Dean never had the opportunity to play for the Buckeyes. After tearing his ACL and meniscus in his right knee during his senior year of high school, Dean was not cleared to play at Ohio State by the Buckeyes' team doctors.
Had Dean chosen to stay in Columbus, Ohio State would have continued to honor his scholarship, but he would not have been able to play for the Buckeyes. Dean opted to transfer to Auburn with the belief that he could get healthy and continue his football career.
Dean's belief in himself is about to pay off.
His time at Auburn got off to a rough start, too, as he tore the ACL in his left knee before the 2016 season after sitting out the 2015 season due to transfer rules. But finally, after more than two full seasons on the sideline, Dean emerged as a starting cornerback at Auburn in 2017 and played in all but one game for the Tigers the past two seasons, recording 73 total tackles, 4.5 tackles for loss, two interceptions and 17 pass breakups.
Now, he's on track to be selected in the 2019 NFL Draft, improving his draft stock at the NFL Scouting Combine on Monday, where he ran a 4.30-second 40-yard dash – the second-fastest among all combine participants, behind only Mississippi safety Zedrick Woods.
WAR EAGLE. @AuburnFootball CB Jamel Dean flew through his #NFLCombine workout! pic.twitter.com/cphA6cPyep

— NFL (@NFL) March 5, 2019
"This is really a dream come true for me," Dean said while meeting with reporters on Sunday at the NFL Scouting Combine. "Everything I done been through, it's a great feeling knowing that I done overcame adversity after adversity and I finally got the chance to be here, something I dreamed of as a kid."
While Dean was disappointed at the time about being medically disqualified by Ohio State, he's glad now that he ended up at Auburn.
"It bothered me in the beginning, but once I got to Auburn, I felt like I was meant to be here," Dean said.
Fond memories from Dean's Auburn career include the Tigers' 2017 wins over Georgia and Alabama, who were both ranked No. 1 in the nation at the time, which he described as "probably the best feeling ever."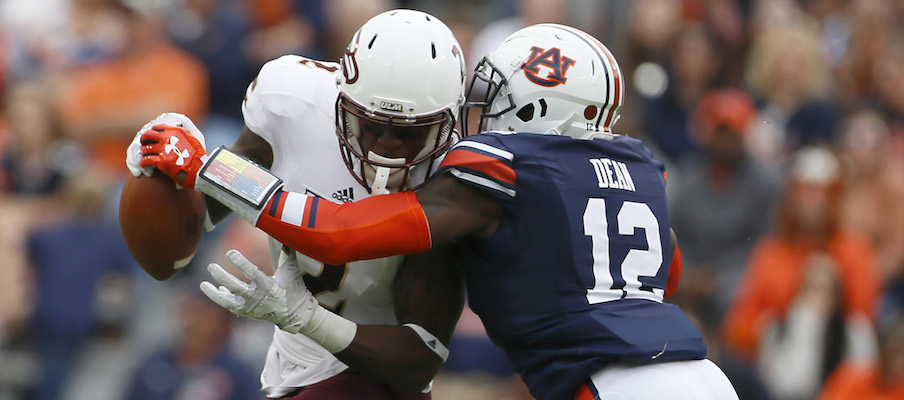 Dean also believes that the challenges he had to overcome have given him a new perspective that will help him achieve success at the next level.
"I learned how to be a man, overcome adversity, how to better myself in life and how to use my platform in a positive way," Dean said. "It humbles you. Things can be taken away from you just like this in the NFL. People get cut almost every season."
"This is really a dream come true for me."– Jamel Dean on attending the NFL Scouting Combine
Dean said he hasn't spoken much with the other members of Ohio State's 2015 recruiting class since he left Columbus, but said he did have a strong connection with former Ohio State cornerbacks coach Kerry Coombs, who is now the secondary coach for the Tennessee Titans. Dean said he did meet with Coombs and the Titans while he was at the combine, and would love to have another chance to play for Coombs.
"I just loved his energy," Dean said of Coombs. "Running into him here, it just brought back memories."
Dean had the second-best combine score among all cornerbacks who participated in on-field workouts on Monday, according to the NFL's Next Gen Stats, also finishing among the top eight defensive backs in the vertical jump (41 inches) and broad jump (10-foot-10). 
As a result, he's well on his way to achieving his dream of playing in the NFL, less than four years after it looked as though he might never play football again.
Inspired by a sign at XPE Sports in Fort Lauderdale, Florida, the facility where he trained for the combine, Dean said his message to other football players who might have to battle back from serious injuries or other adversity is "Never quit."
"As soon as you walk in (at XPE), you look right, there's a sign that says, 'Never give up, because quitting lasts forever,'" Dean said. "And I look at it, I can relate to it. After everything I've been through."
Dean was one of four original members of Ohio State's 2015 recruiting class at this year's combine, along with Buckeyes running back Mike Weber, offensive tackle Isaiah Prince and defensive tackle Dre'Mont Jones.
Two members of that recruiting class are already playing in the NFL: Cleveland Browns cornerback Denzel Ward and Miami Dolphins linebacker Jerome Baker. Several others in line to play significant roles for Ohio State as fifth-year seniors in 2019 – including wide receiver K.J. Hill, defensive tackles Robert Landers and Davon Hamilton and cornerback Damon Arnette, among others – while LSU starting quarterback Joe Burrow was also a member of Ohio State's class of 2015.