This is kind of mean.
GOOD.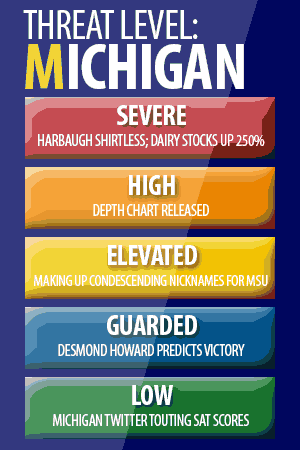 THREAT LEVEL
One of the things that I've realized over the years that I've been doing this whole sportswriting thing is that aside from people who actually take the time to hone their knowledge of a sport into a fine Hanzo steel blade, most everyone who does this is basically pulling guesses out of their ass and hoping that it doesn't end up sounding too stupid.
There were a lot of people who predicted a Michigan victory on Saturday. There's nothing wrong with that. I mean, yeah, they were utterly, insanely wrong, but all available evidence pointed to the Wolverines pulling out a close win at least in part because of an Ohio State defense made out of marshmallows and spaghetti, a team that has proven to be prone to some of the dumbest mistakes possible, penalty after penalty after penalty... this could go on for paragraphs. You get the idea.
And then there were people like myself who thought Ohio State was going to win, and based that faith on basically nothing beyond "the Universe wills it so." People who asked me exactly why I thought the Buckeyes would pull it out were met with an in-depth analysis consisting entirely of "Harbaugh's gonna choke" and the shrug emoticon.
But 62-39? That is beyond the realm of human comprehension or prediction.
I got a Twitter DM from a reader who told me that he had a prophetic dream in which Ohio State turned Harbaugh and company into a paste that they then spread over crackers and ate with the finest Beluga caviar, and still, in this feverish vision of decadence and a massive Buckeye win, the craziest score he could muster was 55-33. Still off by a point.
Anyway, all I'm saying is that it's going to take a while to adjust to the reality of what transpired on Saturday. For us, it's going to be fun to try, but for the Michigan fans and team, I'm not quite sure how you come back from that.
Some Wolverines are going to the tried and true "well at least we're classier than they are" defensive posture, some are posting pictures of otters, some are trying and failing to get excited about basketball season, and still others are invoking the spirit of the Rose Bowl to try and wring out something positive from a season that looked full of promise and ended up producing basically bupkis.
None of these attempts to reconcile or rationalize this defeat will work. Instead, Michigan fans are going to have to realize that the predictive laws of math and physics have utterly failed them, because the Ohio State/Michigan rivalry is no longer beholden to any kind of logic, save for one very simple rule:
Ohio State is going to win. Every year.
Until proven otherwise, no amount of prior data or analysis can convince me that the Buckeyes are ever going to lose to the Wolverines. Zero win Ohio State team going on the road to play top-ranked Michigan? Who cares, Bucks by 20. Urban Meyer drops everything to become a roadie for Sister Hazel? Doesn't matter, Ohio State sets a new single game rushing record en route to a 52-13 win.
Maybe this is the end of the Threat Level. How can you gauge the threat that an ant poses to a Lockheed Martin F-22 Raptor? How can you track the level of something that only exists theoretically, like special relativity or quantum gravity? Or maybe we'll have to figure some new weird threat that Michigan football poses to Ohio State, like in Twitter shade or overall attendance or something.
But in football? The Threat Level is LOW, and may stay there for a long, long time.