In retrospect, it's kind of our fault. It turns out that the only thing keeping the barbarians from the gates was Ohio State. Hoping for Penn State or Wisconsin or hell, even Michigan State to step up in the absence of the guiding light of the Buckeyes was a fool's errand.
Tremble mortals, for the lords of bile and darkness are the best football team in the Big Ten, and as the last three weeks have shown, it's not particularly close. Much like the Wolverines' 42-7 win against the Nittany Lions.

Well, anonymous Eleven Warriors commenter... let's talk.
That Team Up North just played three ranked teams in three weeks and won all three games by a combined score of 101-27. As a reminder of how much that blows chunks, the combined score of Ohio State's last three games (all against unranked teams) is 86-94. Guess which one is the Buckeyes.
ANYWAY!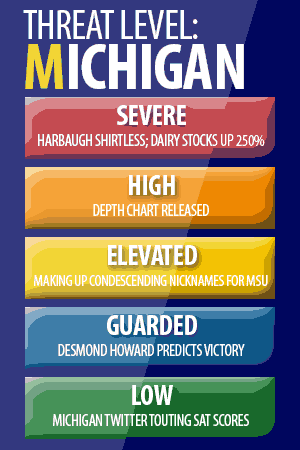 THREAT LEVEL
One of the things that always strikes me about this Michigan team is how brutally efficient they are. Michigan had a hair over 400 yards of offense against Penn State, Shea Patterson only completed 11 passes, and the team had to run the ball 52 times versus 17 passing attempts.
But. Karan Higdon had 136 yards on the ground, the Wolverines were 8/14 on 3rd down, they held possession of the ball for 38 minutes of gametime, and caused three Penn State turnovers which made it impossible for James Franklin and company to get anything going at all. The backbreaker was a pick-six late in the game that wasn't necessary and felt kind of mean, to be honest.
Michigan's defense continues to dominate, and getting back defensive lineman Rashan Gary (!!!) for this game helped enormously, as it will against Ohio State.
"We're the team to beat in the Big Ten," proclaimed defensive end Chase Winovich, who has said the team is on a revenge tour to beat the four conference teams it lost to last season. "That's not a controversial statement. It's just, I think, that's a fact at this point."
I mean... yeah. It is. It sucks, but it is.
Both Ohio State and Michigan have a few games to play before The Game, but at this point there really isn't a lot more for the Wolverines to prove. The play an unabashedly defensive style of football that relies on ball control and a deliberate pace of play.
On the other hand, if the Buckeyes want to be competitive against their eternal rival, they'll have to avoid getting sucked into their tempo, which means figuring out a way to do something that no one outside of Wisconsin has been able to do even semi-successfully against Michigan: run the damn ball.
Ohio State might be able to crack that code, but until Urban and company get the ol' Enigma machine firing, the Threat Level remains SEVERE.