I'm a firm believer that college football teams change enormously over the course of a season; hell, that was my entire pitch behind this weekly feature. So the idea that mistakes by a team in early September should be held against them in early December is asinine. There is simply too much coaching and chaos and learning going on at this level of sports to pretend, Nick Saban teams aside, that student-athletes are programmable automatons who simply perform their preset subroutines on Saturdays and it's all a matter of whose processing power is better.
But.
We're six games in. Garbage September games or not, at a certain point a team begins to develop an identity, and for the 2018 Michigan Wolverines that identity seems to be "play incredible defense, hope someone randomly learns to catch a Shea Patterson pass or two, and lean on a super mediocre rushing game." So far it's worked, with the exception of a close opening loss against Notre Dame, but with the exception of that same close opening loss against Notre Dame, Michigan also hadn't really tried this identity out on anyone with a pulse.
Did Maryland? Yeah, maybe. And not waking up in the second half to beat the Terrapins 42-21 isn't, you know, ideal, but maybe that's just Michigan's M.O. this season. We'll see if it continues to work next week. More on that later.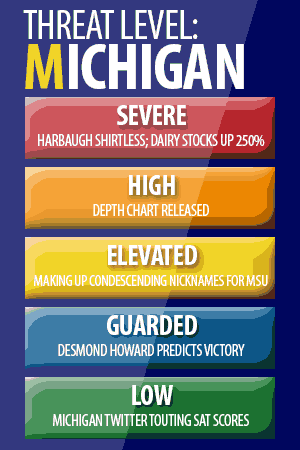 THREAT LEVEL
It's probably important to point out that Michigan has, statistically, the best defense in the country right now. Whether that's true in reality is very much open for debate (given that the Wolverines have played some really bad offenses), but it's their biggest saving grace in games in which their offense can sometimes seem utterly disinterested in the sport of football.
That was the case for most of the 1st half against the Terps, but as with last week, Michigan woke up. Maryland didn't have a prayer of getting anything going offensively until garbage time, and Shea Patterson's 282 yards passing and three touchdowns, coupled with Karan Higdon's serviceable 103 yards on 25 carries was enough to make the game into a laugher in the second half.
So this is all well and good, but Wisconsin now stands in the way of the Wolverines will face a ranked opponent for the second time this season. Michigan gets the Badgers at home, which helps, but I'm really interested in seeing how the Wolverine D stacks up against a top-5 rushing attack. My hunch is that they'll do well, but well enough to win?
That's anybody's guess, and the bad news for Michigan (and the good news for us) is that no matter what the outcome, they get to take on Sparty in the game after that, and Penn State after that. Now our watch begins.
The Threat Level remains at ELEVATED. Let's see what happens on Saturday.