It's the most wonderful time of the year...
College football is officially back today. Fans got a preview on Saturday though the action was confined to a handful of games featuring lower-tier teams and squash matches (e.g. Stanford against Rice). The season starts today in earnest, highlighted by Ohio State's trip to Bloomington. No. 10 Oklahoma State is also in action today.
It continues through the weekend with no shortage of major games to punctuate an opening weekend that has become quite the spectacle over the years. This guide provides your viewing schedule for the weekend's action.
Thursday
Florida International at UCF (CBS Sports, 6 p.m.). Butch Davis is back in the college ranks. A legend at Miami 20 years ago, Davis left a Hurricanes program a year too early for an NFL job (the Cleveland Browns) from which he was always going to be fired. He last coached a North Carolina program that was implicated in the mother of all academic misconduct scandals but fortunately involved no player selling his own trinkets for cash on the side. Because that would've been the worst thing to happen to a program at that time. Lord have mercy.
Austin Peay at Cincinnati (ESPN3, 7 p.m.). Luke Fickell makes his Cincinnati debut on an ESPN stream.
Buffalo at Minnesota (BTN, 7 p.m.). Minnesota has carved out a niche for itself for starting its season on a Thursday. However, it may not have thought it'd be sharing a spotlight that night with Ohio State.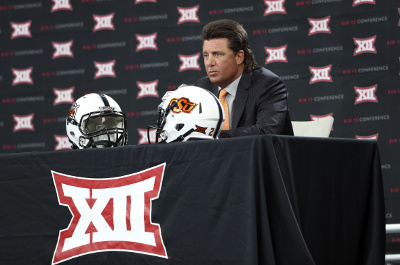 Tulsa at Oklahoma State (FS1, 7:30 p.m.). Oklahoma is the consensus, if not unanimous, favorite to win the Big XII this year. Oklahoma State is my pick as Big XII champion. The No. 10 Cowboys will be an interesting team to watch for the half hour you have before Ohio State's season starts.
Ohio State at Indiana (ESPN, 8 p.m.). This is your personal game of the week. Stay tuned to Eleven Warriors for comprehensive coverage of this contest.
Florida A&M at Arkansas (SEC Network, 8 p.m.). This will begin one of my favorite college football pasttimes. What $4-million-plus-a-year SEC West coach will finish last in the division?
Bert should be grateful Ole Miss is voluntarily going to flay itself this season. Bert talks a big game but the results don't quite follow. That said, I find his offenses fun to watch in a macabre way. It's the football version of a Man v. Food episode, even to the implications that everyone involved would be healthier and fitter if everyone stopped doing what they were doing. Arkansas football is a health hazard, but in a fun way. Like a chicken wing-eating contest.
That said, Bert's ceiling this year is around eight wins. Nine wins is a pipe dream. Is $4 million a year for no more than eight wins really a good investment for Arkansas? They'll at least get one tonight.
New Mexico State at Arizona State (Pac-12 Network, 10:30 p.m.). If you don't intend to go to work early on Friday morning, you may want to stay up and watch this game. Arizona State won't be any good this season; it'll probably finish near 5-7. Todd Graham's position on the "hot seat" makes for some intrigue this year in Tempe.
Friday
Fordham at Army (CBS Sports, 6 p.m.). You know what you're going to get from Army, but I suppose it's never too early to scout.
Washington at Rutgers (FS1, 8 p.m.). This is the return leg of a home-and-home that saw Washington beat Rutgers like a bad JV team. The No. 8 Huskies are in the hunt for a return trip to the playoff even though most experts favor the Trojans in the Pac-12. Washington should have no problem dispatching Rutgers here.
Navy at Florida Atlantic (ESPNU, 8 p.m.).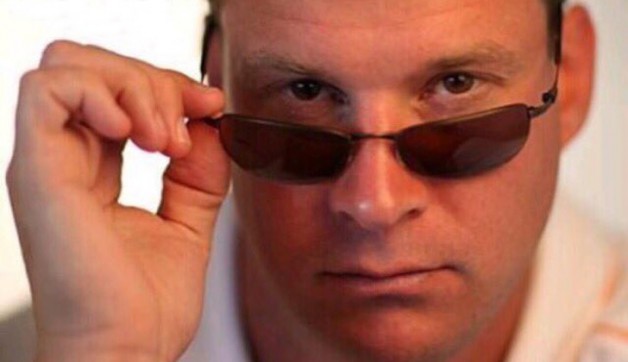 Colorado State vs. Colorado (Pac-12, 8 p.m.). This might be my favorite rivalry game that operates well outside the radar of the typical fan's attention span. It's up there with BYU-Utah ("The Holy War") for its subtle ferocity.
It's also a blast every year. In all fairness, part of this is some Colorado nostalgia on my end for remembering that period in the 1990s in which they were world beaters. The other part of this statement comes with an appreciation for the heavy-lifting that Colorado State fans do to make this rivalry game seem lively on television. You can tell they want it more because Colorado has always been the more prestigious—if not always "better"—program. Do yourself a favor and give this game a look if you have Pac-12 Network and haven't seen it before.
Utah State at Wisconsin (ESPN, 9 p.m.). Is it just me or is Wisconsin as preseason No. 9 team in the country kind of a surprise? Perhaps I haven't been paying careful attention, but seeing that ranking next to Wisconsin just now as I'm writing this led me to look at the AP's website to make sure ESPN wasn't lying to me.
Boston College at Northern Illinois (CBS Sports, 9:30 p.m.). Two things here. One, Power Five programs should never play true road games against MAC schools. Two, remember when Northern Illinois was good? The Huskies were 5-7 last year and are expected third-place finishers in the MAC West this year. That dynasty is done.
Saturday
Kent State at Clemson (ESPN, 12 p.m.). When was the last time a defending national champion began the season with relatively little fanfare? Feels like it's been at least 10 years or so. The 2004 and 2008 LSU Tigers come to mind, but that might be a stretch.
Put in other words, Clemson is a good team with a nasty defensive line for which we've spent little time discussing as a potential playoff participant again. Their season begins with what should be a ho-hum waxing of Kent State.
No. 12 Auburn is next for the defending national champions.
Akron at Penn State (ABC, 12 p.m.). Penn State starts its run toward what it hopes to be another Big Ten championship on Saturday morning.
Maryland at Texas (FS1, 12 p.m.). The Tom Herman era starts at Texas on Saturday morning with what amounts to a really cool exhibition game I would have played on EA Sports' NCAA Football franchise.
That might be my backhanded way of saying "this would've been cooler to watch in 2003."
Ball State at Illinois OR Wyoming at Iowa (BTN, 12 p.m.). Big Ten Network: come for the cupcakes. Stay for the Barbasol commercials.
Bowling Green at Michigan State (ESPNU, 12 p.m.). Not that Michigan State should have any trouble with Bowling Green but God help Mark Dantonio if it does.
Missouri State at Missouri (SEC Network, 12 p.m.). Six SEC teams will start the season with FCS teams or teams that were FCS in the last five years. I'm not saying the conference is comprised of chickenshits riding Alabama's coattails, but I'm certainly thinking it loudly at the moment.
California at North Carolina (ACC Network, 12 p.m.). I wish this had greater visibility because I'm a sucker for any non-conference game featuring flagship institutions from different parts of the country. One such reason why I'll also be watching Maryland at Texas with great enthusiasm.
NC State vs. South Carolina [in Charlotte] (ESPN, 3 p.m.). South Carolina will participant in the Belk Kickoff Game for the second time in three years. Because when I think "South Carolina football," I think "can do no better in a season than a Belk game."
UTEP at Oklahoma (FOX, 3:30 p.m.). It's never too early to do some scouting. Ohio State will have the luxury of a few extra days of preparation before hosting Lincoln Riley's Sooners.
Michigan vs. Florida [in Arlington, TX] (ABC, 3:30 p.m.). This is the first time Florida has left the Sunshine State for a regular season non-conference game since 1991. That game ended with Syracuse hammering Steve Spurrier's Gators, 38-21.
I was going to dedicate this section of the viewing guide to roasting Florida for that tidbit, but then I see that Michigan is going full "Minion Combat" for this game and, you know what? Nope. Nope, nope, nope, and nope. Congrats to Michigan fans for losing all access to the prestige card for any other program's dumb alternate uniforms going forward. No one cares about your Princeton helmets and I hope you enjoy watching your Kmart knockoff Wolverines bleed your eyeballs on Saturday.
I don't even care who wins this game. I just hope it's painful for one of the fan bases, like full "crying early in the fourth quarter" painful.
Temple at Notre Dame (NBC, 3:30 p.m.). Here's a hot #take for the commentariat to promptly roast me: I actually enjoy watching Notre Dame home games. I think that's me longing for NBC's coverage of college football games and looking forward to the Ohio State trip to Notre Dame in a few years toward that end.
Nevada at Northwestern (BTN, 3:30 p.m.). Live in the Chicago area and want to see some live college football this weekend? You can get a ticket to this game for $2.
Troy at Boise State (ESPNU, 3:45 p.m.). Boise State will ruffle some feathers toward the Group of Five invite to the New Year's Six. The season begins with a home game against Troy.
Western Michigan at USC (Pac-12, 5:15 p.m.). If USC makes it into the playoff, it will have bloody earned it. The No. 4 Trojans have no conventional bye week this season. It starts with a MAC snack but the next two games are No. 14 Stanford and No. 23 Texas.
Appalachian State at Georgia (ESPN, 6:15 p.m.). This is the part of the college football programming for Saturday night that scrapes the barrel before Alabama and Florida State start at 8 p.m.
Liberty at Baylor (FS2, 7 p.m.). See above.
Georgia Southern at Auburn (SEC Network, 7:30 p.m.). Ibid.
South Alabama at Ole Miss (ESPNU, 7:30 p.m.). Ibid.
Louisville vs. Purdue [in Indianapolis] (FOX, 7:30 p.m.). I might be more interested in this game than I should be. It's Jeff Brohm's Purdue debut and, as much as I love to dump on Purdue fore being a parasite in the conference, they actually got its most recent hire right. He was a great coach and coordinator at something other than a MAC school. This is a layup hire as far as those go for a program like Purdue.
Jeff Brohm should do good things for Purdue. He'll start against his alma mater. Purdue is a 25-point underdog and, here's a bet, Purdue covers. I'm not that bullish on Louisville this year.
Florida State vs. Alabama [in Atlanta] (ABC, 8 p.m.). This is the game of the week in college football and may be the best Chick-fil-A Kickoff Game yet.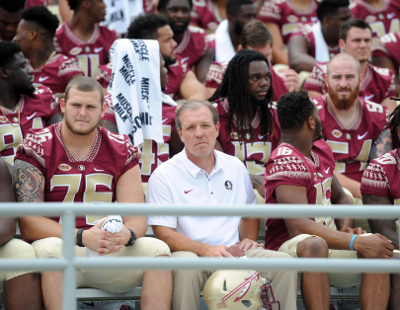 Here's a hot #take about Alabama. So much of the dominance you see comes not just from how well the program is coached and how much talent Alabama has. Alabama successfully gets the other side to fear it before the game starts. They are dominant as much as they project an aura of dominance and that's where they overwhelm opponents. Watch most of those games where teams pussyfoot around Alabama and feel content to hang with it for a drive or two before Alabama strikes and the opposition promptly shows ass just to get it over. That was certainly USC and Florida last year. It's applicable to most games Alabama plays. It's hard to distinguish boundaries between Alabama's excellence and the opposition's fear of Alabama's excellence.
I'm not sure Florida State will fall into that same trap. The Seminoles show no fear and know they can hang and sometimes even obliterate almost anyone. It's a cliche to say the "trenches" will decide this game but it's worth watching here. Alabama's good in the trenches but it's not clear how deep it will be this year at defensive line. Likewise, it's not clear how good Florida State's offensive line is either.
Arkansas State at Nebraska (BTN, 8 p.m.). Nebraska may not (or may, who knows) struggle with Arkansas State on Saturday night. The real intrigue is next week's trip to Eugene to play the Ducks.
BYU vs. LSU [in New Orleans] (ESPN, 9:30 p.m.). Ed Orgeron gets his first full year as LSU head coach and will now effectively host BYU to start 2017. This game was originally scheduled for Houston but was relocated amid the fallout of Hurricane Harvey
Good on BYU to play what has to be the two booziest college football programs and fan bases this season. BYU will actually host Wisconsin two weeks.
Sunday
West Virginia vs. Virginia Tech [in Landover, MD] (ABC, 7:30 p.m.). These two programs share a common geographic footprint and are separated by a four-hour commute. They're also separated by two conferences with completely different geographic footprints and haven't played each other since 2005 because conference realignment does dumb things sometimes.
Texas A&M at UCLA (FOX, 7:30 p.m.). This is the return leg of a home-and-home that Texas A&M almost found a creative way to lose last year in College Station.
We may have said more about how Texas A&M fans are disgruntled with how Kevin Sumlin has run the program in the past five years than we have said about Jim Mora at UCLA. Mora started relatively hot, importantly beating USC three-straight years from 2012-2014 and accruing two ten-win seasons. Since then, UCLA has floundered and, worse yet, USC is back to full form as the de facto bell cow of the Pac-12 South.
The Bruins finished 4-8 last year but are three-point favorites in the Rose Bowl. Expect UCLA fans to start sharpening their pitchforks if the Aggies win this game.
Monday
Tennessee vs. Georgia Tech (ESPN, 8 p.m.). Tennessee has to fall on the ACC's Labor Day grenade this year with a trip to Atlanta's Mercedes Benz Stadium to play the Georgia Tech Yellow Jackets. Both teams are playing FCS teams just five days after this (Indiana State and Jacksonville State) but that five-day turnaround is rough. Ohio State kinda herp-a-derped past a three-win Hawaii team on that kind of turnaround. While this game creates something to watch on Monday night, I'm jut not sold it's worth the time for anyone in the ACC or its orbit (e.g. Ohio State in 2015) to entertain these Labor Day matchups unless a full bye week follows.