As a veteran signal-caller playing for a head coach who has shown a tremendous reliance on quarterbacks he trusts combined with the reality he'll be playing alongside a bevy of largely unproven but talented skill players, it's a good bet J.T. Barrett is licking his chops as he prepares for his redshirt junior season. 
Throw in the fact Barrett enters the season void of any competition or controversy regarding his spot and you've got a recipe for the Wichita Falls, Texas product to continue his assault on Ohio State's football record book. 
A contrarian may point out, beyond the reality that is a fairly green supporting cast, that both Urban Meyer and Ed Warinner have made comments this spring alluding to a more diverse attack but there's also the reality of Meyer's tendency, to date anyway, to ride his trusted quarterback (see Miller, Braxton) even when he has a horse in his backfield (see Hyde, Carlos). 
As such, I'll believe that whole diversity thing when I see it and even if such an attack does materialize over the course of the season as the unproven guys earn their stripes, it's certainly reasonable to guesstimate Barrett will be no worse than the 2nd leading rusher. 
Before we look at a few of the historical records in Barrett's crosshairs, here's a glance at his career stats through two seasons: 
J.T. BARRETT'S CAREER OHIO STATE STATISTICS
YEAR
COMP
ATT
COMP%
PASS YDS
PASS TD
INT
RUSH
RUSH YDS
RUSH YPC
RUSH TD
TOT TD
2014
203
314
64.7%
2,834
34
10
171
938
5.5
11
45
2015
93
147
63.3%
992
11
4
115
682
5.9
11
22
CAREER
296
461
64.2%
3,826
45
14
286
1,620
5.7
22

 

67
We all remember just how special a season 2014 was thanks in large part to Barrett rescuing the team from what seemed like the impossible task of replacing Miller who was injured just over a week before Ohio State's season opener against Navy.
Not only did Barrett replace Miller, he set roughly a billion school records including being responsible for 45 total touchdowns, 34 touchdown passes, 3,772 total yards, a 64.7 completion percentage and 314.3 total yards per game. 
Of course, Barrett's personal season ended on a sour note when his ankle snapped against Michigan before the team then marched to the College Football Playoff national championship buoyed by the unfathomable play from then-third-stringer Cardale Jones. 
That turn of events triggered a 2015 season in which Barrett opened the season as Cardale's backup before eventually seizing the starting job in game eight versus Rutgers and holding the post through the remainder of the season.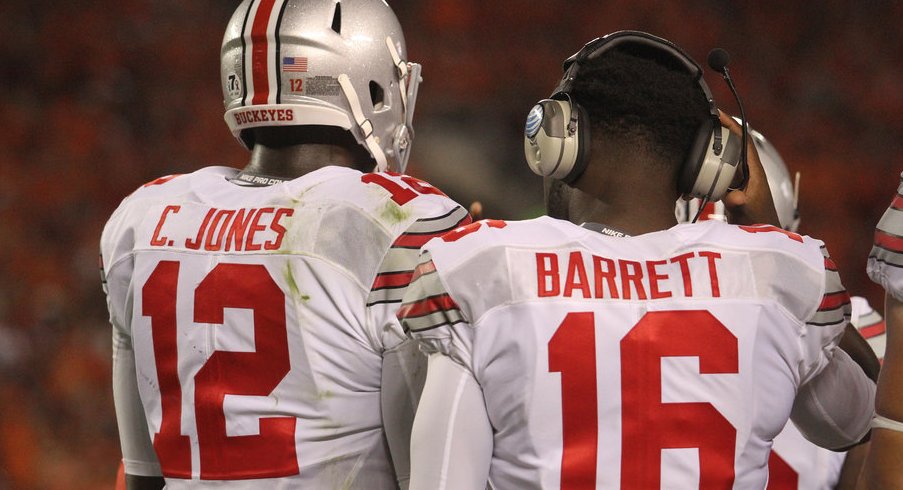 At times looking as if he was worried about playing perfect football in fear of losing the starting gig he'd worked so hard to reclaim, Barrett struggled with consistency after lighting up the Scarlet Knights. Following a one-game suspension, he was just so-so against Illinois and like the rest of the offense was a non-factor against Michigan State before righting the ship against Michigan and Notre Dame. 
In those final two contests combined, Barrett tallied 559 total yards and five touchdowns against a lone interception while completing 61% of his throws giving him a boost heading into this season. 
Provided he looks more like his 2014 or late-2015 self, Barrett has a shot to become the school's all-time leader in a handful of categories this season or at minimum, put himself in position to crush those records in 2017 assuming he returns for a final season. 
CAREER PASSING YARDS
Through two seasons of action Barrett currently stands 11th in career passing yards with 3,826 though it's important to note 2,834 of those yards were posted during the 2014 campaign. 
With just 2,053 yards this season Barrett would vault all the way to 5th place replacing Steve Bellisari (5,878). If Barrett can amass a reasonable 2,545 passing yards, he'll climb to 3rd place ahead of a gunslinger by the name of Joe Germaine (6,370). 
Moving up any higher on the list in 2016 is unreasonable as Barrett would need 3,722 yards to break the school record of 7,547 held by Art Schlichter and 3,407 yards to jump pass Bobby Hoying for the No. 2 spot. 
Assuming Barrett returns for 2017 and enjoys a healthy season it's hard to see how he couldn't accumulate the necessary yardage to become the school's all-time leading passer. 
CAREER COMPLETIONS
Currently standing 10th all-time with 296 completions, Barrett needs 203 this season to eclipse Hoying's school-best mark of 498 set back in 1995.
Achieving 203 completions this season is a viable expectation considering Barrett had exactly 203 in 2014. Should he fall short of that mark, 148 completions would put him 3rd all-time passing Greg Frey, Germaine, Troy Smith, Braxton, Mike Tomczak and others. 
CAREER TOUCHDOWN PASSES
With 45 touchdown passes under his belt already, Barrett is currently ranked 6th in school annals thanks largely to his school-record 34 touchdown tosses in 2014. 
Needing just 13 such passes to move into the top spot, Hoying's current school-record of 57 is on notice. Other names Barrett will vault once he reaches 13 touchdown passes this year include Germaine, Smith, Miller and Schlichter. 
CAREER COMPLETION PERCENTAGE
Barrett is already the school's all-time leader in pass completion percentage with a mark of 64.2% so really he's just looking to fend off any bouts with inaccuracy to stay in front of Todd Boeckman who is currently in the two-hole with a mark of 63.4%. 
TOTAL OFFENSE
Currently 10th on the school's all-time list with 5,446 yards of total offense, Barrett can overtake Hoying for 3rd place with 1,706 yards which should be a layup provided he stays healthy. 
Barrett would need 3,164 yards to pass Braxton (8,609) and move into 2nd place all-time and would need to register 3,405 yards to set the new Buckeye standard. 
Those numbers will certainly be much tougher to accumulate but considering the 3,772 yards Barrett totaled in 2014, there's a shot he could become the school leader by the end of this season.  
CAREER TOUCHDOWNS RESPONSIBLE FOR
Already with an astounding 67 touchdowns responsible for through two seasons, Barrett currently stands 4th all-time. 
He needs just two scores to pass Troy Smith for 3rd place and a very realistic 19 to pass Schlichter for 2nd place. Finally, just 22 touchdowns would push him ahead of Braxton (88) for the top spot in the history of Ohio State football.