Football season bears with it fans of all kinds from all crevasses of Earth.
Support for the most prominent and dominant college football programs pours out from the far corners of the continental United States to the southern hemisphere and beyond.
Head coaches and athletic directors usually aren't shy to show gratitude for the passionate backing and obvious financial buttresses that help their programs stay afloat, whenever it is most prudent. Ohio State's Urban Meyer hardly goes a press conference without thanking Buckeye fans, regardless the setting.
However, throughout the ups and downs, between the peaks and valleys, and on top of the love and hate, some supporters do their very best to give the fanbase of the team they adore a bad rep.
Various incidents happen all across the country on football Saturdays, with the most egregious usually involving some form of alcohol.
In recent memory, Ohio State fans have had the luxury of watching their team play in primetime more than any other school in the Big Ten (eight of its 15 games in the 2014 season started at 6 p.m. or later).
Later kickoffs mean more time for fans to consume refreshments of their choice, normally with total disregard to how debilitating and frankly, stupid, they can appear to an outsider.
But incidents such as couch burning, fights between opposing fans, verbal abuse, stadium trespassing among other things occur everywhere — whether alcohol is involved or not. On top of that, each and every fanbase in the conference has an opinion on who "the worst" fans are to either pay a visit to their school's campus or vice versa.
But who is the worst? Is there an accurate way to identify which support system needs taming to properly root for their favorite squad?
Probably not but Eleven Warriors dove into the topic with the hopes of shedding some light.
---
Requests submitted to each of the 14 Big Ten member institutions resulted in some form of response through the Freedom of Information Act (FOIA) in accordance with state law.
Thus, because it is a private institution, Northwestern is legally permitted to withhold such information. The same goes for Penn State, who stood behind Pennsylvania law to decline the request due to the university not being a state "agency."
New conference member Rutgers took the longest to issue a response to our request, before also denying by saying "no records exist responsive to your request."
That leaves us with 11 schools, for which some reports are more in-depth than others. An arrest is an assumed ejection, though it was not tabulated as such below. For the sake of the data provided and shown in this story, ejections stand for kicked out of the stadium, but not necessarily an arrest.
What you see is what each school provided.
| School | Ejections | Arrests | Attendance | Ejections/1,000 | Arrests/1,000 |
| --- | --- | --- | --- | --- | --- |
| ILLINOIS | 6 | 3 | 290,842 | 0.021 | 0.010 |
| INDIANA | N/A | 26 | 249,941 | N/A | 0.104 |
| IOWA | N/A | 71 | 472,584 | N/A | 0.150 |
| MARYLAND | 62 | 3 | 281,884 | 0.220 | 0.011 |
| MICHIGAN | 107 | 18 | 734,364 | 0.146 | 0.025 |
| MICHIGAN STATE | N/A | 258 | 522,765 | N/A | 0.494 |
| MINNESOTA | 26 | 1 | 355,056 | 0.073 | 0.003 |
| NEBRASKA | 25 | 3 | 638,744 | 0.039 | 0.005 |
| NORTHWESTERN | N/A | N/A | 270,292 | N/A | N/A |
| OHIO STATE | 104 | 186 | 744,075 | 0.140 | 0.250 |
| PENN STATE | N/A | N/A | 711,358 | N/A | N/A |
| PURDUE | 5 | 5 | 246,880 | 0.020 | 0.020 |
| RUTGERS | N/A | N/A | 303,791 | N/A | N/A |
| WISCONSIN | 205 | 200 | 556,642 | 0.368 | 0.359 |
EAST DIVISION
Ohio State
Ohio State's ejection and arrest numbers put it in the same breath as Wisconsin, Michigan and Michigan State for highest totals from the 2014 season. Coincidentally, the four stadiums where those schools play rank in the top-6 for capacities within the conference. The other two are Penn State and Nebraska.
Buckeye fans are known as passionate, intense and at times a little overbearing. The incident report support all three of those claims.
According to records, the bulk of the arrests made in 2014 were for bringing alcohol into Ohio Stadium (173 of 186, or 93 percent). The remaining ones were filed under "additional arrests."
Unsurprisingly, the highest number of ejections from the stadium on any certain day of game — whether it be for alcohol, disorderly conduct or something else (the report did not give details) — was Nov. 29 against archrival Michigan. Rivalries bring the hate.
A stunning 58 arrests (52 for alcohol) occurred during the game against Cincinnati Sept. 27. The 6 p.m. kickoff time likely added to the inflated number; more time to consume drinks means more time to forget normalcies involving equitable game day behavior. The ratio of arrestees to total attendance ranged anywhere from one arrest for every 34,000 attendees (Indiana) to one arrest for every 1,800 attendees (Cincinnati).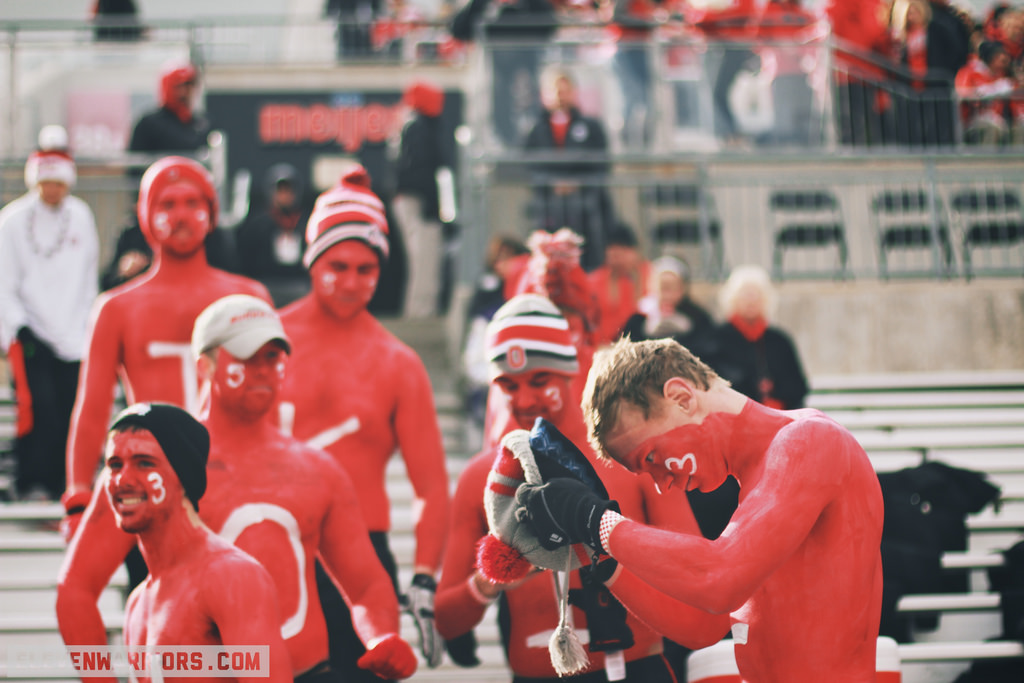 Ohio State's total ejections (104) and arrests (186) numbers from 2014 put the Buckeyes at third-most on each list, compared to the other schools that the provided the information.
Noon games other than Michigan (Kent State and Indiana) yielded the lowest totals.
Indiana
The Hoosiers did not provide Eleven Warriors with ejection numbers from game days, but the arrests total (26) puts them at sixth on the list of the 11 schools that provided data. Essentially right in the middle.
The largest number of incidents came during Indiana's home game against Michigan State Oct. 18, a 3:30 p.m. kickoff that served as the latest start time of the regular season for the Hoosiers.
Fourteen of the 26 arrests made were because of illegal possession and consumption of alcohol in or around Memorial Stadium in Bloomington, Ind. A fan was also arrested for possession of an illegal synthetic narcotic during the game against the Spartans.
The ratio of arrestees to total attendance varied from just the one on game day (Purdue) to one for every 7,400 fans (Maryland, Michigan State, Penn State).
Maryland
Maryland failed to provide details on the ejections and arrests from in and around Byrd Stadium but did release the total numbers resulting from each stipulation.
The total number of ejections (62) from Terrapin home games slots them fourth highest out of the eight schools that provided such data, with total arrests (three) tying them for ninth out of 11.
Maryland's ratio of arrestees to total attendance was anywhere from none (four times, including the noon start against Ohio State Oct. 4) to one for everyone 24,000 fans (West Virginia).
Michigan
Ohio State's biggest rival finished second out of eight in ejection totals (107) behind only Wisconsin, and seventh out of 11 in total arrests (18).
The majority of ejections (54.2 percent) were for possession of alcohol at Michigan Stadium. On nine different occasions, a patron got kicked out for possessing someone else's identification form and 14 of the 18 arrests were minors in possession of alcohol.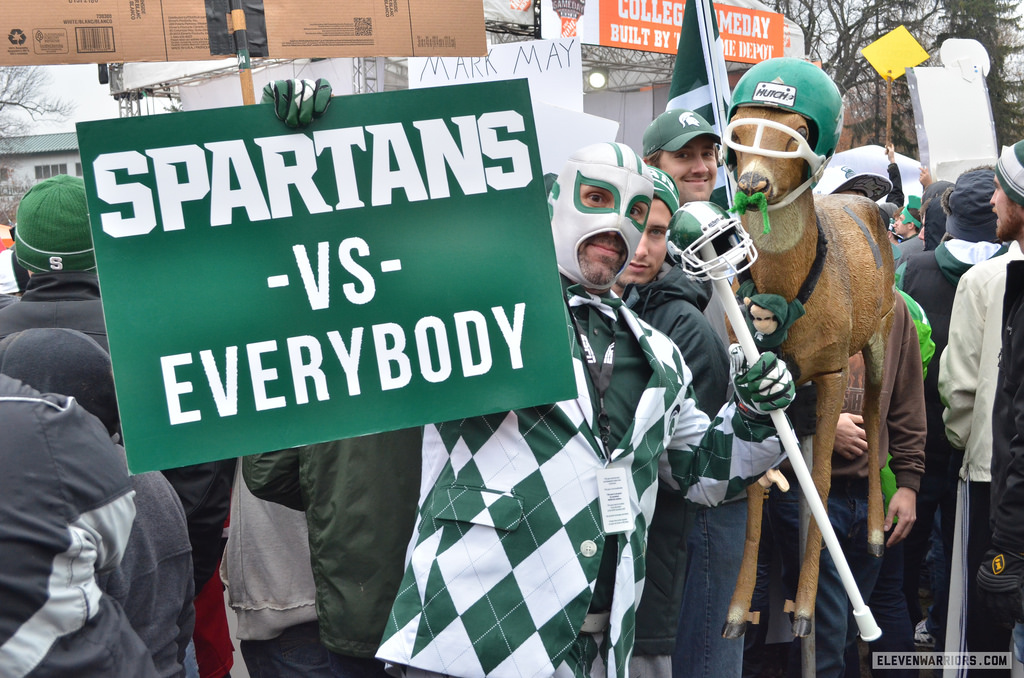 Other notable incidents include an ejection for public urination during a game against Penn State (7 p.m. kickoff) and an arrest for a violation of the Controlled Substances Act during the game against Miami (Ohio).
Michigan's ratio of arrests to total attendance ranged from zero (Indiana and Maryland, the last two home games of the season when the Wolverines were either at or below .500 heading in) to one for every 19,000 fans (a night game against Penn State).
Michigan State
The biggest threat to Ohio State on the field in the Big Ten possessed the highest number of stadium arrests for 2014 — by a significant margin.
Michigan State's 258 arrests were 58 more than Wisconsin's in 2014, and even though the Spartans did not provide ejection numbers, the first figure alone is compelling.
A total of 93 arrests (36 percent) stemmed from minors in possession of alcohol either in the stadium or at nearby tailgates. Coming in a close second were patrons getting busted for public urination (87, or 33.7 percent). Handcuffs were also issued for a multitude of other reasons, among them trespassing, disorderly conduct, ordinance violations and possession of marijuana.
One person was apprehended by police and charged with OWI prior to Michigan State's home bout against Ohio State Nov. 8, a night contest that served as a de-facto Big Ten East title game.
Michigan State's two biggest home games of the season (against Michigan and Ohio State) resulted in the most arrests. The ratio of individuals arrested to total attendance ranged from just the one in the final home game against Rutgers to one arrest for every 700 patrons (against in-state rival Michigan).
WEST DIVISION
Illinois
Fighting Illini home football games don't appear to be too exciting — at least when it comes to the commotion in the crowd.
Only six ejections and three arrests were reported during the entire 2014 season, putting Illinois at second to last and tied for ninth in reference to those schools that provided data.
Illinois only hosted one game that wasn't at noon, a 42-35 victory against Texas State Sept. 20 that kicked off at 4 p.m. That likely has plenty to do with their lack of numbers, as well as a paltry home Big Ten schedule (Ohio State, Michigan State and Michigan did not pay a visit to Champaign, Ill., last season).
The only notable apprehensions provided was the team's game against Iowa when three counts of battery resulted in arrests.
Iowa
The Hawkeyes provided by far the most detailed and most juicy response to the FOIA request submitted by Eleven Warriors.
The 71 total arrests ranked fourth among the rest of the conference in 2014, with the heavy majority being alcohol related.
Notable reported incidents include:
11 cases where patrons were found either inside or near a bathroom stall, or standing or kneeling next to a trashcan, either dry heaving or vomiting onto themselves or the ground, toilet or waste receptacle;
A 21-year-old male attempting to prove he wasn't drunk to a police officer by placing a dollar bill in his wallet, only to be unable to do so;
A 20-year-old male accused of groping females in the stands while intoxicated prior to his arrest;
A 19-year-old male admitting not knowing where he was when found in someone else's seat covered in mud after drunkenly confessing to falling in a creek;
A 22-year-old male walking around the outside of Kinnick Stadium drinking an open bottle of Fireball;
A 50-year-old male accused of purposely pouring beer on the keyboard of another patron's laptop at a tailgate after asking them to turn down their music and then claiming it was an accident;

A 35-year-old male drunkenly attempting to enter Kinnick Stadium without a ticket, instead handing the ticket taker a $20 bill only to be denied;
A 25-year-old female slapping an officer's hand and refusing to heed his assistance as she drunkenly fought with her boyfriend;
A 41-year-old male falling asleep in the stands after drunkenly vomiting all over himself and others;
A 23-year-old male drunkenly standing and dancing in front of heavy traffic, causing a backup after a game; and
A 25-year-old female blew a .273 into a breathalyzer, the highest reported blood-alcohol level from Hawkeye home games.
The ratio of arrests per total attendance ranged from one for every 22,000 fans (Northern Iowa and Northwestern) to one for every 3,300 fans (Wisconsin).
Minnesota
A trip to snowy Minneapolis reveals Golden Gophers fans to be pretty chill (both literally and figuratively), and their ejection/arrest figures support that.
The 26 ejections rank fifth out of the eight schools that submitted the information, while the lone arrest is easily the least among the 11.
Seven citations were issued in 2014 at TCF Bank Stadium, for either intoxication, minor consumption of liquor or trespassing.
Nebraska
The Cornhuskers reported a mess of incidents (274 to be exact) during the 2014 season, but the ejection and arrest numbers were good for sixth and tied for ninth in the conference.
The majority of incidents occurred during night games against Miami (FL) and Illinois and were for anything from intoxication, fighting, ticket disputes, or illegal sales.
All in all, Memorial Stadium seems like a pretty superb place to take in a college football game.
Purdue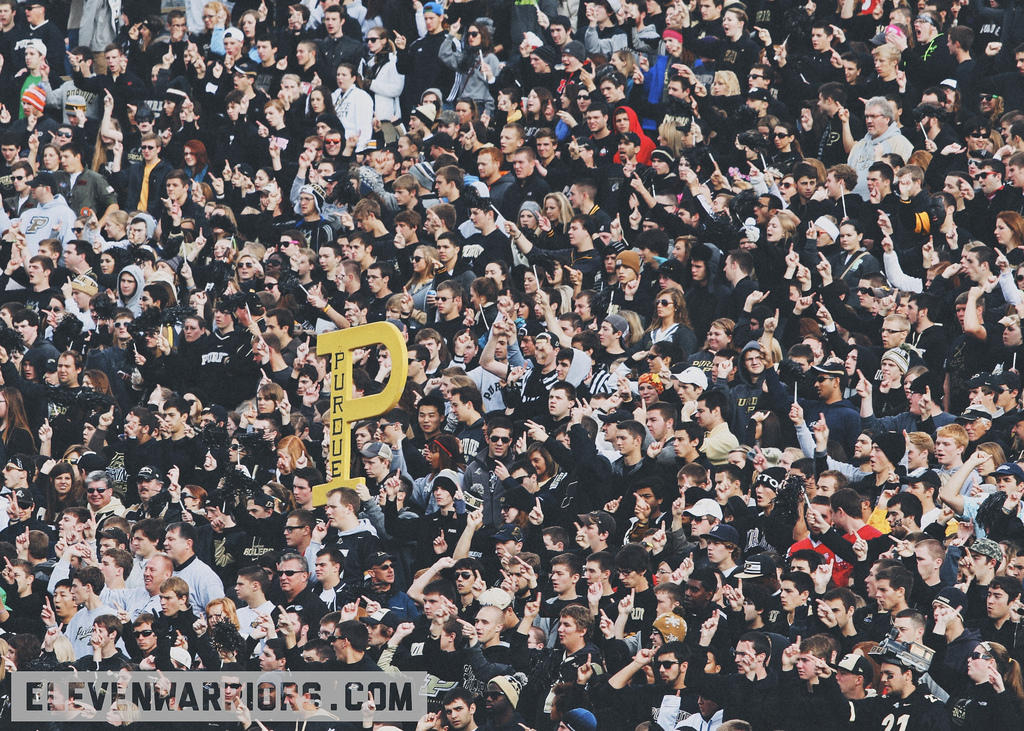 Purdue sent the requested information, but told Eleven Warriors to take ejections numbers with a grain of salt because "the majority of the time, they are completed without formal documentation."
The low numbers put the Boilermakers in eighth place in both the ejection and arrest rankings. Arrests were made in 2014 for minor in consumption of alcohol and public intoxication.
Wisconsin
The Badgers carry the highest number of stadium ejections from the 2014 season with a resounding 384, over 100 more than the next closest school.
Of the 200 arrests (second-highest behind Michigan State) made during the season, 119 were students including a game-high 28 in the home opener against Western Illinois.
Ejections were mainly for intoxication, possession of alcohol in the stadium and seating issues in the student section. A whopping 205 citations were dished out by season's end. At three separate times during the year, fans were ejected for throwing what was described in the report as a "heavy object" at another patron.
There was also an arrest for possession of marijuana in the stadium and an ejection for drug paraphernalia. The Badgers also provided the highest preliminary blood-alcohol level from each home game, with the highest being a .321 from the game against Bowling Green.
Wisconsin's arrests to attendance ratio ended up being within the range of one for every 4,200 fans (Illinois) to one for every 2,200 fans (Bowling Green).
---
A multitude of conclusions to be drawn from such data, but each set of numbers should be considered individually due to stadium capacities differing from school to school.
It's difficult to decide who "the worst" fans in the Big Ten are, but the data provided by each member institution is telling in its own way.
Iowa's sheer detail in their reports is noteworthy, as was Wisconsin's massive stadium ejection total and Michigan State's arrest sum.
Each team's home schedule is notable, too, because each fanbase follows its club differently. Thus, stadiums are bound to be full when powers like Ohio State, Michigan State, Michigan or Wisconsin come to town.
All fans will share opinions on who they think is the worst group of fans in the conference, with many steering away from putting their own brethren in a negative light.
In the end, these numbers are just that: numbers.