The playoff rankings were released Tuesday night. Are there any hot takes for what's spiritually identical to the first BCS rankings that would be released mid-season as well?
Ohio State sits at no. 16. Fair enough. There are three SEC West teams in the College Football Playoff right now. This is obviously preposterous if taken seriously. The SEC West has yet to play itself in earnest. It'll start soon with Ole Miss and Auburn on CBS.
Big games dot the rest of the weekend's schedule, including Florida State at Louisville tonight. This will be your viewing guide for the week's games. The honorary TV Guide cover for the week features the cast of I've Got a Secret. The producer of this show, Allan Sherman of "Hello Muddah, Hello Fadduh" fame, is not an Illinois graduate. He was, however, expelled from the university for breaking into a sorority house. College, man.
Thursday
Florida State at Louisville (ESPN, 7:30 p.m.). It's rare to see the no. 2 team in the country and reigning national champion playing on a Thursday night, but this comes with the territory for being in the ACC.
Why aren't we talking (more) about Florida State? This has become a recurring theme among Florida State fans, which would love it if America talked more about Florida State (except for the reports of armed robbery, domestic violence, sexual assault, and legal/municipal shadow structure buttressing the football program). Let's talk about Florida State football for its own merits, except for the part where its schedule sucks, the team can't run the football against even crappy teams, its wide receivers are mediocre at best, and the secondary is no longer the unit that carried the squad to last year's national championship.
Florida State is still undefeated, which is something to its credit.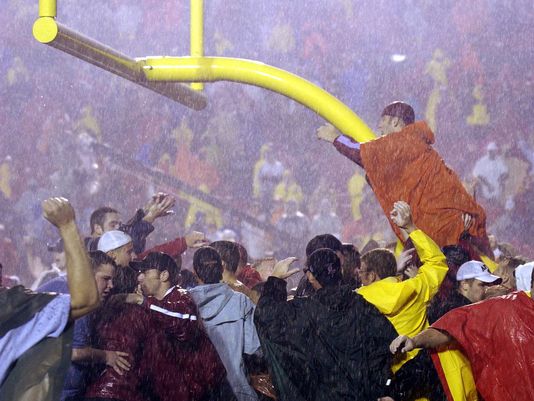 "Why aren't we talking about Florida State" sounds much better to me if expressed similar to Bobby Heenan's "that's not fair to Flair!" In which case, I'm going to laugh and clap my hands each time. It's as juvenile.
Could Louisville end this conversation for college football writ large? Maybe. Louisville won't score many points on anyone but has the country's fourth-best scoring defense. 
I'm reminded of the fabled rain-soaked contest in 2002, in which Louisville, then an unknown commodity from the old Conference-USA, upset then-no. 4 Florida State 26-20 in an overtime game on Thursday. College football fans are hoping it happens again.
Troy at Georgia Southern (ESPNU, 7:30 p.m.). This plays concurrently with the FSU-Louisville game. It's here in case FSU-Louisville is on a commercial break or gets to halftime first.
Friday
Cincinnati at Tulane (ESPN2, 8 p.m.). Is the American Athletics Conference that bad for Cincinnati? Instead of trips to Rutgers or West Virginia, Cincinnati gets to travel to New Orleans for games. That's pretty cool.
Tulsa at Memphis (ESPNU, 8 p.m.). Tulsa is typically thought of as the scrappy upstart. It's actually Memphis this year. Memphis, a traditional cellar-dweller in its conferences, is 4-3 this season. Tulsa is 1-6.
Saturday
Air Force at Army (CBS, 11:30 a.m.). 11:30 a.m. football means you have a half-hour less of Gameday you may feel compelled to watch. PRO TIP: you shouldn't be watching Gameday anyway.
Air Force already hosted and beat Navy earlier this month. A win against lowly Army gives Air Force the Commander-in-Chief Trophy.
Oklahoma at Iowa State (FOX Sports 1, 12 p.m.). Oklahoma was on a bye last week, the week after it lost at home to Kansas State. Iowa State, meanwhile, is bad at football. This might get ugly. Oklahoma loves making examples of bad football teams.
Duke at Pittsburgh (ESPNU, 12 p.m.). Someone has to win the Coastal Division and it's probably going to be Duke again. Duke is 2-1 in ACC play to Georgia Tech's 3-2 and has the tie-breaker over Georgia Tech as well. 
Few things are a cry for help for the ACC quite like sending Duke to the ACC Championship Game in consecutive years.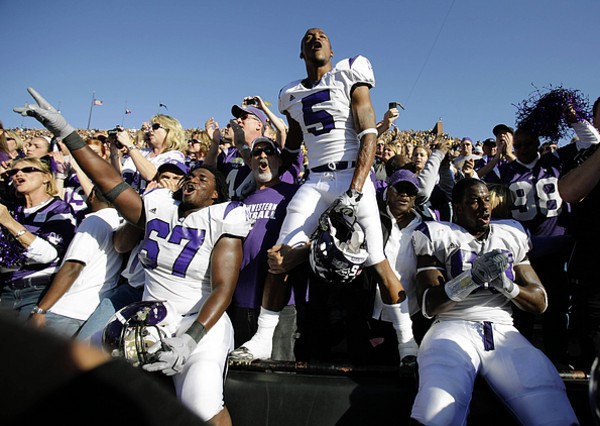 Northwestern at Iowa (BTN, 12 p.m.). This has not been the best series in the Big Ten over the past five years, but it may be the most entertaining. Northwestern spoiled Iowa's undefeated season in 2009. Iowa entered 2010 as a possible Big Ten favorite, but against lost to Northwestern in what began a three-game conference free-fall. 
Iowa has won two of the last three, but not before Northwestern cemented itself as a thing that pisses off Iowa fans.
Maryland at Penn State (ESPN2, 12 p.m.). Ohio State has a habit of beating the football out of teams. Teams that play Ohio State tend to suck shortly thereafter. Maryland, which needed to rally to beat Iowa before losing next week at Wisconsin by 45 points, is a nice illustration of this problem.
Wisconsin at Rutgers (ESPN, 12 p.m.). Wisconsin got moved to the B1G West and drew both Big Ten newbies in back-to-back weeks from the B1G East. If I were a Wisconsin fan, that'd irritate me to no end.
Louisiana-Monroe at Texas A&M (SEC Network, 12 p.m.). Call your local cable provider to make sure you have SEC Network!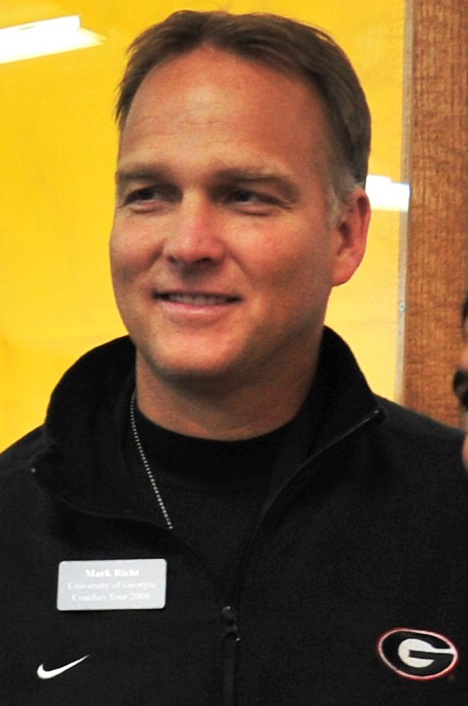 Florida at Georgia (CBS, 3:30 p.m.). This rivalry is one of runs. Georgia won 24 of the first 30 encounters. Florida won nine of the next eleven counters through the 1950s and early 1960s. Georgia won 11 of the 13 through the 1970s into the early 1980s.
The arrival of Spurrier as coach turned the rivalry on its ear. Spurrier lost to Georgia only once in his 12-year tenure and most of the wins were blowouts.
Enter Will Muschamp, who has yet to beat Georgia in three tries. Heck, even Ron Zook won two of three against Georgia when he was coach. This was back when Mark Richt was the hot new coaching thing in the SEC, and not the yearly disappointment he is now for bitter Georgia fans.
TCU at West Virginia (ABC/ESPN2, 3:30 p.m.). This is the first game of the week featuring two ranked teams.
I mentioned earlier this week that it's time for Ohio State fans to fret the Horned Frogs. TCU is legit and doesn't have many plausible losses left on the schedule. The remaining schedule consists of Kansas State, Kansas, Texas, and Iowa State. It hosts Kansas State. The Thanksgiving game at Texas would hopefully be a trap for TCU, but Texas has shown little to support such optimism.
Purdue at Nebraska (ABC/ESPN2, 3:30 p.m.). This is Nebraska's first time hosting Purdue. It played at Purdue last year (a 44-7 win). The two have just one other meeting (a 28-0 Purdue home win in 1958).
I wonder what that must be like for the Nebraska fan coming of age in the mid-1990s. Previous seasons included marquee home matchups against the likes of Colorado and Oklahoma (albeit in a weakened state for OU in the 1990s). Now, Nebraska is hosting "big games" against the likes of Illinois and Purdue.
Indiana at Michigan (BTN, 3:30 p.m.). Losing at home to Indiana would give Michigan its sixth loss on the season with a trip to Northwestern, Senior Day against Maryland, and trip to Ohio State remaining on the schedule. When Indiana is a "must win", your program is in peril.
Kansas at Baylor (FOX Sports 1, 4 p.m.). Baylor took off a week from football after losing at Morgantown. Home-cooking against lowly Kansas is what the doctor ordered.
Kentucky at Missouri (SEC Network, 4 p.m.). SEC Network. Feel the excitement.
Auburn at Ole Miss (ESPN, 7 p.m.). This is the national game of the week and one for which Ohio State fans should have a rooting interest.
If pressed to guess, I think the greatest prospect for chaos in the SEC comes with an Auburn win. Ole Miss should be a presumptive favorite in the remainder of its games. Ole Miss plays Presbyterian from the FCS next week. It gets a bye before visiting Arkansas, which hopefully is an interesting game. It hosts Mississippi State, of which my skepticism is already well-documented.
Meanwhile, Auburn still has Texas A&M (which may not be that hard) and trips to Georgia and Alabama sandwiching an FCS snack for Auburn's Senior Day.
Auburn has the tougher road to travel. An Ole Miss loss on Saturday makes for a more probable scenario where everyone in the SEC has two losses come playoff selection time.
Arkansas at Mississippi State (ESPN2, 7:15 p.m.). I still think Mississippi State has two losses remaining on the schedule (at Alabama and at Ole Miss), but a loss here would be fun. Arkansas is the Ohio State fan's "chaos team" in the SEC.
Stanford at Oregon (FOX, 7:30 p.m.). This might be a de facto Pac-12 North Championship Game. If Oregon wins, it's probability of securing a berth in the championship game might as well be a 1. It would drop Stanford to 3-3 in the Pac-12. No one else in the Pac-12 North is better than 2-4 at the moment.
A Stanford win doesn't secure anything for Stanford, but it puts the Cardinal in the driver's seat. Stanford still has games against Utah and at UCLA. Winning out (or Oregon losing again) gives Stanford the Pac-12 North championship.
The obvious rooting interest here is Stanford. Stanford's defense is great, conceding just 12.5 points per game. The problem is Stanford can't score to support its defense. The Cardinal would need a lights-out all-game effort from its defense or a performance from its offense that it has not yet shown this season.
Tennessee at South Carolina (SEC Network, 7:30 p.m.). These are the two worst teams in the worst division of the SEC not named "Vanderbilt". Both teams are a combined 2-8 in the SEC (with both wins incidentally belonging to South Carolina). Saturday will not be a banner day of football for the SEC Network.
Notre Dame at Navy (CBS, 8 p.m.). I'm surprised the playoff committee's evaluation of Notre Dame does not square with the AP or Coaches Poll. All the same, Notre Dame is a legitimate playoff contender. A Navy upset would be swell.
Oklahoma State at Kansas State (ABC, 8 p.m.). ABC has two 8 p.m. kickoffs with no spillover to an ESPN affiliate. Be mindful of your coverage map.
Illinois at Ohio State (ABC, 8 p.m.). This is your personal game of the week. Stay tuned to Eleven Warriors for comprehensive coverage of this game.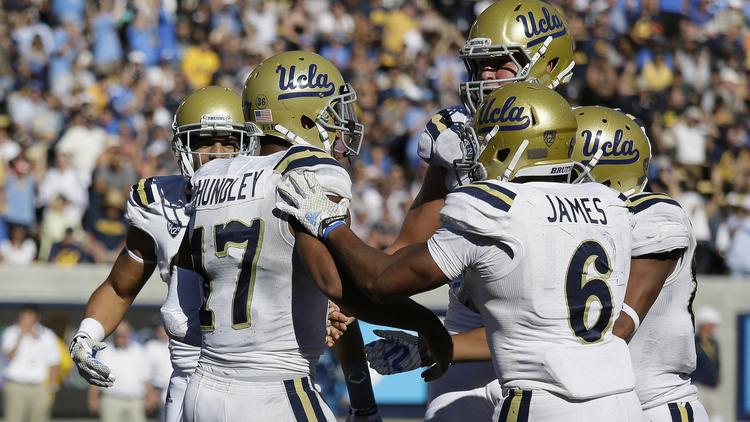 Arizona at UCLA (ESPN, 10:30 p.m.). The Pac-12 has two games between two ranked teams that few people east of the Mississippi River will be awake to see.
Arizona is a feel-good story, ranking 8th in passing offense with a freshman quarterback. Rich Rodriguez' redemption in Tucson is oddly heartwarming, even for this volatile Ohio State fan who tends to hate everything and everyone.
Arizona still has a trip to Utah on the schedule and will host an Arizona State team that Rich Rodriguez has yet to beat in his two years in Tucson. I think the "elimination loss" is coming soon for Arizona. Having that loss come now would help.
Wyoming at Fresno State (ESPN2, 10:45 p.m.). This will be on TV if you want it. I have nothing to add to it, though.
Utah at Arizona State (FOX Sports 1, 11 p.m.). If you can stay awake, you may want to watch this. I mentioned that Arizona State is in as good a position as Ohio State (perhaps even better position) to finagle its way into the College Football Playoff if it wins out. A win over no. 18 Utah would help.