Believe it or not, we've got another bye week on our hands just seven weeks into the season. The last Saturday off couldn't have come at a better time for a team trying to find themselves. This week feels like it's putting the brakes on a freight train, but only time will tell. To give a little perspective I've tapped Johnny and Kyle. Let's hit it.
Chaos. Chaos has taken college football by storm. What was the biggest surprise from last weekend's upset Saturday?
Johnny: My spirit animal, the Northwestern Wildcats, somehow figuring out a way to play a complete game and beat a ranked opponent in the guise of the Wisconsin Badgers. All the other upsets, while fun, were pretty much a validation of what I already suspected: Oregon's offense is good but not fantastic, Alabama has some glaring flaws on defense, Oklahoma is perpetually overrated, and TAMU has a freshman quarterback and all that that entails.
Kyle:  I know it was technically Thursday, but Oregon's loss really shocked me. Arizona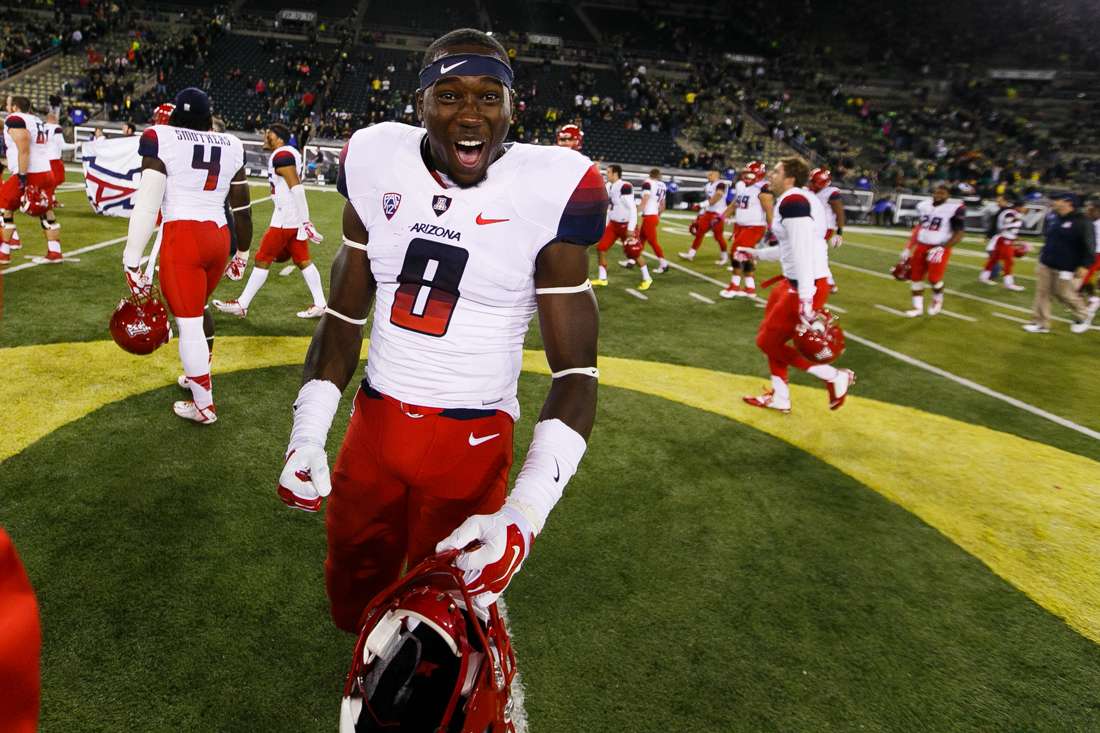 offensively ran the same packaged play concept over-and-over-and-over on drives, never even changing formations, and Oregon had ZERO answer. Additionally, for a team that has become a national power in the recruiting world, the horrible offensive line play was shocking. They COULD still sneak into the playoff discussion, but I have a lot of trouble believing that line will improve enough in time to avoid a number of losses for a team that's very talented.
Was this the weekend the B1G needed to get back into the playoff hunt? 
Kyle: Yes, these losses are bound to happen, and as long as OSU or Michigan State keep only one loss, there is an excellent chance that they'll make the playoff. SEC teams will continue to beat on each other, and there may not even be a one-loss SEC team by the end of November. Same goes for the PAC-12.
Johnny: Yes, but they need like two more to be taken seriously. Realistically the only two teams with a shot at sniffing the playoff in the B1G right now are Michigan State and Ohio State, and after November 8th that'll get whittled down to one. For Ohio State to realistically have a shot at this thing, we should root hard for the Big 12 to implode and for Notre Dame to lose a few times.
Give me your [updated] 4-team playoff prediction. 
Johnny: Florida State, because the play no one outside of Notre Dame, Alabama, because despite not being the best SEC team, they have a (relatively) easy schedule the rest of the way out and will probably knock off Auburn for a spot in the playoff, Auburn, because just kidding, as long as both teams don't lose going into the Iron Bowl then they're both in, and TCU, because I think they'll take care of business in the Big 12.
Point is, it will be extremely hard for a one loss Big Ten team to get in over a one loss champion from another conference, assuming that the SEC will get two playoff teams (they will).
Kyle: 1) Florida State - schedule is very manageable  2) Baylor - The firepower is there to beat TCU and Oklahoma 3) Alabama - Still the most talented team in the SEC 4) OSU/Michigan State - Whoever wins that matchup should have a fairly easy path to 11-1 otherwise  
JT Barrett continues to shine, and some national outlets are taking notice. Is he a legitimate contender for the Heisman trophy? 
Kyle: He has looked good, but only against weaker opponents. Ask me again after the Michigan State game. If he can beat them and lead OSU to the playoff, then yes, he is absolutely in the discussion.
Johnny: No. Look, he's done remarkably well against some really bad defenses, but as the weather gets wet and cold and the defenses that he's playing against start to get better, both his performance and numbers will start to trend down. This is fine; the guy is a redshirt freshman. But I don't see him maintaining the pace that he's set for the rest of the season.
Michael Thomas is coming into this own. What former Buckeye WR great does he most remind you of? 
Johnny: San(an)tonio Holmes, but that's mostly because he's kind of a tweener kind of dude who is good at possession and also has the wiggle to get away from guys at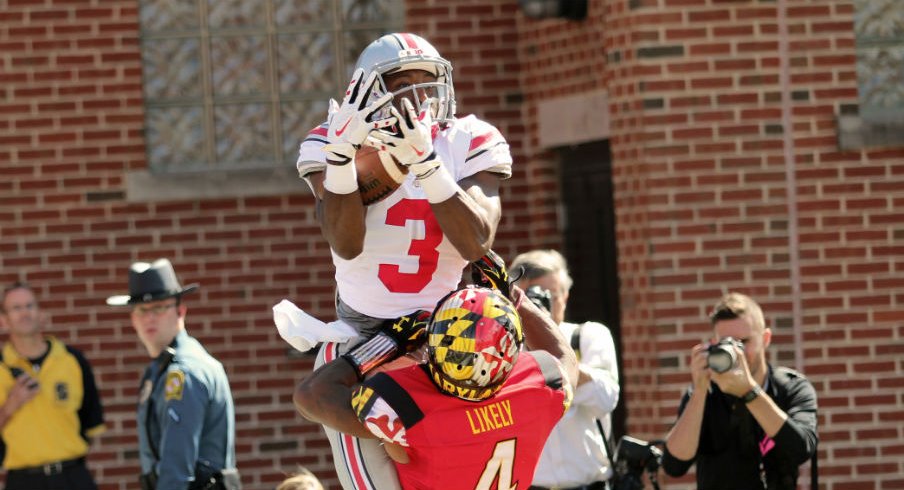 times. I really like the consistency he's shown so far, and if he can stay healthy he will be a huge security blanket for Barrett.
Kyle: He wasn't one of the "greats" but Thomas looks like a better version of Roy Hall. Hall had a similar frame, but never seemed to fully reach his potential while at OSU. Thomas has a lot of the same attributes, but seems to be getting the most out of his abilities.
The defense (particularly the secondary) looked strong last weekend against a Maryland team many believed would give OSU a game. What changed?
Kyle: Confidence. Unlike the 2013 secondary, this group has an identity, which allows them to play to their strengths. We can't forget though, that other than Tyvis Powell, the starters were all heavily recruited. Grant, Bell, Apple, and Conley are all great athletes that have the ability to make plays regardless of scheme. Having the chance to make plays against less-talented opponents helps build confidence as time goes on and they start seeing the same situations over and over.
Johnny: Reps. Live game reps are invaluable to a young defense, and as they develop better communication with each other, they should get even better.
What game will you be watching this Saturday? 
Johnny: Arkansas-Alabama, so I can watch Bret Bielema rip Nick Saban's still beating heart out of his chest and feed it to him. Oh sure, he's an idiot and a goon and Nick Saban can gameplan circles around him. But like all of history's trickster kings, that's when Bielema shines. I smell upset.
Kyle: I'm supposed to say Auburn/Miss State, but I like when teams actually complete passes so I'll be watching Baylor/TCU. This game will tell us a lot about both teams. Can Baylor be stopped on offense? Can they stop anyone else? Is TCU ready to really compete for the Playoff? Lot's of interesting questions that really affect the playoffs will be answered in Waco.
Which Buckeye player is most improved from the beginning of the season to now? 
Kyle: J.T. Barrett has to be the answer. The way he took to coaching after the miserable Va. Tech performance has been as impressive as any stretch I can remember from a player, and he's doing it at the most difficult position. After forcing a lot of passes against the Hokies, he has been patient and disciplined in his reads, and is taking what defenses give him. No question if the Buckeyes got to play the Hokies again right now, it would have a different outcome.
Johnny: Pick any offensive lineman. They were godawful in the first few games but their transformation into a pretty competent unit might be the thing that we talk about most at the end of the season.
We're interviewing Earle Bruce in an 11W community interview. What would you ask the living legend?
Johnny: I'm not sure you believe in ghosts, but isn't it at least a little possible that the ectoplasmic spirit of Woody Hayes transferred into you and then into Urban Meyer through your shared coaching tree?
Kyle: Knowing he coached in a time when scholarships were not as limited, which of his most successful players wouldn't have made the cut had they been recruited today?