Remember Levy Restaurants? A year ago the food and beverage provider inked a seven-year deal with Ohio State, bringing smoked brisket potato skins and other delicious, heart attack treats to Ohio Stadium.
Well, Levy also services Bankers Life Fieldhouse in Indianapolis, home of the 2014 Big Ten men's basketball tournament, and boy do they have a hot dog just for you, fan of all things B1G.
@darrenrovell team hot dogs at Big 10 Tourney pic.twitter.com/SjkQ2JSh5G

— Michael Griffith (@MGriff_Fox40) March 13, 2014
From the arrogant mix of blue cheese coleslaw, bacon and golden mustard dressing the Michigan dog, to the  cheddar cheese sauce, pepper jack, provolone, Cheetos and pepper relish of the Wisconsin frank all 12 schools are represented.
In some cases, inspiration for the dogs is evident – see the corn-themed dogs for Iowa and Nebraska, and the aforementioned cheese missile offered to Badger fans – but nailing the school colors was the primary objective.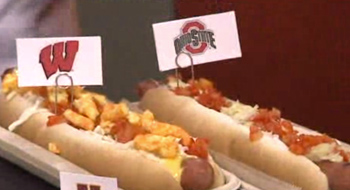 The Ohio State dog, for instance, features "spicy mustard kraut and pepper relish" combining to form something close to what you'd imagine scarlet and gray on a hot dog would look like.
At $12 a pop, they didn't come cheap, but visitors devoured them, anyway, because gamification! Levy kept a hot dog leaderboard and after the first day of the tourney, the Indiana dog, featuring coleslaw, red pepper relish and fried onions, held a commanding lead with 85 sold to 37 for the Minnesota dog. Chalk that up to the tournament being held in Indy, because there's no way that Hoosier dog is better than the chili, cheddar cheese sauce, diced onions and Fritos splattered on the Gopher frank.