Aaron Craft was eight years old when the century turned.
Jim O'Brien and John Cooper were coaching the two Ohio State teams you love the most. Bill Clinton was finishing his presidency. The Nintendo GameCube was born.
As a nation were still basking in the afterglow of improbably surviving the Y2K bug that was scheduled to pluck airplanes out of the sky and send civilization into its own blue screen of death. 
Sparty conquered the NCAA tournament that memorable year, beating Florida in Indianapolis and closing the Big Ten's basketball title gap at 11 seasons. That little drought swallowed three of Bob Knight's very best Indiana teams, two of Jimmy Jackson's Ohio State one-seeds and a Buckeye Final Four team, a Purdue dynasty, Minnesota's best team ever and, oh right, the Fab Five.
Wisconsin was Michigan State's Final Four opponent en route to that title game, just as Illinois and Michigan had engaged in national semi-final fratricide when the previous title drought - which lasted one whole season - was ended by the Wolverines. Two years prior to that Indiana took apart top seed UNLV and then Syracuse to win its second title in seven seasons.
Michigan State, Michigan, Indiana, Ohio State and Illinois have all managed to win five tournament games in a row since the Spartans won those six in 2000, but the doorstep is as close as the Big Ten has gotten to keeping its title t-shirts from being hastily shipped off to Guatemala. 
You wonder when those shirts will get to stay in America again. Mostly for Ohio State, but also for the conference which is as strong as it has ever been. The respective droughts have reached 53 and 13 years.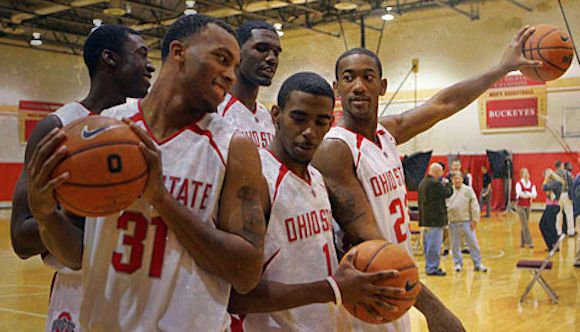 The Buckeyes have won at least 20 games in each of Thad Matta's 10 seasons including the current one, which feels mildly disappointing to anyone who isn't a computer. That's because humans saw them lose six games on the current calendar prior to Valentine's Day with four of them happening in succession.
Regardless of what humans may think of the Buckeyes, the computers love'em as much as Brutus does.
Ohio State is 14th in the Sagarin, 15th in RPI and 13th in KenPom, which carries five Big Ten teams among its top 20. Still, the Buckeyes' season goal has been downgraded from win the B1G to hey let's get a bye in the B1G tournament.
This team doesn't carry the same Final Four gravitas the previous four did. It lacks a National Player of the Year (Evan Turner) a dominating post presence (Jared Sullinger) and most importantly, hot-streaky shooters (William Buford, Jon Dielber, David Lighty and Deshaun Thomas).
Regardless of what humans think of the Buckeyes, the computers love them.
There is no matchup nightmare facing Ohio State's opponents. You don't have to pick your poison, collapse on the post, double any shooter in particular or disrupt an offensive flow or tempo. The Buckeyes have the look of an elite rec team with no superstars, which forces any or all of its spotlight-averse individuals to team their way to victory.
You just have to force the Buckeyes to shoot baskets. And unfortunately, this is basketball.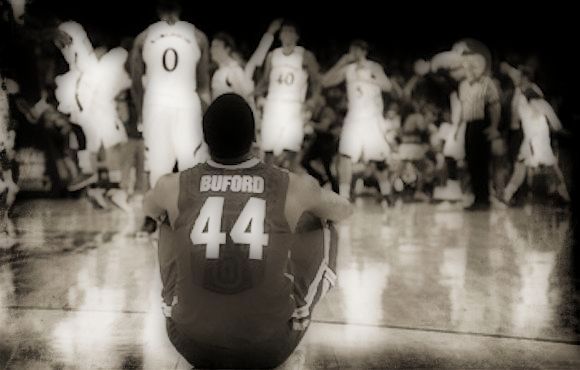 They're just good enough to not be great. Craft is the face of this team, but that's a function of him bringing equal parts longevity and poor man's Tim Tebow-ness to college basketball's table.
Good enough to not be great is kind of a B1G theme this year. It's really, really good - but will likely watch the title game in April - and quite possibly the Final Four - at home with the rest of us.
ESPN has been very effective in aggregating viewing audiences under the guise of conference pride, like Purdue winning a title is supposed to make you feel better about Ohio State. Still, since Sparty's magical 2000 run ACC teams have taken five titles, the Big East has four, the SEC has three and Kansas of the Big XII has the other one.
It feels kind of empty around here. Football is one thing; this should be easier.
The conference's longest title drought since the tournament's inception is the 16 year stretch between Fred Taylor's 1960 Buckeyes and Knight's perfect Hoosiers of 1976. Current drought stands at 13, which is second-longest and the biggest gap between titles since the tournament expanded to 64 teams however many meaningless play-in games there are in Dayton now.
Michigan and Michigan State both managed to win six straight in conference play this year. The Spartans have currently lost four of seven and the Wolverines have dropped three of five. The Badgers, who beat both of them last week, lost five of six in January including three at the infamous Trohl Center in Madison.
Ohio State had that four-game slide. Iowa may be the strongest team in the conference, but it will struggle against any top team with formidable guards and outside shooting - something it largely avoids in conference play. 
Football is one thing; basketball should be easier.
The next rung after that group is Nebraska and Minnesota, neither of whom are winning the NCAA tournament this year or anytime soon. 
It's a brutal conference gauntlet without a single truly bad team, but none of them appear to have that make-the-Final-Four-and-then-win it championship gumption this year.
The Big Ten isn't sneaking up on anyone. There are no VCUs, Butlers or Wichita States here.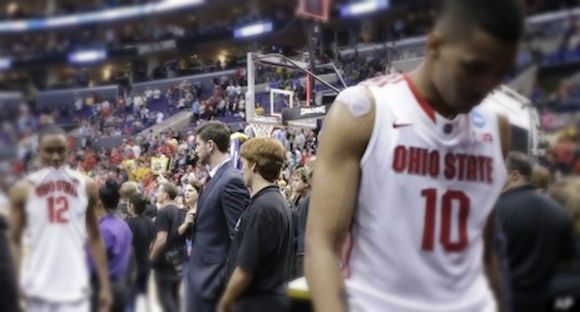 February is closing fast, and the key to surviving into April is shooting, shooting, shooting, because even the stingiest defense needs scoreboard help. Michigan and Michigan State are equipped in this manner. Iowa, and to a lesser degree, Wisconsin can do this as well.
Last season at this point the Buckeyes actually had seven losses - but they came at #2 Duke, #11 Illinois, #18 Michigan State, #3 Michigan and #20 Wisconsin and at home against #9 Kansas and top-ranked Indiana. That team went 5-0 against the hydra of Nebraska, Minnesota and Penn State, outscoring them by 92 points. This year's team is already 1-3 against those guys.
Even the Huskers and Nittany Lions have had streakier shooters this season than Ohio State, which strings together TV timeouts with its flurries of missed baskets. Its post presence needs Amir Williams and Trey McDonald to play like their recruiting profiles promised they would to offset a quasi-operational Lenzelle Smith Jr. who could then relieve pressure from a mostly-operational LaQuinton Ross.
Their collective shooting ceiling is Diebler with a hangover. These Buckeyes are only one-and-a-half guys away from having that April gravitas again. Doesn't seem like a lot, but then again we have 99% of the same DNA that chimpanzees have too. That extra 1% is huuuuge. Hopefully Deshaun is thoroughly enjoying Europe.
There is no matchup nightmare facing Ohio State's opponents.
The teammates he left behind are 205th nationally in scoring. Their points per game (71) and 3-point percentage (35%) are identical to when he played with them. The Buckeyes don't shoot very well, again - not from the post, not from the key, not from behind the arc and not even from the free throw line. They also can't rebound.
What they can do is strangle teams into submission with defense, which is fine until six straight opponents in ascending order of difficulty show up in an elimination series. 
Slugging and defending all the way to a title just doesn't happen anymore. Ohio State's best shooting streaks this season can be timed with stopwatches. To end this drought they'll need to outlast a sundial.
Neither the Buckeyes nor their conference mates appear to be equipped to do that into April. If the Big Ten is going to add Polar Vortex to Y2K bug in its library of title timestamps, its teams will require a tournament element they just haven't had enough of since Sparty wore the crown: Dumb luck.