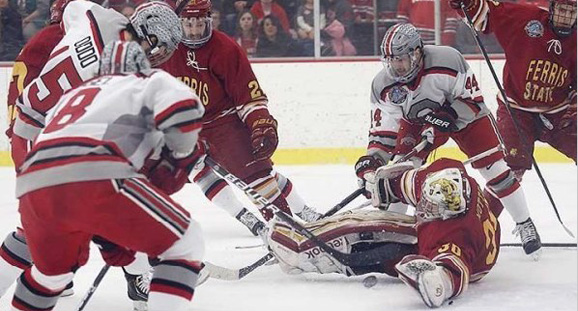 COLUMBUS — While Aaron Craft was going Bob Cousy on Sparty, the Ohio State men's hockey team faced elimination and a likely end to their season. But they proved up to the task as they pulled together a solid effort to beat Ferris State 3-1 in game two of their CCHA quarterfinal series at a jam-packed OSU Ice Rink, forcing a decisive game three.
After a disappointing third period led to a 4-2 loss on Friday, it was do-or-die time for Mark Osiecki's team. He could not have enjoyed watching the way Ferris dealt with his team's intense opening, especially when Travis Ouellette capitalized on an early power play by tipping in Justin Buzzeo's shot to give the visitors the lead. Ten minutes later the Buckeyes had a power play of their own, and Curtis Gedig's long pass split the defense perfectly leaving Ryan Dzingel with a breakaway chance that he promptly dispatched into the roof of the net. 
The action picked up in the second period which featured both goalies making over ten saves, but it was the Buckeyes who scored the decisive marker when Max McCormick's hard work below the net led to his wraparound squeezing into the net.
With a one goal lead preserving not only the game, but the season, the crowd rose to the occasion in the third period. Time and time again the Bulldogs got the puck to the net, but Brady Hjelle stood tall. In the final minute Ferris State pulled goaltender CJ Motte, but before they could even set up their offense a shot was blocked at the point and the puck eventually came to Nick Oddo who easily slotted into the empty net to seal the victory.
The deciding matchup is tonight at 7:05 p.m. at the OSU Ice Rink, and you'd be hard pressed to find better Sunday evening plans than cheering on the icers with 1,000 of your closest friends. Plus, a win for the good guys would mean a trip to Joe Louis Arena and the CCHA Championship — a place Ohio State hasn't been since 2005.