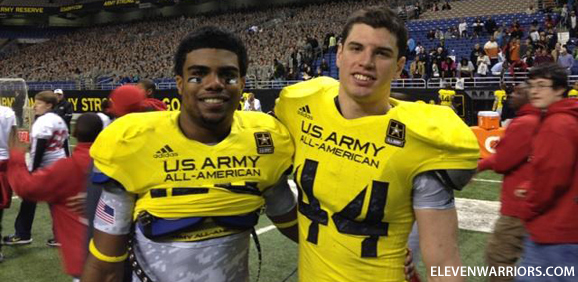 Sensationalism is seizing on a small fraction of an interview and then disingenuously making it into the entire story. One writer who covers the football team representing the best journalism school in the country has done exactly that to Ohio State's star running back recruit:
Over the years I've heard recruits and their families cite just about every reason for the decisions they make when it comes to choosing a school. This might be a first.

If you're looking for someone to blame for Missouri not landing St. Louis running back Ezekiel Elliott, here's a new one. The local media. That's right. Me and my colleagues who cover the Tigers.

---

"Mizzou lacked the same type of influence Ohio State had," (Scout.com's Ari) Wasserman wrote. "They used Elliott's multiple visits to Mizzou and the fact that nobody wrote about it as an example.

Stacy Elliott admitted that the passion, the coverage and just the overall following at Ohio State blows Mizzou out of the water.

---

I'm crushed by guilt. If only I could have done more to help the Tigers land Elliott. Where's Will Hunting's psychiatrist when you need him? Give it to me straight, Robin Williams. "It's not your fault. It's not your fault. It's not your fault. … "

In fairness, the Elliotts discussed other reasons that factored into the decision. But this one I'd describe as, well, unique.
That ain't right, man. You're making it sound like that's exclusively why he left home for Ohio, when that's not even close to the truth - which you buried at the very end of the story.
It didn't take very long for EzE to respond:
These Missouri reporters just need to spot being butt hurt and trying to twist my family's words.

— #⃣1⃣5⃣ Ezekiel(@EzekielElliott) March 6, 2013
Missouri's lack of media coverage did not effect my college decision

— #⃣1⃣5⃣ Ezekiel(@EzekielElliott) March 6, 2013
That was only a small part of the interview. I don't see why people are blowing it out of proportion

— #⃣1⃣5⃣ Ezekiel(@EzekielElliott) March 6, 2013
And just for good measure:
Spring ball starts today. Good luck @cb6era @jt_theqb @primetime_lewis @tsprinkle93 @eliapple_9 #BuckeyeNation

— #⃣1⃣5⃣ Ezekiel(@EzekielElliott) March 5, 2013