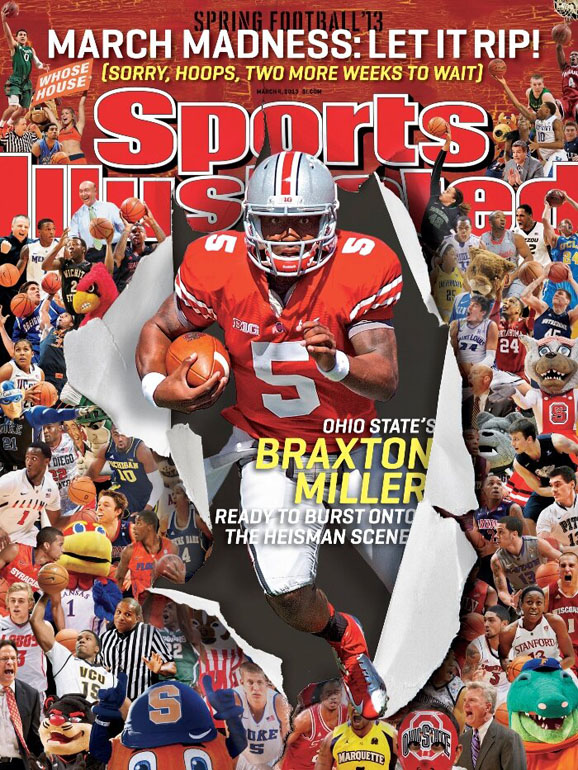 Ohio State quarterback Braxton Miller is the star of a national cover for the March 4, 2013 issue of Sports Illustrated, which hits newsstands Wednesday.
Senior writer Thomas Lake (@thomaslake) examines how Miller's difficult childhood in Ohio, which included a family that dealt with financial problems and a case of domestic abuse on the day he committed to Ohio State, has helped him rise to stardom through hard work and determination.

That work ethic helped Miller have the best season in 2012 that no one paid attention to since the Buckeyes were not bowl eligible. However, this fall, Lake says: "Buckeye Nation will count on Miller to lead the program to its eighth national championship." (PAGE 43)

Last season, Miller ran for 1,271 yards and 13 touchdowns. Says Ohio State lineman Jack Mewhort: "You know you've got a guy back there that's straight out of a video game."(PAGE 43)

However, he only completed 58% of his passes and ranked 43rd in pass efficiency. That's why you'll now find Miller spending hours in the film room and holding players-only practices with his teammates about five times a week this offseason.

Tom Herman, Ohio State offensive coordinator and quarterbacks coach, believes Miller can improve his passing numbers. He tells Lake: "The guy can be as good as there ever was." (PAGE 47)
Wonder how many of these will sell in Ohio?