Big Hank, Etienne Sabino, Nathan Williams and John Simon have job interviews with the NFL today. Quarterbacks, wide receivers and running backs scurried home yesterday knowing these four guys were showing up today.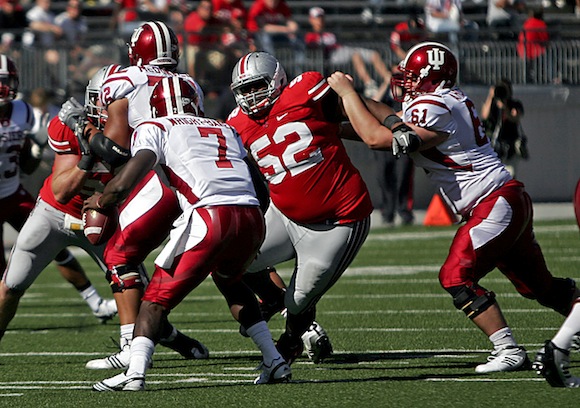 STRENGTHS Nice job against the run, tracking the play with his eyes and using his body to force the issue. Taller nose tackle prospect with thick upper body and extra girth in the middle. Plays all over the line, often outside the tackle despite his build because of his rare agility. Extends to shrug off blocks and uses his hands to bully blockers, controlling the POA and setting the edge when playing outside. Has extremely strong hands to secure tackles and finish plays once he gets his hands on the ballcarrier. 

Comes off the ball hard and quick for his size, will win a gap and blow up plays in the backfield if linemen don't get to the reach-block. Drives back NFL-caliber guards into the backfield and holds up doubles, does not give ground even against better players. Works down the line to get to ballcarriers while engaged, and hustles downfield and to the sideline if needed. Three-down player, on the field for a lot of snaps considering his bulk.

WEAKNESSES Lacks the burst to be an elite pass rusher, though he can make quarterbacks uncomfortable in the pocket. Can play with high pads, giving better linemen a chance to stand him up. Relies too much on his upper body strength at times and needs to play with consistent leverage. He uses his body too much and needs to consistently utilize his hands and limbs. Must keep his weight under control to maximize his athleticism, and make sure he doesn't lose his strength and hustle at the end of games. He tends to wear down throughout the course of a game, looking fatigued and noticeably taking plays off. Hankins battled a minor knee sprain the past two seasons, wearing a brace much of the time.

NFL COMPARISON Dontari Poe

BOTTOM LINE Hankins, who carried the nickname "Big John" or "Big Hank" around Ohio State's campus, is a load to handle on the defensive line with impressive fluidity and coordination skills for a big man, playing with an active motor. He played all over the defense line in college, lining up both outside at DE and inside at DT. Hankins rarely left the field and his coaches talk positively about his football character, but he often looked fatigued and worn down throughout games, meaning his snaps (and weight) will need to be monitored at the next level.

Hankins has a rare combination of size, strength and foot quickness for a defensive lineman to be a force against both the run and the pass. Although he only looks half-speed at times when his tank isn't full, Hankins can tear through blocks like paper -– a potential top-12 pick with the versatility to line up as a traditional 3-technique DT in a four-man front or an effective two-gapping 0-technique NT for a 3-4 defense.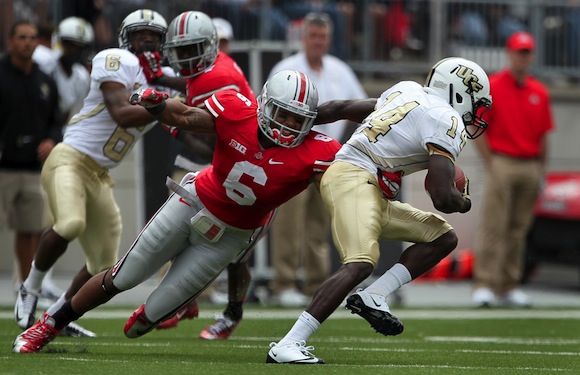 STRENGTHS Well-built, athletic linebacker who plays on the strong side and in the middle. Fights through blocks in the hole, and is capable of using violent hands to shed and grab running backs. Brings a powerful punch to pulling guards and fullbacks in the run game, and is tough to keep out of the backfield on A-gap blitzes. Shows enough speed to flow with stretch plays outside to make the stop, and hustles to the ball when there's any chance to make a play.

WEAKNESSES Lateral movement might be an issue if playing outside; he might not stay on the field in nickel situations unless he proves the short-area quickness to do so at the next level. Plays with a high pad level, failing to break down in the hole against quicker ballcarriers. Must get his hands up consistently when attacking blocks, whether on the edge or against running backs on blitzes. Underwhelming career.

NFL COMPARISON Na'il Diggs [11W note: Nah, not really]

BOTTOM LINE Sabino is versatile prospect capable of rushing the passer, handling tight ends, and holding the point as a strong side 'backer and also works hard to plug holes when lined up inside. Sabino still has upside, but will need to prove he can play on special teams.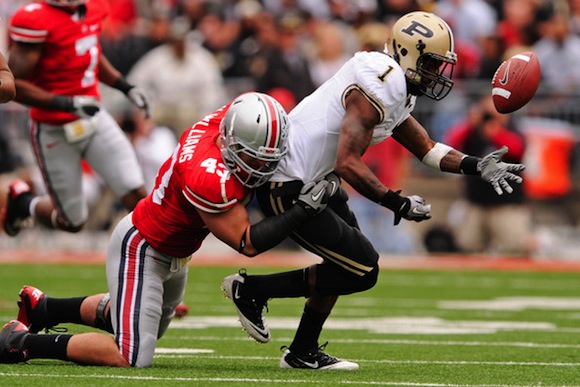 STRENGTHS Tough, instinctive player. Upper body power. Challenges the lateral movement of tackles whether playing with his hand down or standing up (and on the left or right side), can accelerate to the quarterback if his man overextends. Contain on bootlegs and misdirection, chases down backs even if they get an advantage on stop-start moves in the backfield. Keeps his eyes in the backfield and uses strong hands to get off blocks to make plays in the hole. Also spin off blocks to grab backs going through the line or chase down scrambling quarterbacks. Plays strong against tight ends outside, showing attitude with his ability to rip off their blocks to free himself.

WEAKNESSES Left knee must check out medically after having microfracture and athroscopic surgery last fall. A lack of bulk allowsbetter linemen to stone Williams' advances and control him on the edge. A bit of a 'tweener. His get-off, flexibility and hand usage are not quite enough for him to be an elite pass rusher. Doesn't always take the best angles, and his over-aggressive nature can be used against him. Must sense cut blocks more quickly and use his hands to defeat them.

NFL COMPARISON Erik Walden

BOTTOM LINE Williams is a bit of a 'tweener, but he's instinctive and can hold up at the point of attack and provide containment. He's not an overly explosive pass rusher, but he could have value to a team as a backup due to his toughness and mental aptitude.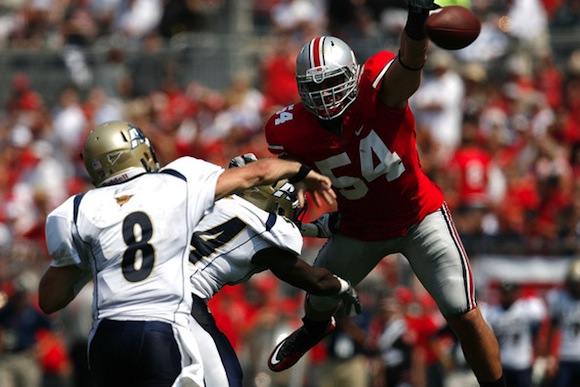 STRENGTHS Strong, high-motor defender. Can break down to tackle ballcarriers in the backfield. Combines agility with excellent upper-body strength to be a secure and explosive tackler. Works down the line with a blocker on his shoulder without giving up ground. Will pressure the upfield shoulder of slower tackles when selling out as a rusher, possesses enough flexibility to capture quarterbacks stepping up in the pocket. Patient when containing, stays engaged until ballcarriers goes inside or outside, then rips off to chase. Uses his hands very well, often batting down the arms of linemen attempting to block him. Displays good pad level. Two-time captain leads his teammates vocally and by example.

WEAKNESSES Shorter than many teams prefer in a defensive lineman, and his length is only adequate. Late to react to the snap, less than stellar first step. Slow in spin move attempts. Can struggle to get off blocks from better tackles and will lose sight of the ball at times. Might need to drop some weight to gain agility and quickness whether playing end or linebacker. Not very experienced getting deep drops in coverage or playing man-up for longer periods of time.

NFL COMPARISON Rob Ninkovich

BOTTOM LINE This two-time All-Big Ten pick and two-time Buckeyes captain lacks the height and length most NFL teams want in a defensive end, but teams with less stringent size requirements will covet his exceptional weight-room work ethic. He's late off the ball, and not an explosive athlete, but he understands pad level and hand usage. He's going to have to prove to teams that he can handle himself effectively enough in coverage.