Good luck, gentlemen.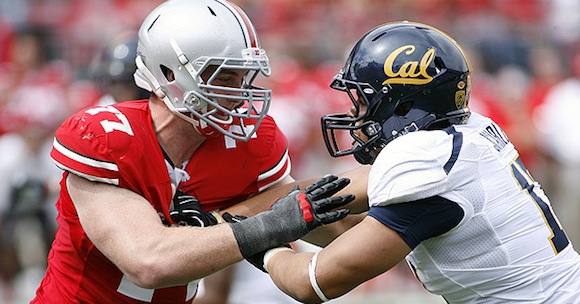 STRENGTHS Tall, long lineman who has maintained his athleticism despite adding strength throughout his frame-and he still has room to grow in the upper and lower bodies. Doesn't play like the typical former tight end, gets after defensive ends on the outside and can move tackles off the line in the run game with leverage and strong legs. Attacks ends in pass protection, rides them around the pocket. Flashes lateral movement and quick steps to cut off the edge (on twists, as well), mirror spin moves, or cut off the inside lane.

Quick enough off the snap to reach block tackles or take linebackers out of the hole so running backs can cut back. Uses athleticism to take an end around the edge and then quickly get downfield to block on draw plays. Picks up interior blitzers instead of being taken outside by the end. Widens his base in pass protection to prevent getting bulled. Plays with attitude, will extend at the end of plays to finish when in position. Shows some recovery speed if taking a wrong step off the snap, should only improve there because of his athleticism. Attacks the inside shoulder in the running game to automatically put his body in the correct position. Shoulders are over toes when asked to immediately get to the second level. Continues to fight even if put in an awkward, losing position.

WEAKNESSES Still learning the position, and how to play with additional weight, because of his late switch to the offensive line. Needs to hit his hands inside more consistently to control his target off the snap. Strength is lacking in his grip, can occasionally be thrown around or lunge forward because of it. Overaggressive at times in both pass pro and on run blocks, opponents take advantage of his leaning to push him upfield or get him off-balance.

Will stop his feet at times while the play continues, allowing his man to get into plays if they are extended. Inconsistent getting down quickly on his cut blocks, though opponents find it hard to get around them. Must consistently move his feet after latching onto his opponent to prevent getting shed.

NFL COMPARISON Eric Winston

BOTTOM LINE The tight end to offensive tackle conversion is a transition NFL evaluators have started to covet, and Fragel fits the mold. Despite possessing a Matt Kalil-type frame, Fragel started all 12 games in his final seasonon the right side and showed very little trouble anchoring against stronger pass rushers. His experience is limited on the left side, but Fragel could be groomed to block on the blind side or make a career on the right side after adding weight. Though he's obviously still learning the position, NFL teams consider him a potential starter at the next level because of his overall athleticism and upside.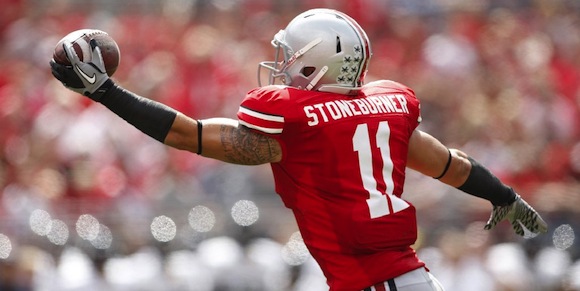 STRENGTHS Good height and length for the position. Appears to be a solid receiver in his limited opportunities, adjusts to throws adeptly, and has a wide catching radius. Some ability after the catch. Has enough straight-line speed to get downfield and foot quickness to separate from linebackers on jerk routes. Mirrors and sustains with strong hands and solid footwork against defensive ends on the edge once he gets his hands on them.

WEAKNESSES Presents only adequate overall bulk and quickness off the line. Must prove he can stay on his routes when facing immediate contact from linebackers in coverage. Does not attack his man consistently and will leans and lunge while blocking quicker defenders in the run game, gets off-balance. Arrested for running from police officers after they caught him urinating on a building in June 2012, had his scholarship revoked but charges were eventually dropped.

NFL COMPARISON Chase Coffman

BOTTOM LINE Stoneburner is not an exceptional athlete, and hasn't been targeted often in the Buckeyes' lacking passing attack, but has a strong enough overall package of blocking and receiving skills to contribute at the next level. In a deep tight end class, Stoneburner should be a Day 3 pick.