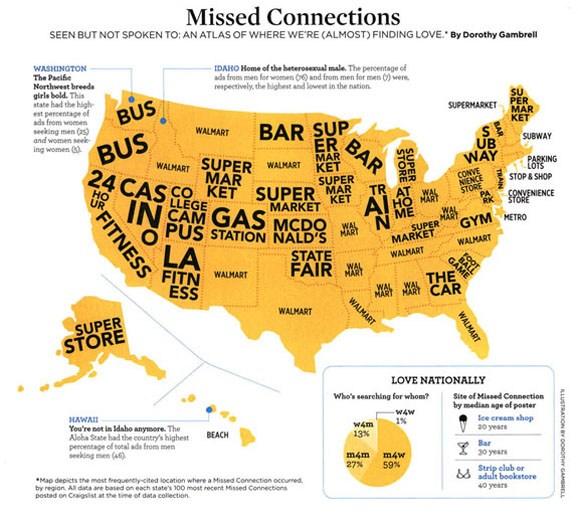 A new study appearing in Psychology Today by researcher Dorothy Gambrell provides an interesting glimpse into the world of Craigslist "Missed Connections."
Among the findings, flirters in the SEC's footprint are most likely to see "the one that got away" at Walmart, though Atlanta's legendary traffic has led many Georgians to focus on their bumper-to-bumper game.
Ohio State fans hoping Urban Meyer brought the SEC with him to Columbus have to like seeing Walmart as the Buckeye State's top missed connection location. Among the other states in the Big Ten's footprint:
Nebraska, Iowa and Minnesota like to find love at the supermarket.
Wisconsin, unsurprisingly, flirts and misses at bars.
Illinois, owing to Chicago's sprawling public transit system, sees a lot of train lust.
In Indiana, "at home" is the top location for missed connections. We're afraid to even speculate.
The citizens of Michigan are all about the super store, which must mean Meijer has added a singles night. Note: "Super store" is also a fancy word for Walmart, because, of course it is.
Pennsylvania and New Jersey, the home of Rutgers, are all about finding love at convenience stores (Wawa lust is the best kind of lust). 
Finally, the citizens of Maryland are missing their moment at parks more than anywhere else.
Perhaps the study's most interesting finding has to do with the site of missed connections by median age of poster:
20 years old: Ice cream shop
30 years old: Bar
40 years old: Strip club or adult bookstore
If you happen to be single and approaching 40, you have some weird times ahead of you.