Even the most casual observer can note Ohio State's defense – particularly in pass coverage – was the issue in a failed run at last season's national title.
Amidst all the "fire Luke Fickell" talk, head coach Urban Meyer stuck by his embattled assistant coach. Still, significant changes were inevitable. Co-defensive coordinator Everett Withers departed to take the head coaching job at James Madison and defensive line coach Mike Vrabel left to become the Houston Texans' linebackers coach. 
Meyer decided to go outside of the program to fill those vacant positions, bringing in long-time Penn State defensive line coach Larry Johnson and Arkansas defensive coordinator Chris Ash. The latter will take on the larger and more challenging task of bringing the Buckeyes defense back to prominence, starting with the secondary. Ash will share that responsibility with Fickell, as they attempt to quickly rebuild and develop talent. 
defining ash and fickell's roles on defense

It took over a week for Ohio State to officially announce his hiring, but during that time, fans and media alike tried to dig up info on Ash's new position with the team. 
At one point, Ash's Twitter bio included the title "defensive coordinator." He later changed it to reflect his confirmed role as co-defensive coordinator and defensive backs coach. However, that is ambiguous when it comes to interpreting what his actual responsibilities are. 
During Wednesday's press conference, Meyer attempted to relay what Ash's role on the team would be, although that is still being worked out. He established Fickell will have final say on defense, for now, but hinted at a more collaborative effort at other times, comparing it how they call offensive plays.  
"On offense, some people would say you need one coordinator. There's certainly one way to go about it. Who has the ultimate say on offense? If someone said 'Tom Herman,' I might raise my hand and say 'I'm not quite sure that's correct at certain times,'" Meyer said. "So, Luke Fickell's the defensive coordinator, co-coordinator when there's third down or some type of pass. I want a real strong back end presence and that's what we've got."
Essentially, during situations such as obvious passing downs, Ash will have a greater influence on the defensive play call. That might lead to some confusion on Saturdays, but the staff insists that should not be the case. 
"When you get to game day, honestly, most of the people on the defensive staff should be able to make the calls," Ash said. "If the defensive staff is aligned the right way, you're preparing the right way and everyone has ownership of what you're doing, then calling it on game day is not that difficult. Everything we do is going to be a team effort."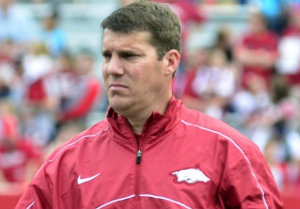 That "team effort" includes coaching and developing players in practice. Although Ash is replacing Withers, he takes on a larger responsibility than the departed assistant coach. Withers was the safeties coach, while Ash is tasked with leading the entire secondary unit.
Ash's job description means there will be some overlap with current cornerbacks coach Kerry Coombs. By bringing in Ash to oversee the entire secondary, Ohio State is hoping ease the communication between position groups.
Coombs maintains that wasn't a problem last year, but he is looking forward to working with Ash in more of a cohesive, group setting.
"One of the things that Coach Meyer and I talked about, almost immediately after the season, was installation of pass coverage, concepts and communication, having one voice," Coombs said. "What I would tell you is that Chris [Ash] and I are going to function as a team in the back end. We will have one voice. We both may be saying it but we'll be saying the same thing so that when we meet together, when we coach together, when we're practicing together, we're all using the same terms"
Competition at the back end

With the departures of Bradley Roby to the NFL and Christian Bryant to a forced, early retirement, the Buckeyes are lacking meaningful experience in what was already an underachieving secondary. 
Senior Doran Grant will return at one of the starting corner spots, while redshirt sophomore Tyvis Powell will likely continue to see significant snaps somewhere in the secondary.  
According to Coombs, sophomore Cam Burrows will be playing some nickel corner and safety but nothing is assured. Even incoming freshmen, such as safety Malik Hooker, corner Marshon Lattimore, safety Erick Smith and corner Damon Webb are expected to play. 
"The competition, I would tell you, is wide open. You've got to perform to play," Coombs said. "I think that the expectation on the part of every player on this football team is you got to show up every day and you've got to perform in order to play in the fall."
That theory might seem like typical "coach speak," but, under the eyes of a new co-coordinator and secondary coach, it will truly be tested. Ash will use last year as a guide for determining how to handle the defense going forward. With the way they performed, it seems as though anyone has a chance to grab playing time.
"I did my research and noticed the stats weren't great. They were still winning but they weren't a dominating defense," Ash said. "They just felt like if they had a little better pass defense they might've had a chance to be in the national championship game. Why that is, yet, I'm still in that discovery mode, trying to go back through, watch film, talk to players and find out what were the true issues."
If he successfully implements his system, Ohio State will have a much more aggressive approach in the secondary. Both Ash and Coombs – with more input from Meyer – hope this year's team can restore the "silver bullets" moniker.
"We are going to change our style of play," Coombs said. "We're bringing in a couple of guys who have done things differently and so that brings in knowledge to our room defensively ... I would think you would see a more aggressive style of play across the board, from alignment to attack and so forth."