Expect anything different?
Urban Meyer's made a living – literally – securing commitments from four- and five-star prospects. He's now signed seven classes ranked in the top-five nationally, according to Rivals.com. This year, Ohio State signed 23 players – one five-star and 15 four-stars – good for No. 3, behind Alabama and LSU.
For the second consecutive year, signing day drama played out inside the halls of the Woody Hayes Athletic Center. By 10:30 a.m., all 22 of the Buckeyes' previously committed players had faxed their letters of intent. Ohio State received its surprise three hours later when Michigan State commit Darius Slade, a defensive end, spurned the Spartans.
"I didn't know much about him or who he was. That's Larry Johnson," Meyer said to an overflow crowd of media. "I guess they've known each other for years and years. I watched film on him and thought, 'Do we want to take this kid?' I'm thinking, 'sure.'"
So if you're wondering, yes, Johnson made an impact in less than a month in Columbus.
The Buckeyes received commitments from the top six players in the State of Ohio, according to Scout, effectively walling off the competition. From there, Meyer set out on a scorched Earth policy, leaving no stone unturned. He went from Florida to Georgia to Michigan and everywhere in between.
It resulted in Ohio State signing eight recruits in the Rivals100 with the rest of the Big Ten signing only six. Meyer's philosophy, unspoken or not, is to build an SEC team north of the Mason-Dixon Line. The objective is to load up on agile offensive and defensive linemen, speed at the skill positions and athletic quarterbacks.
Everything was crossed off on this year's checklist.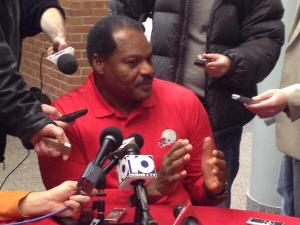 "At Florida, Urban wanted to have the fasted team in college football," J.C. Shurburtt, national recruiting director at 247Sports, told Eleven Warriors. "I'm sure having the fastest team in college football at Ohio State is a goal, and they're getting there."
In the process, the Buckeyes are distancing themselves from the rest of the conference. Michigan State signed its best class under Mark Dantonio – ranked 22nd by Rivals – and snagged five-star defensive lineman Malik McDowell, but Ohio State held on to offensive lineman Jamarco Jones – Meyer said he felt like a 12-year-old when he heard the news – and flipped Slade.
Meyer would not claim any victories, though, saying: "They're real. They're an adversary. That's a real battle right now."
"[Ohio State's] invested a tremendous amount of time in what I term to be the value positions in football – offensive line, defensive line, defensive secondary and, of course, quarterback," ESPN recruiting analyst Tom Luginbill said. "That's where they've invested. They're building the team from the inside out.
"I think there's still a gap. Is it a wide and just absolute difference between them and everybody else? I don't know if it's that glaring. But I do know from a recruiting pool, Ohio State has the same challenges that the rest of the teams from the Big Ten have. That is there aren't enough players from the rest of the Midwest to fuel the entire conference without having to leave the region. That forces teams to have to go into other people's backyards to get players, which creates recruiting challenges. Urban Meyer knows it, Brady Hoke knows it, the conference knows it. It's just a part of the challenge of the Big Ten right now."
In all, the Buckeyes got commitments from 14 out-of-state players, more than half of their 23 signees. Consider it a trend. It's the second consecutive year Ohio State's signed more non-Ohioans. To do so, Meyer went into the backyards of Alabama, Florida State, Texas and other powerhouses, and left with more than just fine china.
"I like it," Shurburtt said. "I think first and foremost, if you ask Urban Meyer, he wants to sign every top talented kid out of Ohio. Then they want to sign the best players elsewhere from around the country. That's smart."
As far back as the 19 aughts, players from surrounding states were seen on the Buckeyes' roster. But nothing ever approached the current rate, not even during the tenures of John Cooper and Jim Tressel, coaches who scoured the nation for high school All-Americans. Ohio State consisted of nearly 90 percent Ohioans when it won the 1968 national championship, while that number hovered around 60 percent throughout the Tressel era.
"I'm sure having the fastest team in college football at Ohio State is a goal, and they're getting there."
It's diminishing even more under Meyer, who shares strong bonds with high school coaches in the south. It truly is a national program. On the current roster, the Buckeyes have players from 16 states and two countries – the U.S. and Australia. The Class of 2014 spans 1,628 miles, from Forth Worth, Texas, to Montclair, N.J.
Future projections look similar. The East Coast is stockpiled with high-level players for 2015 and 2016, which should thrust Johnson into the limelight. Florida, Georgia and Texas, among others, will continue to be areas of focus for Ohio State.
But don't think Meyer's abandoning the Buckeye State; relationships are still strong with Ohio high school coaches. There's a standing invitation for them to attend practices, and the Buckeyes still covet the stop's most talented players.  
"Trust me, we uncover every stone for kids in the state of Ohio. We spend unlimited time and resources on them," Ohio State director of player personnel Mark Pantoni said. "We want to sign as many kids in Ohio as we can. That's our ultimate goal. Ohio is first, and then we branch out to the Midwest, Southeast and Texas."
Ohio is still a hotbed for talent, poor geography or not. This year, the state will send the fifth-most players to FBS schools. That's more than Louisiana and behind only California, Texas, Florida and Georgia. Erick Smith, Marshon Lattimore and Kyle Berger were sought-after by programs across the country.
It's no coincidence that seven of nine assistant coaches have deep ties to Ohio. Two of them – Tim Hinton and Kerry Coombs – were longtime high school head coaches with a wealth of experience and knowledge on the ins and outs of the state. The outsiders – Larry Johnson and Chris Ash – are Big Ten guys who bring expertise across a wide swath of land.
"They wanted to be here," Meyer said. "They both had very, very good jobs, and they wanted to be here."
But not for long. There are 2015 recruits to be had, and a majority come from outside the state borders.