Luke Fickell joined Ohio State's coaching staff as a graduate assistant in 1999 — just three years removed from his last season as a celebrated Buckeye defensive lineman.
He spent the next two seasons as Akron's defensive line coach, before returning to his alma mater in 2002 as special teams coordinator.
Since then, Fickell has risen through the ranks to defensive coordinator/linebackers coach this past year — with one important stop as interim head coach in 2011. He has played a significant role in shaping some great Ohio State defenses.
But he also presided over one of the worst statistical defenses in school history in 2013. We recently talked about the steep decline of the defense over the past few years.
On Fickell's watch, the Buckeye defense allowed more than 21 points per game in 2013. That number looks even worse when you take away the shutouts against the feeble offenses of Florida A&M and Purdue. Teams with an offensive pulse (California, Northwestern, Iowa, Illinois, Michigan State and Clemson) scored a minimum of 24 each.
And Michigan's offense, on life support for most of the season's second half, put up 41 points and was virtually unstoppable against Ohio State, save for a single two-point PAT try. (Thank you, based Tyvis Powell.)
The Buckeyes finished 110th in passing yards allowed per game in 2013 and it wasn't the kind of yardage that comes from forcing teams to pass. It was the kind of yardage that teams take because they can easily be taken. Ask Connor Cook or Tajh Boyd. They'll confirm this for you.*
* I assume.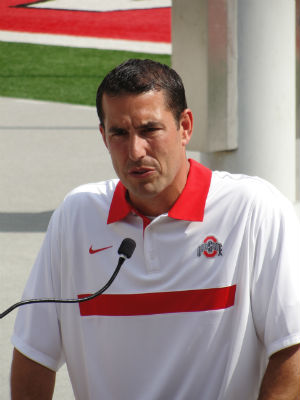 This off-season, Everett Withers and Mike Vrabel have left the OSU defensive staff. Chris Ash and Larry Johnson Sr. have replaced them. Athletic Director Gene Smith recently said Ash will oversee the entire defensive backfield, effectively shifting Kerry Coombs' responsibilities.
In other words, Fickell will be the only defensive coach handling the same responsibilities as last year, assuming there isn't any behind-the-scenes demotion. If the Buckeyes don't turn things around on that side of the ball in 2014, there's only one more change Urban Meyer can make.
Fickell's importance, or at least the importance of his position, is obvious. He is the first coach not named "Urban" listed in the 2013 Ohio State Media Guide. It may mean nothing more than alphabetical significance — or it could be telling — that Ash's name is above Fickell's on the OSU website roster page.
Meyer has defended Fickell as a coach on numerous occasions after poor defensive performances over the last two seasons. He should. This is Meyer's staff and throwing his guys under the bus is unprofessional and is not the hallmark of a successful coach.
But the writing is on the wall. The problems on defense, which cost Ohio State an opportunity to play for a national championship in 2013, cannot continue. If they do, Fickell is sure to be the next domino to fall.
Beyond Fickell, the buck has only one more stop, and that's with Meyer himself. Ohio State has won two Leaders Division (I looked it up) titles in Meyer's first two seasons, but nothing else. (And I'm not trying to belittle a 24-2 record over two seasons, because it is a fantastic record.) The Buckeyes are 0-2 in postseason games, with the defense allowing 74 points in those two contests.
The Buckeye offense posted 59 combined points in those two rather important games, with a pair of 100-yard rushing efforts by Carlos Hyde and one by Braxton Miller. Yet both were losses.
It's easy to see which side of the ball needs the most work. And it's evident that if things don't turn around in 2014, native son Fickell won't be around much longer.