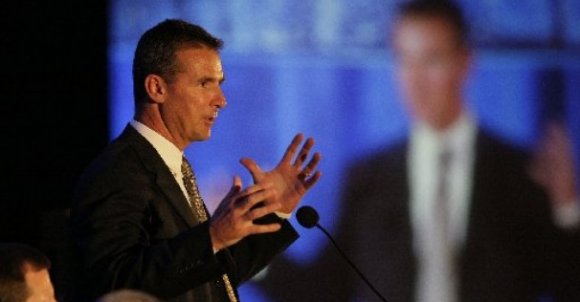 Like most high-profile coaches, Urban Meyer is no stranger to the banquet/speech circuit. It's a great way to pocket some extra coin while repping the university and expanding one's own personal brand.
For some, it's even an easy way to stroke the ego a bit considering a coach like Meyer certainly doesn't need the extra money but he's certainly guaranteed to emerge from the black curtain to a starry-eyed group of employees chomping at the bit to soak in, and applaud, his every word.
Recently, thanks to the fact I'm lucky enough to work for one of the most successful companies in the United States, Meyer stopped to address our assembled leadership team and his talk was not only nothing short of remarkably invigorating and inspiring, it further illustrated exactly why he's one of the top two head coaches in all of college football.
Though Meyer will tell you one of the aspects of his job that he dislikes most is addressing the media - and I've seen him first-hand in that setting numerous times - he still excels at it but clearly nowhere near to the level he does when speaking of what he's passionate about versus being peppered by reporters.
It was obvious he was even holding back his passion a touch as he did his best to avoid profanity while forcefully jamming home his points in a way that made you sit up in your chair for fear of disappointing him.
Specific to the team, I was struck by just how similarly he runs his program in comparison to top organizations. He spoke definitively on the importance of evaluating talent and placing them into buckets such as the elite 10%, the middle 80% and the defiant/disinterested 10% while citing the worst mistake a leader/coach can make is to spend too much time on either of those 10-percenters.
Instead, he instructs his coaches to shine a light on that 80% group and devise ways to move them into the top-tier. In order to do that, they, with his leadership, they must perfect three techniques.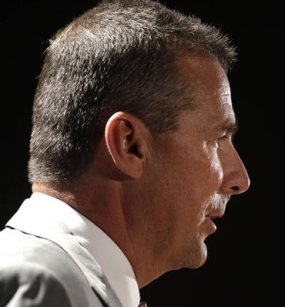 The first is both Meyer and his coaches must master the art of having the players think the coaches are great at what they do, so they are willing to follow. As a visual, Meyer insists his coaches decorate their offices in a way that highlights players who have performed at an elite level under them and even forces his staff to pass an office inspection to ensure there's plenty of glitz and glamour to not only wow a prospect but motivate a current 80-percenter.
The second piece is to get players to think as owners of the program; not simply renters passing through on a four-year stint. Ownership in the program breeds attention to detail and focus on becoming great both on and off the field.
Finally, Meyer, unlike a lot of CEO's and elite coaches, openly works fear into the equation, tying it to the ownership piece in an effort to breed an attitude where players are afraid to take an action that would the program down or cast it in a negative light.
Interestingly, Meyer doesn't believe the 2012 team really needed any of these three techniques to strengthen the foundation because of the incredible leadership already present in the senior class.
Meanwhile, moving to 2013, as many of you know, Meyer felt there was such a lack of leadership that he enlisted the instruction of Tim Kight, whom many of you recognize as the outstanding leader of Focus 3, an outfit that has mastered the "physics of performance" with one key element of that being the E+R=O (Event + Reaction = Outcome) philosophy.
Through Kight's tailored program, Meyer felt guys like Braxton Miller, Ryan Shazier and others made huge leadership strides while noting there is still much work to be done.
Even with the outstanding content, it was still Meyer's unbridled passion for excellence that stole the show. Sitting in the back of the room, and having been fortunate enough to hear him speak a dozen or so times, I found myself paying almost as much attention to the mesmerized reactions of the audience – many of whom I know very well – and imagining that same glare must be eerily similar to what Meyer experiences on his various trips to living rooms of elite recruits across the nation.
Considering Meyer has to be far less passionate about firing up a group of unknown employees than he is about convincing a set of parents and a young man about why they should commit to Ohio State, I could only smile with delight knowing this man is the CEO of your favorite football team.