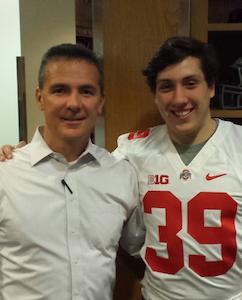 Welcome to Super Bowl Sunday, the day that football takes its rightful place at the center of American sport and culture. There's no better evening that illustrates the glory and the power of football better, and no sadder night as we prepare for the next few months sans the pigskin. 
Fortunately, for some of us, recruiting gives us a buffer that we can use to keep our sadness to a minimum. We live vicariously through our teams off-season victories and this week we prepare for the culmination of a year of recruiting that will once again see Ohio State with a top five class across the national recruiting services.
I know the majority of you are hoping/wanting/needing/begging for information about Jamarco Jones and Malik McDowell, but as both finish up official visits – Jones to Michigan State and McDowell to Ohio State – there isn't much to update until later this evening, so do check back.
We'll start with one of Ohio State's earlier commitments, Kyle Berger, as he rebounds from a torn ACL.
BERGER BOUNCING BACK

It's been five months since Buckeye linebacker commitment Kyle Berger tore his ACL in his team's final preseason scrimmage against Canton McKinley, and Berger is continuing his rehab and working towards his goal: to be ready to make an impact for the Buckeyes next fall. He believes he's getting closer.
"Things (with my rehab) are going really well," Berger told 11W. "I've been doing strength and stability work, especially when jumping and landing lately. I should start working on cutting next month, and that's like the final phase of the rehab. I've been jogging and running for a few weeks now, and I just started planting and stopping on one leg, that will eventually lead into cutting."
Berger has not let his injury affect his spirits, seeing the timing of the injury as a blessing rather than a curse. 
"If I had gotten hurt at the end of my senior season, I'd have almost no chance to play next year," he continued. "Instead I've been able to get a lot stronger, because all I do is workout and run. I'm at 227-pounds right now, but I'll lose a bit soon and then get back to gaining 'good' weight."
With signing day approaching, Berger has maintained his place as one of the "Dream '14's" most active recruiters. He has plans to be roommates with Sam Hubbard, Stephen Collier and yes, Jamarco Jones, when he arrives on campus for good this summer. 
"I think he's going to be a Buckeye, still," Berger said of Jones and his visit to Michigan State this weekend. "He knows how important he is to our class, but we all understand if he needs to take a final look, it's a tough choice for anyone to make, but I think we're ok."
After signing day, Berger plans to get more active with his preparations for his Buckeye career.
"Next weekend I'll be in Columbus for the Touchdown Club Banquet," Berger added. "I hope to see the coaches and the guys on campus, but I'll for sure be there the first spring practice. I hope to meet with (Buckeyes' strength coach Mickey) Marotti and the nutritionist sometime soon, too."
BUCKEYE RECRUITS CONTINUE TO GAIN ACCOLADES

Raekwon McMillan and Dante Booker, two of Ohio State's highest-ranked recruits in the "Dream '14," were selected to the Parade All-American teams this weekend, an honor that ranks among the most prestigious in all of high school sports. McMillan and Booker join Michigan commitment Jabrill Peppers as the only Big Ten (potential) signees to make the cut. McMillan, who is already enrolled at Ohio State, and Booker were two of four linebackers selected. Florida quarterback commitment Will Grier has been named Parade's Player of the Year and Alabama leads the way with five different selections for the Parade All-American team.
Two other Buckeye commitments, Dylan Thompson and Brady Taylor, ventured to the Lonestar State this weekend to participate with Team USA in the International Bowl. The game will take place Friday, February 7th and both Buckeye commitments view being selected as one of the awards they've received.
"About to take off to Texas for the Team USA All-American game against Team Canada," Thomspon said via Twitter. "So honored to represent my country this way!"
Kyle Berger was originally committed to play in this game but is unable due to his rehab.
WIMBUSH WANTS TO WAIT

Originally 2015 quarterback Brandon Wimbush wanted to make his college choice in December, but as new offers came in and more schools became a possibility, the 6-foot-2, 205-pound signal caller decided he'd push back his decision until late February, giving him more of a chance to check out his options. Now, as we enter February, he says that is still up in the air, thanks in part to a number of new offers and interest he continues to receive.
"I'm probably going to take a little more time," Wimbush told Eleven Warriors. "I wasn't aware these new offers would be coming, it's getting a bit hectic now."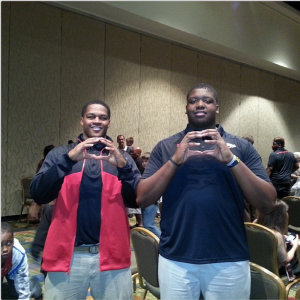 As we chronicled a few weeks back, one of the schools that would become a very valid threat to the Buckeyes and their pursuit of the St. Peter's Prep star, Penn State, will get their first real shot to impress Wimbush in just about two weeks. He's scheduled to visit the Nittany Lions, his mother's alma mater, February 15th. 
"I can't wait to get to Penn State and check it out," Wimbush said. "But I'm enjoying all of these schools that are coming after me and a couple of my teammates. It's really a great experience."
One of Wimbush's teammates, five-star cornerback Minkah Fitzpatrick, has a Buckeye offer and he visited Alabama this weekend. There were some rumblings from the Crimson Tide faithful that a Fitzpatrick verbal could be coming their way, but Wimbush doesn't think that's going to happen this soon.
"I don't think there's any chance he commits this soon," he said of his teammate. "Not a chance."
The Buckeyes were at the top of Wimbush's list eary in the process, but with new schools in the mix it becomes a more challenging chase. He is still in regular contact with the Buckeyes and says he would like to make another visit to Columbus before he makes a choice.
"I talk to them regulaly, yes," he said. "I actually talked to (Buckeye quarterback coach) Herman a couple of hours ago. I know they are trying to get busy in New Jersey. I hope to get back there during the spring."
FRÈRE JACQUES

In case you didn't know it, former Buckeye commitment Lonnie Johnson committed to Western Michigan back in November. Yesterday, the Broncos added another wide receiver commitment that could have some relevance to Buckeye recruitniks: Javonte Seabury. I can see the collective eyebrow raising, the mouths forming "Who?"
Seabury is the older brother of 2015 star running back Jacques Patrick from Orlando (Fla.) Timber Creek High School. Patrick, as we've discussed before, is one of Ohio State's highest priorities for 2015, and if the near fifty scholarship offers he's already received are any indication, the Buckeyes are not alone in that thinking. While the Florida schools namely (Florida State and Florida) continue to have the upper-hand in his recruitment, Patrick has been quoted a number of times in the past saying that if his brother ended up in a northern state, that could definitely help his chances of heading in a similar direction. He reiterated that point to 11W this weekend.
"(Seabury coming north) helps because that's my brother and I know he'll want me to come up that way," Patrick said of his brother's commitment. "One of my other closest friends is going to be at Toledo (Timber Creek quarterback Stuckey Mosley, committed to play basketball for the Rockets), and he'll be there this summer, so it's definitely something that could help Ohio State or Michigan with me."
Always interesting the world of recruiting, ain't it?
CAN YOU TAKE ME HIERS
Yesterday Ohio State offered 2015 offensive lineman Luke Hiers, a 6-foot-3, 295-pound center with offers from Kentucky, South Florida, LSU, Miami, NC State and more. Ohio State's running back coach Stan Drayton offered Hiers, who said the Buckeyes have been recruiting him since the spring of his sophomore year at Lake Wales High School in Lake Wales (Fla.) Despite the Buckeyes lengthy investment and the relatively "early" decision to extend an offer, Hiers says there's not much interest in the Buckeyes at this point.
"My top three schools are Kentucky, USF and Nebraska," Hiers told Eleven Warriors. "I've visited Kentucky and South Florida, and the Buckeye offer is an honor, but my top three schools are who I will choose from."
#welp
GUT INSTINCT ON JONES, MCDOWELL

As we talked about Raekwon McMillan and Chad Mavety, I am a big believer in the idea that "heart" wins out over "head" in most matters of recruiting a high school kid. The school he loves the most isn't always the one that makes the most sense for his career, but the one he loves is where he ends up most of the time. When it comes to Jamarco Jones, I believe — as of right, Sunday morning — that his head and his heart are in the same place: Columbus. I know there's reasons to be worried about Michigan State, but I believe Jones signs with the Buckeyes on Wednesday. I have had enough conversations in recent days with folks I trust to help move my concern level from "a lot" to "a little" and most of those people believe Jones sticks with the Buckeyes, so I do as well. 
Malik McDowell's situation is, believe it or not, even more difficult to figure out than Jones', but something about this recruitment just screams "Urban Meyer wins" to me and for that reason I am going to believe Malik signs with the Buckeyes come Wednesday. Right now everyone is guessing when it comes to McDowell, and I am too, but I'll trust my gut - and the dynamic duo of Urban Meyer and Larry Johnson, Sr. to seal the deal with the Detroit five-star.