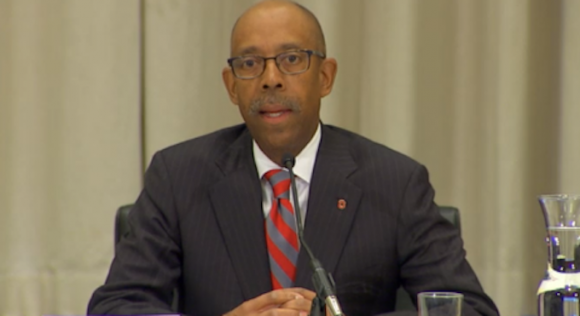 Ohio State's Board of Trustees unanimously voted to make Dr. Michael V. Drake the university's 15th president on Thursday. Drake is currently the chancellor at the University of California at Irvine and will take over as OSU's chief executive on June 30.
His rise in academia has been meteoric — from vice president for health affairs of the University of California system, to chancellor of UC-Irvine to president at the nation's largest university in less than a decade.
"I am deeply honored by your nomination and the confidence you display in me," Drake said. "I'm truly excited and honored to be here today.
"Ohio State is bold in its intention to inspire greatness in its faculty, staff and students. I am deeply humbled by this opportunity and looking forward to joining the Buckeye community."
Search committee members noted that Drake's experience turning around a troubled medical center was a factor in their final decision. The university identified 100 candidates, interviewed 20 and narrowed down its final list to five. The committee said words such as leader, vision, scholar, teacher, character and integrity often came up when Drake's name was mentioned.
"In describing the future, he had really thought about what it means to have a land-grant university with a medical center," Jeffrey Wadsworth, the head of the search committee, said. "He had all of this packaged in his brain. He understood the scope of the job in a way that was extremely articulately described."
In a president, the board said they sought a leader who had experience managing complex institutions, someone who could help enhance the university's academic reputation and lead the medical center. Drake takes over Ohio State as the Wexner Medical Center nears the completion of a $1 billion cancer hospital.
Since 2005, Drake has created a law school and college of education, transformed the medical center's reputation and approved construction of a new student center. He also was a vigorous fundraiser. During Drake's tenure, Irvine's raised more than $800 million towards its goal of $1 billion.
"His academic accomplishments and professional accomplishments are absolutely top-rate," Robert Schottenstein, the Chairman of the Board of Trustees, said. "We believe very strongly that Michael Drake is the right person at the right time."
Irvine has just half the amount of students as Ohio State, but ranks 14th in US News and World Report's public school rankings. Ohio State is No. 16.
Wearing a scarlet and gray tie, Drake called Ohio State the premier institution in higher education and deemed keeping college affordable is a top priority.
"Ohio State and the voice of Ohio State always rings loudly," he said.
Although he's resided on the West Coast his entire professional career, Drake said his family's roots in Ohio are deep. His mother was from Youngstown, and he visited the state often in his youth. Drake referred to Columbus as "a city of great texture and vibrancy."
Terms of his contract have not been finalized. He made $350,000 at Irvine, while Gordon Gee was the highest-paid university president at more than $2 million. 
Drake's wife, Brenda, was present for the ceremony, wearing an Ohio State scarf. Board member Alex Shumate defined them as a "power couple." Drake, 63, is Ohio State's first black president. Some have pointed out his age the past 24 hours. In response to that, Drake said he plans to stay at Ohio State for a long time.
During the search, Ben Reinke, the student representative on the board, said he gave Drake and his wife a tour of campus and described the new president as "a man of substance who has a genuine interest in students."
Drake is no stranger to intercollegiate athletics. Irvine's men's volleyball team has won four national championships since 2007, and Drake is a member of the NCAA's Board of Directors. He's become a leading voice in restructuring the archaic and vast association.
And on Michigan, Drake said he dare not say that word in public.
Said Wadsworth: "You will see he's going to make a terrific Buckeye."